Not too long ago, I found out about this VSCode Extension called Better Comments when I was watching a youtube video. I've been using it ever since. What it does is spice up your code commenting game by allowing different colored comments which would make them stand out rather than the boring grey default.
How to use it
Using the extension is very straightforward. Some special characters are just needed to be prepended after the comment symbol (ex: // for javascript) and before the actual comment itself.
Examples: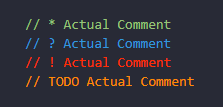 These are the default font configurations for every comment type like red for alert but it's completely up to you what configurations you use (ex: different font colors, weight, style, etc). They can be easily changed in the settings.json file. See Extension Page for the exact steps.
Closing Thoughts
I think this is a must-have extension for every developer because it just improves the quality of life and makes important comments stand out which would save you the headache of finding them. It sucks having to break your concentration when you're on a roll.