¿Qué es JavaFX?
Una definicion muy clara nos la proporciona la página de Java, donde nos indica que esta es una tecnología de software, que combinada con Java, permite crear y desplegar aplicacion con un aspectos y contenidos avanzados (modernos), audio y vídeo.
JavaFX nos brinda una plataforma junto con SceneBuilder que permite desarrollar con mayor rapidez interfaces de usuarios muy atractivas visualmente, implementar el patrón MVC de una manera concisa y permite estilizarla a nuestro gusto mediante CSS los diferentes elementos que integra la interfaz.
Prerequisitos
Antes de comenzar, asegúrese de tener el siguiente software instalado en su computadora:
Java Development Kit (JDK) 8 o una versión superior.
Eclipse IDE para Java Developers
Instalación
Vamos a dividir esta sección en 3 partes:
Parte 1
Se instalará el plugin de JavaFX en Eclipse mediante el Marketplace. Un plugin es un complemento o componente de sofware que agrega una característica o funcionalidad específica, para este caso se añade este plugin a Eclipse de modo que nos permita tener un desarrollo mas fluido como por ejemplo abrir archivos fxml con SceneBuilde.
Parte 2
En esta segunda parte, dejaremos preconfigurado el entorno para JavaFX.
Se procede a descargar JavaFX de la pagina de Gluon que dependera del sistema operativo que estes trabajando. Posteriormente lo descomprimimos en una carpeta.
A manera de preferencia, creare una carpeta en el "Disco Local C" que es donde guardaré los archivos descomprimidos, la carpeta creada tendrá el nombre de JavaFX.
Posteriormente, se va a "Preferences" en la opción de "Window".
Luego se busca la palabra "Java", seleccionamos "Build Path" y "User Libraries", en la ventana que se nos muestra a la derecha seleccionamos "New", aquí colocamos el nombre de "JavaFX".
Una vez creada y seleccionada la librería "JavaFX", se da en la opción de "Add External JARs", se abrirá una ventana de busqueda, como anteriormente mencioné por tema de preferencia guarde la descarga descomprimida en C con el nombre de "JavaFX", entonces ahora buscare la carpeta "JavaFX", luego "lib" y por último selecciono todos los archivos de esa carpeta y doy en "abrir".
Aparecerá todas las librerias agregadas y solo queda dar en "Apply and Close".
Luego crearemos un proyecto de JavaFX para mi caso le puse el nombre de "Prueba". Al generarlo, da un error por el archivo "module-info.java" que solo toca eliminarlo ya que por ahora no es relevante. Luego en el proyecto, damos click derecho la opción de "Build Path" - "Configure Build Path".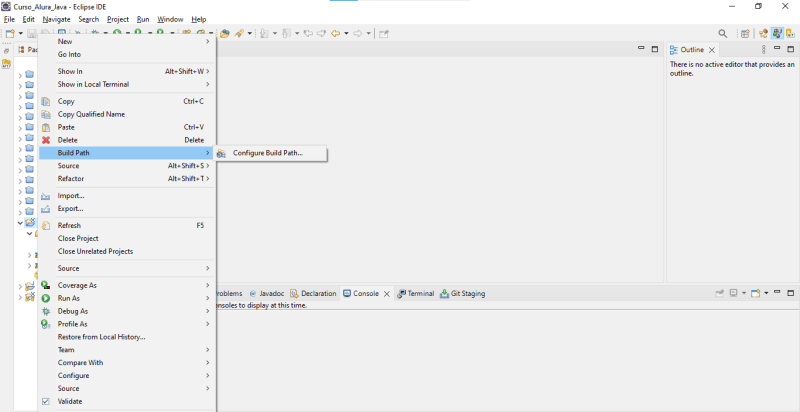 Seleccionamos en "Libraries" - "Add Library" - "User Library" y luego el siguiente, ya solo queda dar en "JavaFX" y dar en "Finish" - "Apply and Close".
Para correr la aplicación según la misma librería todavia se tiene que colocar una configuración en el "runtime".
Para mi caso, le dare un nombre especifico de "Ejecutar JavaFX", luego damos en "Arguments" y dentro de "VM Arguments" colocamos el texto mostrado abajo y damos en "Apply" - "Run".
-module-path 'C:\JavaFX\lib'

--add-modules javafx.controls,javafx.fxml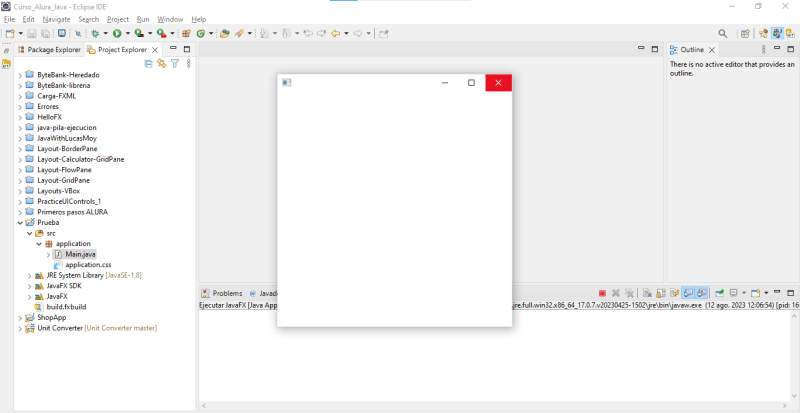 Parte 3
Ya una vez ejecutado JavaFX, se tiene el incoveniente de que no se pueda crear archivos FXML, basicamente es un error producido por el plugin, pero tiene solución, al ser esta un versión desactualizada hasta el momento del "Marketplace".
Entonces nos vamos a "Help" - "Install New Software".
Colocamos el siguiente link: https://download.eclipse.org/efxclipse/updates-nightly/site/
Damos en "Add"
Damos check a las opciones que nos salen y luego en "Next" - "Finish", una vez se termine de realizar el proceso de descarga e instalación, se reinicia Eclipse, y ahora si puedes crear archivos FXML.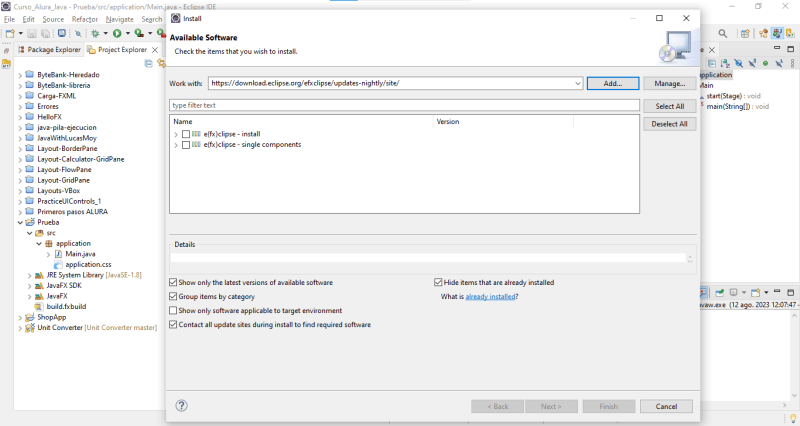 Bibliografía