Instagram is simply notorious for not being link-friendly. You can't add clickable links to your captions or make your posts clickable. However, every brand wants to drive traffic from Instagramdrive traffic from Instagram to their website to be able to generate sales using their social media presence. And knowing how to do that can be one of the best social media marketing tactics for your business, right?
Definitely, you can't add a link to your posts, but that doesn't stop us from figuring out ways to help send people to your website. With some clever tips and strategies, you can ensure that your website hits those high-traffic targets.
And by these tips, we don't mean running paid advertisements. Instagram has got some amazing tools and features that can become your fast-pass ticket to more organic traffic, clicks, and conversions.
So what are those tips anyways?
Read on to find out!
1. Optimize your link in bio
If you have a business account on Instagram, you get the option to add one link in your bio. And if we are not wrong, you might have just put up your website's homepage link in that section since you created your account! But that little link can do much more.
You should update this link to point out the most relevant or recent landing page like a news update, a recent event, a newly launched product collection, or a featured story. Then, draw attention to this link by adding a relevant sentence in the bio. For example, 'click the below link to see the latest collection', or 'Click the link below to check out our new YouTube video.'
Now, what if you want to add multiple links in your bio? There's a way around it too! You can use tools like Link tree. It allows you to create a whole landing page with all the links of your choice.
See how 'The economist' does it: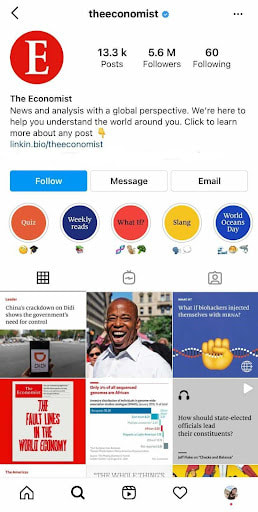 2. Focus on your branding
If you can catch people's attention through your feed, the first step of driving them to your website will already be achieved. The kind of posts that you create will be remembered by people when they scroll through their Instagram feed. If they connect with the content you put out, they are definitely going to visit your website.
To create a brand image, you need to come up with a rock-solid social media marketing plan. You need to customize your branding strategy for Instagram by choosing a theme that will engage users.
Incorporate your brand colors while curating your posts and stories. This will create consistency and people will slowly start associating those colors with your business. For example, see how 'RecurPost' uses its brand colors in posts: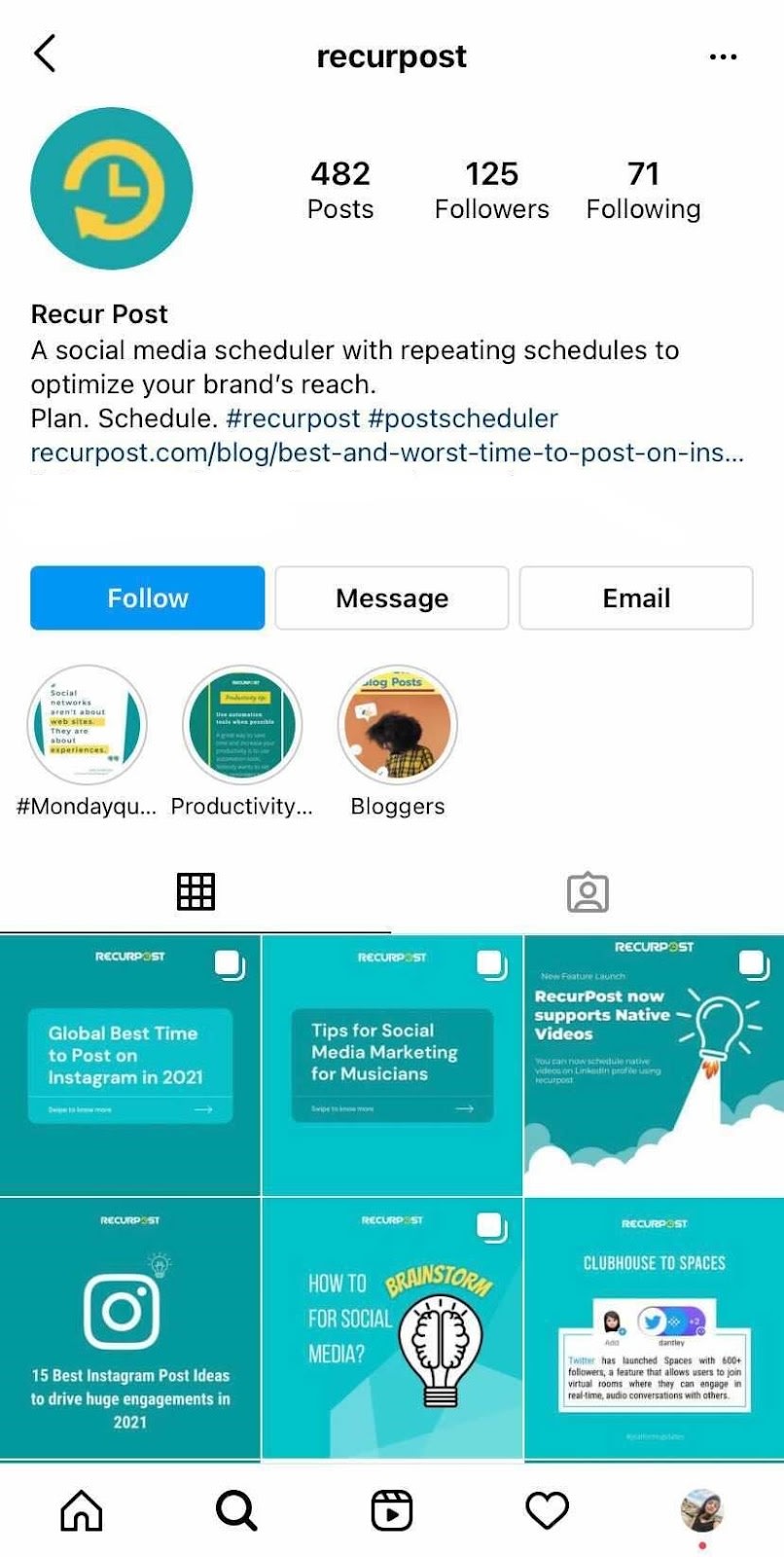 3. Add clickable links to IGTV captions
We bet you didn't know this! Instagram allows you to add clickable links to your IGTV video's descriptions. Unlike the captions of feed posts, IGTV's descriptions can be used effectively to make people click through to buy your products or services. Videos can work wonders for influencing people's purchasing habits.
You can showcase your products in action, which builds a deeper connection between you and your followers. You don't need big budgets to get started. Shoot simple videos using your camera and let the videos be raw and authentic.
Viewers connect more with such videos as they are not edited to perfection and show the human side of a brand. That is why you should use a video editing server to edit your videos. To make people click on the link, add a call to action in your video itself by writing a text or asking people to check out the description link for more details.
See how 'Trinny London' does it right:
4. Design images with a call to action
Use your Instagram post images to convert. You can write up a call to action or mention your website URL in an aesthetically pleasing picture. This works best when you are running a giveaway or contest. You can also do this with videos by including the website link in a text overlay and give a voiceover asking people to visit the site.
Canva does this in every post it creates to announce the winner of its monthly #CanvaLove challenge. Take a look at one such post:
In the images, it grabs the attention of viewers by announcing the winner, which hints people that there has been a contest going on. In the caption, it mentions the winner and asks people to take a part in their contest by visiting their link in bio.
This kills two birds with one stone: the number of website visitors increases and it makes people take part in your contest which increases your Instagram visibility.
5. Create actionable Instagram stories
Instagram stories hold immense potential in driving people to your website. Doesn't matter how big or small your follower count is, stories can be used effectively to connect with your followers at a personal level.
If you have crossed the 10k followers mark, you can include a 'swipe up' link in your stories and send people to your website directly from stories. However, if you have under 10k followers, you can always direct your followers to your link in bio by adding some animated GIFs in your story.
Here's an example:

Apart from using GIFs, you can also utilize other interactive elements such as countdown stickers, polls, QnA stickers, and emoji sliders. You can use these for taking feedback or opinions of your followers. Take a look at how Lush Cosmetics does that:

6. Optimize your story highlights
The 24-hour shelf life of stories can be sometimes limiting. Instagram highlights are the best way to extend that limit and give more visibility to your stories. You can create as many highlights as you want to, but make sure to create them strategically. When people visit your profile, they should see the most important highlights upfront.
Prioritize the highlights that focus on your products and drive people from Instagram to your website. You can bunch stories that include information about your newest products, online English classes, or latest blog post.
In the first story of your highlight, include a call to action asking people to visit the link in your bio. In the next few stories, share some information about your products or blog posts to which the link is pointing to. Wrap up the highlight with another call to action.
Have a look at the highlights created by Zara. It first shows the newly launched products, and then talks about other topics.
7. Collaborate with influencers
What if you don't have a lot of followers? What if you get very few likes and views on your posts and IGTV? While you work on growing your account, you can partner up with some influencers to amplify your brand's message. No matter what kind of industry you're in, you will find just the right one to promote your products or services with some research.
Influencers can provide the extra push to build brand awareness and extend your reach. In a very short period, you can send huge traffic to your profile as well as website. It can also help in increasing your followers.
If you don't have a big fat budget for influencer marketing, don't worry, you don't even need that. Collaborate with micro-influencers (ones with 10k-50k followers) - they might not have millions of followers - but have a considerably good engagement rate.
Here's how a sponsored post might look like:
8. Set up Instagram shopping
How about turning your Instagram account into a shop? People will visit your profile, see your products, and shop right away - doesn't that sound pretty amazing? With the feature of Instagram shopping, you can turn your profile into a mini storefront and eventually generate income on Instagram .
To enable this feature, you first need to have a business account, fulfill Facebook's eligibility criteria, and upload a product catalog. After setting that up, you will be able to tag up to 5 products in a single image/video post, up to 20 products in carousel posts, and one product sticker in stories.
A shopping tab will appear on your profile, which will contain all the products in your catalog. Depending upon their location, your followers will be able to either checkout directly on Instagram, or given an option to visit your website to purchase the product.
Have a look at Kylie Jenner's Instagram shop:
9. Leverage user-generated content
What's better than posts and stories created by your customers bragging about the features of your products or services? Nothing can attract people more than customers who are already satisfied with your business. As user-generated content is unpaid, it's a genuine and honest recommendation.
You can always ask your customers to click a picture or shoot a small video of them using your products. Reshare this content on your profile, tag your customers, and thank them for being valued members of your family! This will generate trust among your followers and they'll remember your brand when they decide to make a purchase in the future.
10. Optimize your website for mobile
People use Instagram on their smartphones themselves. Thus, if you wish to drive traffic from Instagram to your website, you need to optimize it for mobile. If you don't, all the other efforts that you make for traffic-generating won't bring the results you want.
You would definitely not want to put effort into creating amazing stories and posts, growing your followers, and making them like your products or services - just to make them leave your website because of bad UX and UI. So, make sure to optimize your website and double-check that it is easy to navigate, quick to load, and easy to scan and read.
11. Send links in DMs
Ask your followers to send you DMs and start up a conversation. To strike up a conversation by yourself, you can send welcome messages to new followers and ask them a relevant question.
Alternatively, you can put up questions in your stories and ask your audience what they need help with or what they'd like to know. Then reply to their messages with relevant blog post links or other landing pages.
Even if you don't have a blog to answer their question, you can get an idea of what to write about. This will not only help in connecting with your followers better, but also drive traffic to your website.
12. Hold a live QnA session
Got a product launch or huge sale coming up? Go live to build more hype around such big brand moments. It lets you invite your followers to ask questions to which you'll be able to share all the must-have details. It's the rawest, most organic, and engaging way to interact with your audience on Instagram.
During your live session, you can encourage the viewers to visit your website and check out the latest updates. You can also pin the link to your website in the comments. One more way to go about this is putting a question sticker on stories and answering them with a call-to-action or link. Then share the response sticker on your live session, pointing the viewers towards the link mentioned in the answer. See how 'Prose' did it:
13. Add action buttons to your profile
So why exactly do you want to drive traffic from Instagram to your website? Is it to get more calls or inquiries through emails? Or is it for people to contact you through text, book an appointment, reserve a table, or buy tickets for an event?
Well, what if your followers can take all these actions from your Instagram profile itself? Instagram allows business accounts to add action buttons on their profiles. You can choose from a lot of options that include Book Now, Reserve, Business address, Email, Business phone number, and WhatsApp business phone number. All these options will be available in the 'Edit profile' section.
Final thoughts
With the right strategy, you can use Instagram to drive huge traffic to your website. You simply need to start using the tips mentioned above, and you'll be able to engage with your audience and convert them into customers in no time!