So Christmas is coming and December is normally a time when everyone is starting to wind down for the holidays. But the Developer Relations people of this world just don't know when to slow down!
I've been amazed this morning, logging onto my computer and seeing all of the amazing content that's being created and published EVERY day in the run up to Santa's visit!
It turns out, that December might just be the best time of the year to learn more about the cloud! Don't wait until January to start your new years resolution, utilise the quiet period to get up-skilled today! Here's a few great resources fo you to check out this month!
Resources
Sign up for a free Azure account
If you want to complete some of the challenges, you'll need an account with a cloud provider. Here's how to get one on Azure.
1. 25 Days of Serverless
This one is brought to you by the team of Azure Dev Advocates at Microsoft. Each day, there will be a new challenge posted and you'll be able to learn all kinds of things about Serverless technology by means of creative puzzles and fun activities.
The challenges can obviously be completed on Azure, maybe leveraging Azure Functions or Azure Logic Apps, but they're cloud agnostic too, so you can solve them on any serverless cloud of your choice!
All you have to do is visit 25daysofserverless.com to learn all about it and find the first couple of challenges!
2. Azure Advent Calendar
Want to learn about Azure? Or maybe you're already using Azure and want to dive deeper each day? This one is absolutely jam packed with content.
Brought to you by Azure MVPs Gregor Suttie and @Pixel_Robots You'll get a whopping 3 pieces of content each day! Each day there'll be 3 videos, each with an accompanying blog post. They'll be covering a bunch of Azure topics from Azure IoT through to how to pass Azure Certifications so there's something for everyone!
Head over to https://azureadventcalendar.com/ or their YouTube channel to get your hands on the content each day!
3. #DevDecember
So we've already covered some new content that you can get each day this month. But it's been an amazing year of content already in 2019! #DevDecember, brought to you by @livelovegeek from Microsoft Azure, is an effort to share some of the best cloud content of the year, as well as some new stuff too!
I hear there's going to be an awesome Ugly Christmas Sweater IoT tutorial!
There's a blog post explaining everything here, and you can follow the hashtag #DevDecember on Twitter to get all the juicy content each day!
4. Devops this holiday season?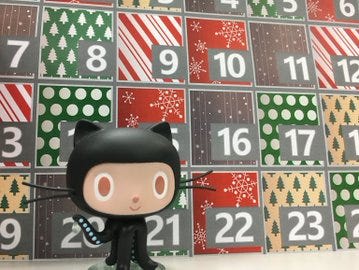 I know just what you need to get you in the Christmas spirit! Some Devops!!!
Edward Thomson from Github is going to be posting a daily blog post for you to learn more about Github Actions, their new service that allows you to perform CI/CD. As well as build, test, and deploy your code right from GitHub
To check the posts out, head over to Edward's personal blog where he'll be posting the content.
5. Advent of Cyber
As a cloud security advocate, how could we miss this one out! It's not specifically cloud security related, but security is important folks! So it can't harm to brush up on our infosec skills this winter can it?
The Cyber Advent Calendar is brought to you by TryHackMe and each day there'll be a challenge every day, designed at beginners, in their words 'we won't be throwing you in at the deep end' so it's a fun way to get up to speed if it's not something you've really invested time in previously!
There'll be challenges released on Web Exploitation, Scripting, Networking and more! Each one is self contained so it doesn't matter where/when you get started.
So head on over to https://tryhackme.com/christmas to get started!
So there we have it, 5 great resources to help you brush up on the Cloud this December! Here's a final list of resources.
Happy Learning!