While git hosting companies like GitHub are already setting the default branch to main for any new repositories since October 1st 2020, there are still a lot of repositories you own that still uses the master naming as the default branch.
For the reason why you should do it, I'll point to this article "Why GitHub renamed its master branch to main" which probably does a better job than what I would try to do.
But it's a very easy process, it requires only a few commands and a setting change in the GitHub repository.
Rename master to main
First thing to do is to checkout the master branch if you didn't already:

git checkout master


# Also be sure you have the latest changes


git pull origin master

Now you can rename the local branch with the following command:

But now this change is only in your local git folder, what you need to do next is to push this the remote, which is as simple as to run this command:

Change the default branch
Now, at this point you have both master and main on your remote, and before you can delete the master branch, you need to go in the repository settings, go into the Branches section, and check what's the default branch there.
If it's master you will need to change that to your new main branch, as shown below: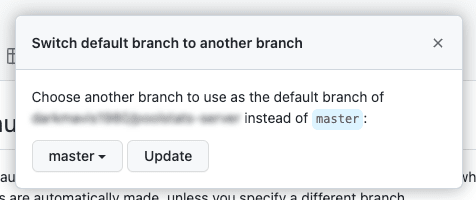 Once you have switched the default branch, you can safely delete the remote master branch:

git push origin 

--delete

 master

And that's it! You can say goodbye to the master branch for this repository.
Then it's just rinse and repeat for all your repositories.