This article was originally posted on Codica Blog.
A careful selection of the payment solution can significantly help the e-commerce business succeed. These are not just words. A well-known ride-sharing company Uber can vouch for that. The corporation switched to Braintree and became 16 times larger by revenue.
However, there is no universal way because each business faces its challenges. Your choice should be based on the features important for your e-commerce platform exactly. To work it out, let's dig into payment processing for two-sided marketplaces, and learn about the best payment gateways.
Overview of payment solutions for online marketplaces
Two-sided, or multi-vendor, marketplaces are intermediary platforms for multiple vendors to sell goods to many customers. That is why payment solutions for these marketplaces need to cope with multi-party transactions.
Also, you need to bear in mind some specific challenges that a good payment gateway should be able to overcome easily:
Fraud protection;
Enabling multiple payments;
Distributing funds between merchants.
Another big issue for your consideration is who will process transactions performing as a Merchant of Record (MoR). It is MoR who will take financial and legal liabilities.
Let's take a closer look at the top 4 payment processing options for multi-vendor marketplaces.
The best payment solutions for multi-vendor marketplaces
PayPal Commerce Platform
PayPal is the oldest and also the most popular payment provider that appeared in 1998. And now it serves over 305 million users in more than 202 countries.
The marketplace payment solution PayPal Commerce Platform offers Managed and Connected integration paths. The first option allows you to act as a Merchant of Record and manage funds distribution among your vendors. And within the second option, your merchants act as MoRs, and PayPal itself performs payments splitting.
Thus, PayPal offers great opportunities for companies that seek to build a two-sided marketplace. But keep in mind that the Connected path binds your vendors to use PayPal Business accounts.
PayPal Commerce Platform's other important features include:
Support for 100+ currencies;
Multiple payment reception;
High-standard security (PCI DSS + 3D Secure 2.0);
Split and mass payments acceptance.
PayPal payment solution gave a boost to the expansion of such companies as Grailed, iFundWomen, and Replin, to name a few.
Braintree Marketplace
Braintree is a financial services provider for e-commerce websites and mobile applications that works in 46 countries. Braintree Marketplace also supports split payments and allows vendors to act as MoR in transactions. But unlike PayPal, this platform obliges marketplace owners and their vendors to be registered in the US.
Braintree Marketplace offers the following benefits:
130+ presentment currencies;
Multiple payment reception;
Advanced SDK features (Custom-UI and Drop-in integration options);
High-standard safety assurance (PCI DSS + Braintree's fraud management tools).
Marketplaces that choose Braintree as a payment gateway are mostly mobile targeted. Thus, to ensure safety and pleasing UX, Hotel Tonight, Poshmark, Trouva preferred Braintree Marketplace to other payment solutions.
Stripe Connect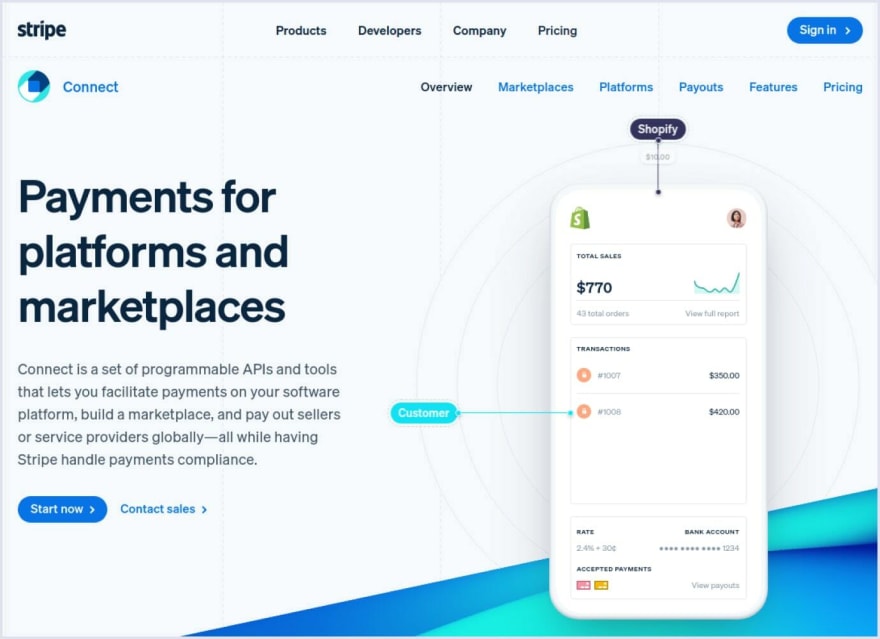 Stripe payment solution is presented in 39 countries and intended for individuals and businesses of different sizes. It provides two-sided marketplaces and crowdfunding platforms with the Stripe Connect payment processor.
Stripe tends to have an easy vendor onboarding process. It also supports split payments and a service fee placement for each sold item. Within this platform, vendors also can act as MoR.
Stripe offers a comprehensive range of benefits including:
135+ presentment currencies;
Multiple payment reception;
High-standard safety assurance (PCI DSS + Radar, Stripe's fraud management tool);
Developer-friendly documentation and straightforward APIs; Management dashboard to control your business.
Well-known marketplaces such as Lyft, Kickstarter, Booking.com choose Stripe thanks to its reliability, convenience, and easy integration with other services.
Dwolla

Dwolla offers payment processing services for e-commerce and mobile platforms. It supports advanced ACH payments for American marketplaces. Dwolla payment gateways are available for US-registered parties only.
Dwolla obliges a marketplace owner to be an MoR and hence assume the responsibility for the transactions. Dwolla connects the in- and out-flows from customers to vendors. Here, marketplace owners act as a transmitter and get their fees for the transactions.
Dwolla payment processor implements such key features:
Support for ACH payments in the US dollars;
Mass payments automation;
Developer-friendly APIs and explicit documentation;
High-standard security (PCI DSS).
The strengths of the Dwolla platform facilitated the growth of such marketplaces as GOAT, Nomad Health, Tophatter.
Paypal vs. Braintree vs. Stripe vs. Dwolla
To help you decide with the choice of the most suitable payment solution for the launch of a two-sided marketplace platform, we have gathered the important features in the comparative table for your consideration.
Bottom line
To sum up, PayPal, Braintree, Stripe, and Dwolla offer the most convenient and powerful solutions for online marketplaces payments. They come with seamless security and advanced features for online payment processing.
To learn more about the payment gateways for two-sided online marketplaces, see our full article: 4 Best Payment Solutions for Online Marketplaces.