Since I'm responsible for the mobile client, as well as the web app and the server side NodeJS, I bounce back and forth between all of them. Last time I touched the mobile code (which was implemented using Xamarin Forms) was last week. That was when I created an archive and submitted to Google Play and Apple App Store. Both were accepted.
My Windows 10 got auto-updated a few days ago. Then this morning, trying to open my VS2017 solution, I got the error with VS 2017 failed to load the Android project. "Root element is missing". I tried with Xamarin Studio. Same thing happened. OK, reboot the computer. Still failed.
So still being patient, I googled. Someone suggested that the .csproj has a missing root element. OK, but how could it miss a root element if I didn't touch the file. Doing a git status confirms that nothing was changed. I opened it up anyway, cntrl-A, cntrl-C, go to https://www.xmlvalidation.com, and cntrl-V. XML was validated, no errors were found.
I started to become frustrated and just shouted: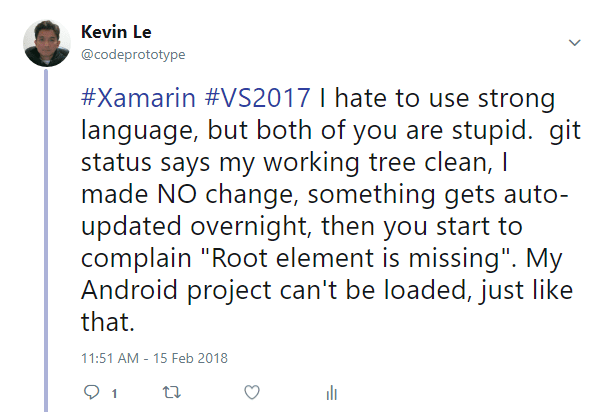 BTW, this is not the first time that I got burned with Xamarin. It's just the first time I decide to document.
I googled some more. Looks like someone had the same problem and posted the same question on StackOverflow. Unfortunately no answer.
Googled. Tried. Still no success. Repeat. One thing I refused to do was uninstall and reinstall VS2017. Who knows how many hours that would take.
Until I found this BizTalk Tips and Tricks article.
Long story short, I renamed the .Droid.csproj.user, effectively fooling VS2017 that I deleted it, and reload the Android project. Works.
In summary, an article on BizTalk dated in 2010, way before VS2017 was born, solved a VS2017 Xamarin bug, in 2018. Go figure.
In defense of Xamarin, when it's working, it's working great. Until any update, whether it's a Xamarin update, VS update, .NET update or Windows update.
OK, let me go answer that StackOverflow question which was asked some 8 months ago, but still has no answer. And thank you to that BizTalk blog post.