If Jira seems disappointing to you and your team, in this quite lengthy article you'll discover the best Jira alternatives.
Or if you are just browsing the web for a great project management tool, this guide will ease your final decision.
DISCLAIMER: This is a shortened version of a 13,000-word "best Jira alternatives" post you can find here.
Codegiant
Codegiant is a free Jira alternative that comes with a straightforward UI. You won't feel like you've been dropped in the middle of an intergalactic Star Wars battle when using it.
Codegiant also brings tons of features to the table. You can easily create tasks, distribute them among your team members, and keep track of your team progress. And thus clearly see the next step you need to take to make sure that your team moves in the right direction.
What's more, Codegiant offers both intuitive Kanban and Scrum boards.
Moreover, it has a documentation tool pretty similar to Confluence.
Whether you are looking for a clear view over your projects or in a desperate hurry to meet all deadlines, Codegiant has enough flexibility to fit any of your workflows, accelerate the team efforts, and make your work more manageable.
ClickUp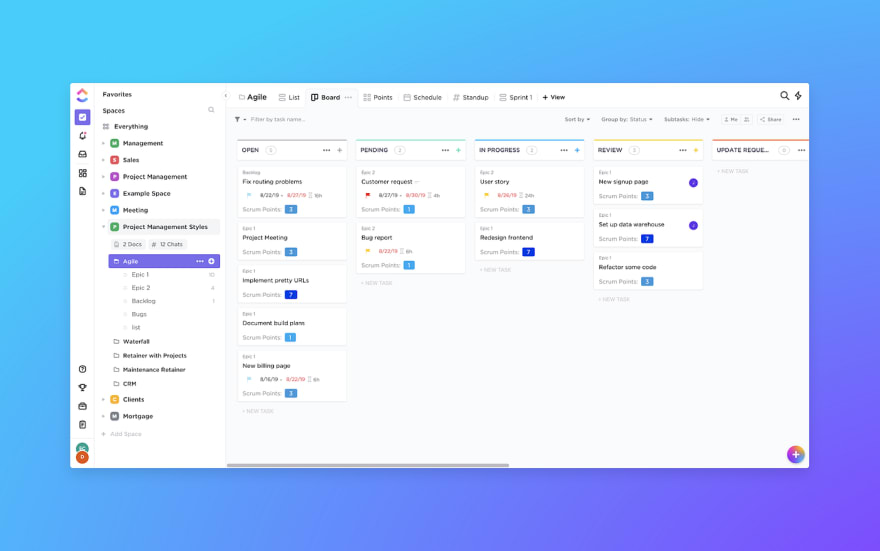 ClickUp is another fantastic free alternative to Jira for agile teams. "The one tool to replace them all" is how ClickUp describes itself.
Developers from ClickUp say that growing frustrations from average project management tools prompted them to build ClickUp to remove the chaos in the work-life of a typical project management user.
Let's see.
ClickUp has an intuitive interface, and it is also rich in features. This puts it miles ahead of the average competition. With ClickUp, you can also manage your personal life through notes, digital scratchpads, reminders, and calendars, all beautifully designed.
Inside ClickUp, you can create and organize tasks quite easily. It has enough flexibility to ensure that you don't feel limited when using ClickUp.
Asana
Asana is undoubtedly one of the essential Jira project management competitors for agile methodologies out there.
If you didn't know, Asana was founded by one of Facebook co-founders (Dustin Moskovitz) back in 2008. And it is currently evaluated at $1.5B (June 2020).
Ok, let's get down to brass tacks.
Asana enables you to easily create and spread tasks across your team due to its straightforward UI/UX. Moreover, with Asana's intuitive boards, you'll have the chance to clearly visualize your work and make better future project plans.
With Asana Timelines, you can break down your project in pieces and thus ensure that you will rarely if ever, miss a deadline.
Offering more than 100 integrations, Asana brings everything you need in one place — emails, files, tickets, and many more.
One of Asana's best and most entertaining features is the rainbow unicorns. Asana hits your screen with flying unicorns when you finish a task. This makes you absolutely fall in love with the tool. You have to give kudos to Asana for its innovation.
Monday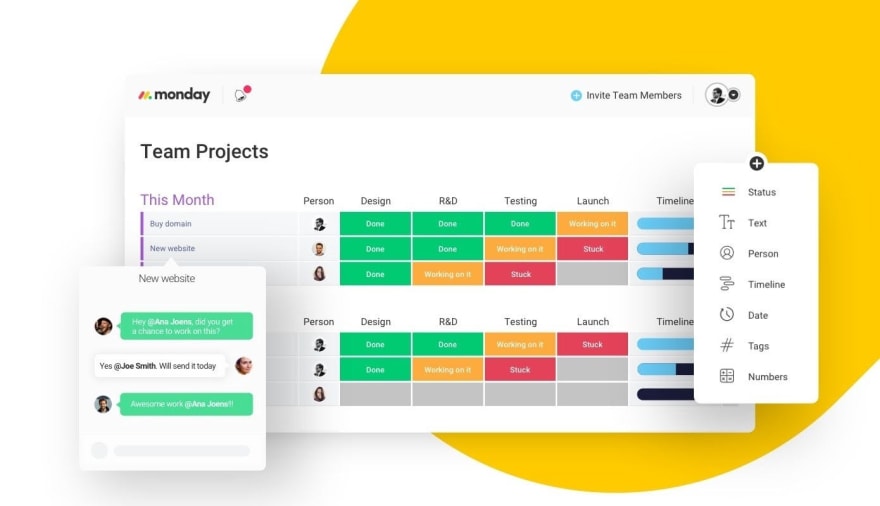 Monday is another outstanding alternative to Jira. No matter the size of your team, Monday definitely has something to offer to both small and big teams.
What makes Monday stand out from most of the complex project management tools is the simple UI it offers. It is straightforward. It is pleasant to the eye. And it'll ease your work life significantly so that you don't have to run around in circles when using Monday.
Monday enables you to create and organize your projects easily. The drag and drop feature will definitely make your user experience much smoother.
Moreover, Monday boasts incredible collaboration features that can bring your team on the same page. Everybody knows what other members of the team are working on. Managers have a clear-cut view of the team progress and can assist the team members when needed.
Monday is also widely used by freelancers. Say, if you are a freelancer, you can set up a board, give access to your client, and whenever board changes occur, your client will be notified via slack or email.
Wrike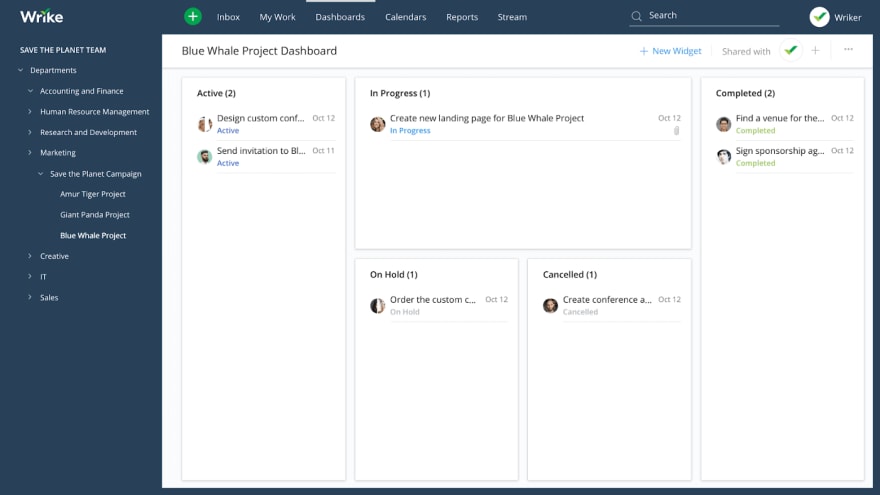 If you are overwhelmed with a myriad of tasks and Jira feels a bit frustrating, one of the best alternatives you can replace Jira with is Wrike.
Wrike is the tool to take care of all your project management needs. It comes with tons of simply-designed features — gantt charts, workload view for resource management, enterprise-level security, custom dashboards, auto-assignments, and more. It also delivers robust reports to monitor your team progress so you can receive valuable work-related insights.
Wrike gives you the chance to fully customize your workflow and empower your team to be more productive. And thus meet every deadline without any hassle whatsoever.
With Wrike's interactive timelines, you'll plan ahead, innovate, and monitor your team performance over time.
Trello
Jira's brother, or sister, or kid, or whatever type of relative… Trello is another viral and free Jira alternative used in agile software development as well as for other purposes. Trello is also owned by Atlassian.
"Jira vs Trello" is one of the most searched keywords when it comes to free Jira competitors/alternatives. After all, Trello is as well one of the most popular PM tools today.
The uniqueness of Trello stems from the simplicity and visibility it provides. Trello allows you to add due dates to any card you create. And it also empowers you with weekly and monthly calendar views over your projects so you can clearly see the steps you need to take to finish your project fast and effortlessly.
Creating boards, tasks, mentioning teammates, commenting on issues, everything is simplified to the degree that you can't even realize how easy it is to work with Trello. Trello basically has one of the most simple UIs from all of the gazillion project management tools out there.
Moreover, projects can be easily moved and adjusted with drag-and-drop clicks.
It helps you clearly see what's on the table, the tasks your teammates are working on, and the next crucial step you need to take to move the project towards the goal line rather swiftly.
Kanbanize
The ultimate Jira alternative for managing your Kanban projects much more effectively is called Kanbanize.
Kanbanize is merely great. With its intuitive interface, you won't have to smash your head against the work desk, trying to navigate through the board. Kanbanize also allows you to design your boards the way you like it. The software is quite flexible, so you'll have the chance to easily adjust it to your workflow.
It also brings incredible visibility to your projects. You'll never second guess yourself when working towards the completion of a particular project.
Accelerating your work process by improving your team collaboration is a real possibility with Kanbanize.
Designed to help teams plan release cycles on time and move faster in product development, Tara is a great alternative to Jira for distributed teams.
With a simple interface and zero-configuration, the platform allows teams to easily organize tasks and run sprints (in minutes!) while delivering visibility into the development progress and release cycle.
Users can write product specs, create and assign tasks, groom backlog, and get team insights- all in one platform.
Additionally, Tara also offers 2-way integration with Github and Asana or Trello import, enabling teams to achieve more together without toggling between different platforms.
It provides the time-based structure, prioritization and discipline to help teams continue shipping products
without disruption.
Pivotal Tracker
Another powerful Jira alternative that is bulging with heaps of features is Pivotal Tracker.
Pivotal Tracker has the power to provide you with a bird's eye view over your projects. You'll have the chance to clearly see every phase of your project and ensure you meet all deadlines.
Pivotal Tracker helps you track your team progress so that you can identify potential issues in your workflow and take precautionary measures in time.
Also, Pivotal Tracker allows you to bring your team on the same page. Every single step taken towards the completion of a particular project can be documented easily. Your team will be able to sync effortlessly and thus accelerate the work process.
However, due to the heaps of features it offers, Pivotal Tracker might seem mind-boggling at first. You'll need to invest some time in learning the tool initially to use it without any hassle further down the line.
Once you get the whole picture, you'll realize how great Pivotal Tracker actually is.
Assembla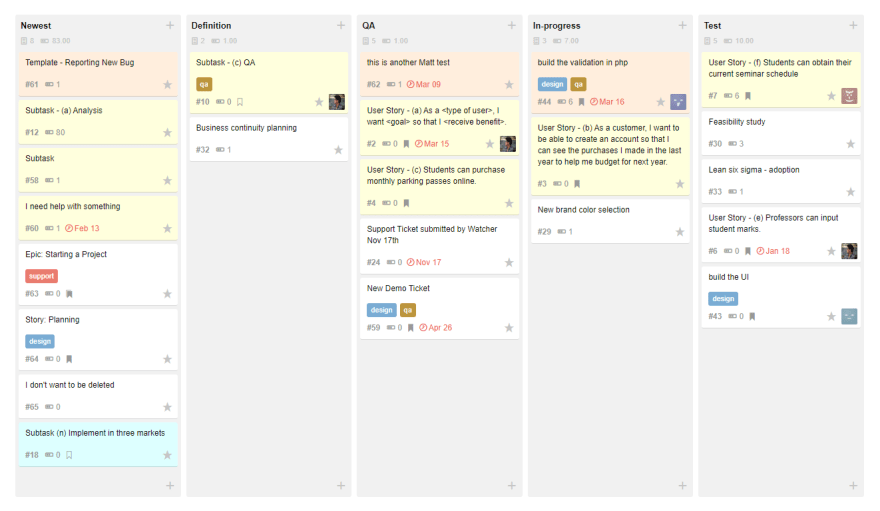 Assembla is a more innovative alternative to Jira. It's an excellent pick for developers.
It comes with heaps of smartly-designed features (like useful wikis, message boards, file-sharing, 24/7 support via phone, chat, and email) to help you customize your workflow the way you like it.
Managing your projects with Assembla is relatively easy once you get used to it. It's basically a great software to use for source control on your projects.
However, sometimes you might find it a bit overwhelming to sift through Assembla's not-so-intuitive interface when rummaging for features.
Backlog
Backlog is an all-in-one agile tool like Jira (but with slight differences) that adheres to agile methodologies.
The difference between Backlog and Jira is that Backlog is relatively simple and easy to use.
You still get access to tons of features inside Backlog, yet without being overwhelmed by a hectic UI. Backlog's clean interface removes all the clutter from your projects. It thus empowers you to focus only on the main tasks to move your project closer to the goal line.
You'll also be able to break your tasks into subtasks and then spread them across your team.
Backlog really comes with amazing team collaboration features. Its tagging features are absolutely fantastic and fast to utilize. You can definitely bring your team on the same page when working with this software. Kudos to you Backlog.
On top of that, information pertaining to your projects can be stored in comprehensible docs and wikis that are incredibly easy to assemble.
Backlog also offers a bug tracker and code management system — a perfect pick for developers.
VivifyScrum
If you love Jira's features, but you feel quite overwhelmed because of its complex UI, a great alternative is VivifyScrum. This free scrum software brings a simple UI and tons of features to manage your entire workflow.
VivifyScrum is designed based on the traditional "Trello" interface, which actually makes it pretty easy to use. Its collaboration features are top-notch and will bring your team on the same page. And thus empower you to meet all your deadlines.
With VivifyScrum, you'll have crystal clarity over your projects to clearly see the direction your plan is moving towards. If team members are falling behind, you can quickly notice that and provide further assistance.
nTask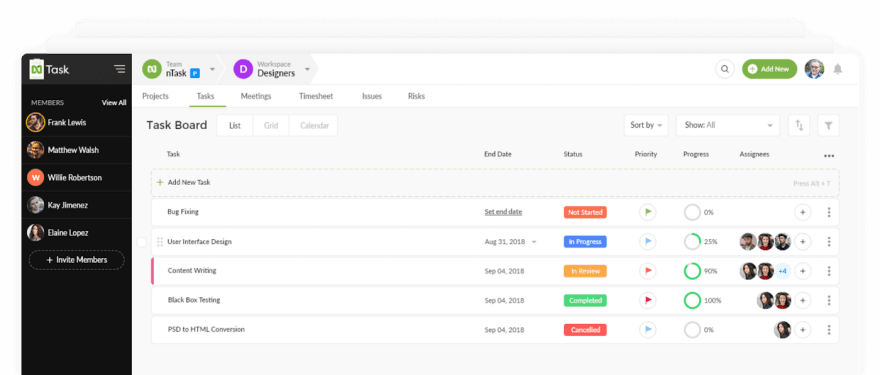 nTask is an all-in-one Jira alternative that adheres to agile methodologies. It's a free agile software. nTask is perfect for smaller teams as it makes project management, team communication, and task distribution easier.
The uniqueness of nTask stems from its all-in-one design that strives to ease your work life with every feature you need from A to Z.
Unlike the average PM tools, nTask features a more straightforward interface. You won't have to stare at a complex UI anxiously, trying to understand how to create your first task while silently swearing.
Axosoft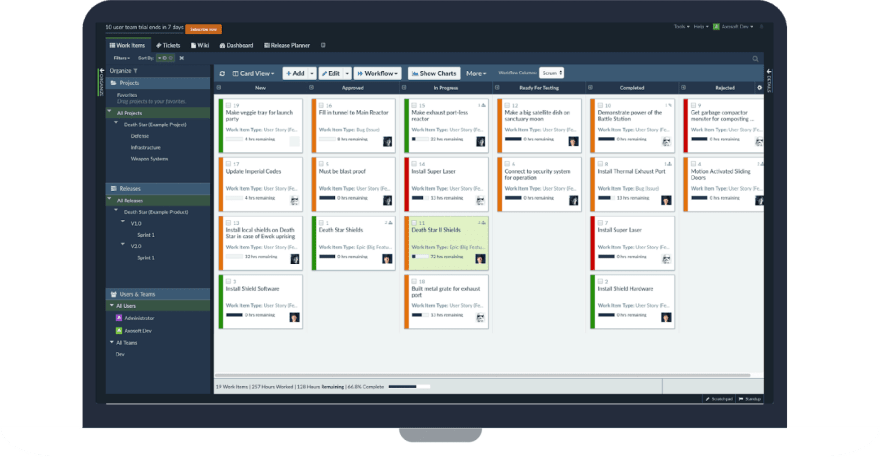 Axosoft is another fantastic Jira alternative specifically designed for developers as well.
Axosoft delivers heaps of powerful features such as project planning, help desk, agile bug, and incident tracking.
Project management with Axosoft is made very easy. From planning the initial steps of a detailed project to its completion, you can go through the entire process without any hassle.
It enables you to manage your projects efficiently and plan releases and analyze your work progress effectively. So, your team can always be on top of the food chain.
Axosoft is as well capable of providing you with a bird's eye view over your projects. You can structure all your tasks easily and distribute assignments across your team swiftly. You'll know every essential step of the process to move your project forward. And make the necessary adjustments to your workflow when planning future projects.
What's more, with Axosoft, you can build unlimited wiki pages and turn emails into support tickets.
Proofhub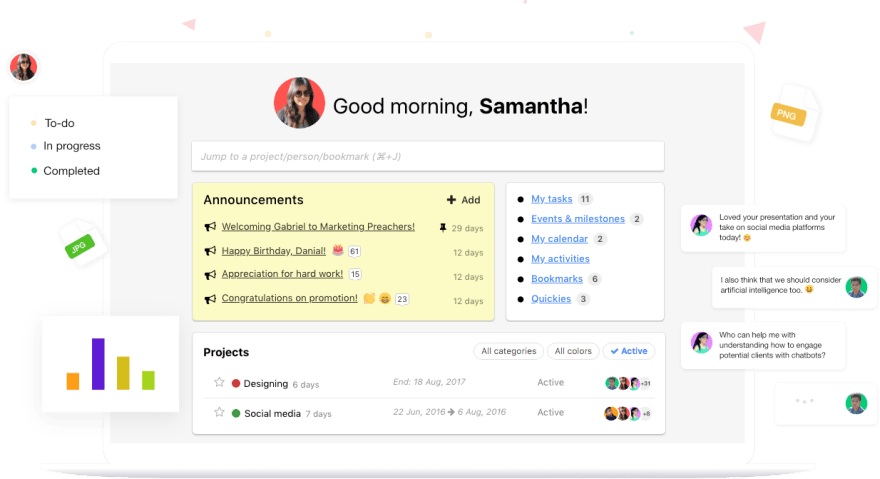 If Jira isn't able to sustain your team collaboration, Proofhub is an easy-to-use Jira alternative that can definitely bring your team on the same page.
It comes with integrated group chats and project discussions to make your team collaboration instant gratification instead of never-ending boredom.
Uploading, storing, and sharing files inside Proofhub feels like a breeze. You can say goodbye to the wearisome email rummaging.
With the 50,000 foot view that Proofhub brings to the table, your team can clearly see the battlefield and know every battle move it needs to take next to ensure the victory.
Proofhub can also be very well adjusted to your workflow. You can customize your workflows easily.
Teamwork
"Manage people, not tools." — Teamwork's motto.
If Jira cannot provide you with a simple and intuitive backlog that doesn't scramble your brains 24/7, then Teamwork might be a reasonable Jira alternative.
Teamwork allows you to manage your projects, team, and schedules without any hassle at all. You'll rarely, if ever, miss deadlines again. And your team is bound to increase its productivity once it gets used to Teamwork.
What's more, it brings great clarity to your projects so that you don't feel wholly disoriented, like in a lonely desert in North-East Africa, not knowing the next essential step you need to take.
GanttPro
GanttPro stands for simplicity. If you feel like Jira doesn't have what's necessary to ease your work life, you might want to turn your attention towards GanttPro.
If your backlog is bulging with clutter and you feel so overcome with frustration that you lean against the closed door of your office and silently scream, GanttPro can be your savior.
GanttPro is built to remove chaos from your projects. It provides you with simple project reports and analytics to easily assess your current work situation and make the best team decisions moving forward.
And GanttPro is quite famous too. It is used by more than 500,000 people, including project managers, CEOs, as well as managers from different departments.
Moreover, GanttPro comes with a 14-day free trial that allows you to fully explore the tool to see for yourself if it fits your needs.
ActiveCollab
If Jira doesn't feel innovative enough and you struggle with managing your team efficiently, you may want to take a look at ActiveCollab, a fantastic Jira alternative.
Active Collab will give you the chance to bond your team together to be at the top of the food chain again, ramping up more and more finished tasks every week.
If you love powerful features, ActiveCollab can impress you with workload management, time tracking, project profitability, task dependencies, invoicing, collaborative options, and third-party integrations. You'll be merely amazed.
With ActiveCollab, you'll have the ability to break your projects into phases. And each stage into smaller chunks (assignments) so you can assign tasks to your teammates easily.
Whether you are a developer or not, ActiveCollab can ease your work life with its simple and intuitive interface. Spreading tasks and managing projects inside ActiveCollab feels like a breeze.
Planless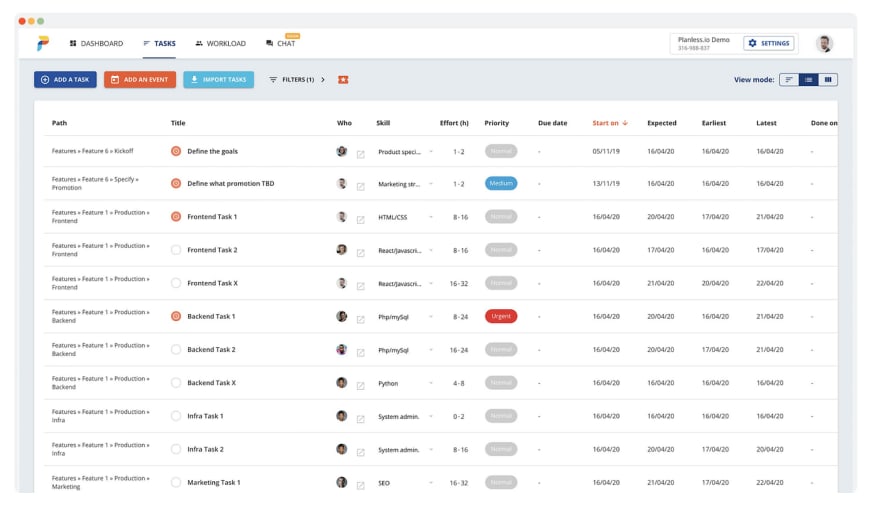 Planless is a young Portuguese project management startup, and it's actually a great alternative to Jira.
That's because it leverages AI technology to automate tasks such as work planning, resource assigning, and managing people's workload.
Planless's modern AI technology tells you which member of your team is best suited for a particular task. It also enables you to clearly see the project progress being made so you can identify team members struggling with their tasks and assist them.
This is a game-changer because, in most PM tools, planning, assigning tasks, and managing workloads can sometimes be wearisome.
"30% increase in productivity" — Even if you are currently using a great project management tool, users have experienced as much as a 30% increase in productivity, and Planless guarantees the same for you.
Bitrix24
Bitrix24 is another great and free alternative to Jira that offers something for everybody, regardless of your job title — developer, marketer, analyst, designer, or else.
Bitrix24 is brought to you with oodles of features, enabling you to manage your projects relatively easier. And thus accelerate the overall work process.
With Bitrix24, you get unlimited collaborators and unlimited projects for free.
The task creation process is relatively simple. You can create subtasks, insert templates, and manage task roles easily.
You'll have the opportunity to bring your team on the same page with effective collaboration channels (chat or video) so that everybody knows what they should be working on.
GitHub Issue Tracker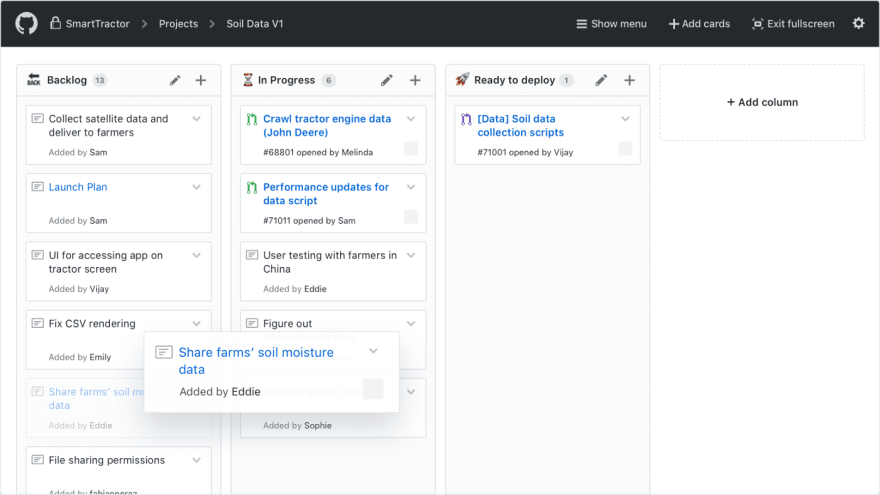 Even though GitHub is a tool specifically built for developers, it comes with an issue tracker easier to comprehend than 90% of the tools in the PM market. GitHub and Jira are quite similar to each other with their serving market. Both agile tools are focused on software development teams.
A disclaimer: if you aren't a developer nor have an interest in becoming one, feel free to skip this one. It's mainly suited for issue and project tracking for software development.
What's unique about GitHub is that you have all your repositories, CI/CD automation, and projects in one place. And unlike a lot of other dev tools, GitHub definitely brings quality and simplicity to its features.
Basecamp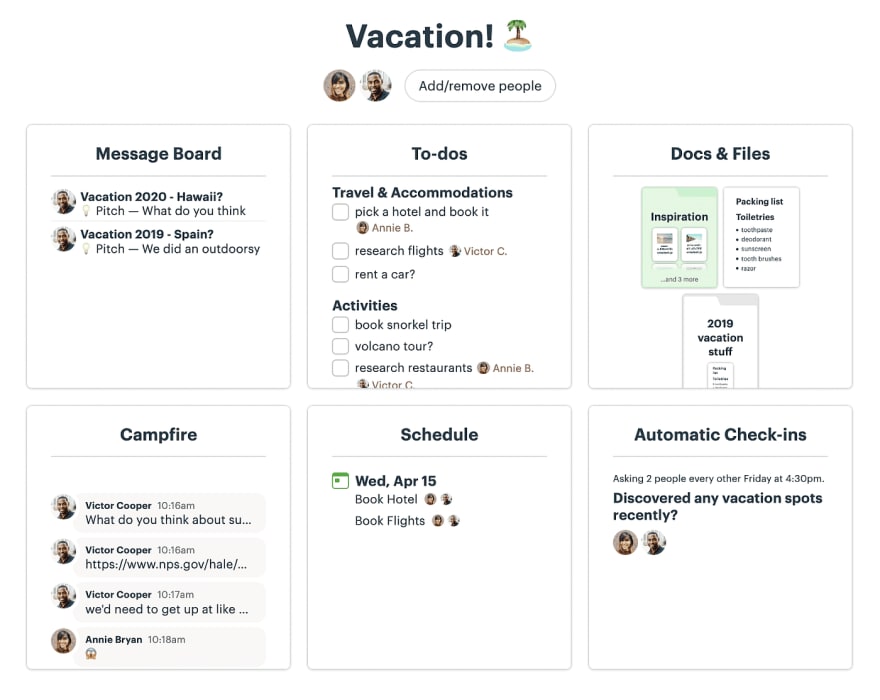 Basecamp is one of the biggest and strongest competitors among all other project management tools. It dates back to the early 2000s. And it's a fantastic alternative to Jira.
What makes Basecamp unique is its ability to bring every feature you need in one place and thus allow you to manage your projects without having to jump from one tool to another, wasting your time & energy.
It boasts tons of incredible features such as to-do lists, message boards, schedules, documents & file storage, and group chat. All of them make your work life easier.
Basecamp can put your team on the same page so that everybody explicitly knows what to work on to move the project from its current unfinished state to being successfully completed.
Workzone
Workzone is a great Jira alternative that is specifically designed for marketing and operational teams with more than 5 users on board.
Workzone brings heaps of powerful features to the world to help you manage your projects efficiently. It also enables you to sync with your team through its incredible communication features.
What makes Workzone stand out is the project reports and analytics you can utilize to improve your work methods and make accurate future time and cost estimates.
Workzone is also quite easy to use as it comes with a relatively simple UI. You can create and distribute tasks across your team pretty much without any hassle. It's trusted by big brands such as Wells Fargo and Verizon.
Mavenlink
Mavenlink is a beast.
Whether you are a developer, a marketer, a designer, or an HR person, Mavenlink has something to offer to everyone.
It unites everything from resource management, project management, and collaboration to time tracking and project financials in one single place for better user experience.
With Mavenlink, you won't have to bounce between multiple apps to manage your team effectively. Everything you need is huddled together in Mavenlink's robust interface.
The tool is also known for its detailed reports and analysis that can help you make better time and cost estimates.
Paymo
Paymo is considered to be an innovative Jira alternative that can help you track your work progress to the smallest detail so that no issues slip through the cracks.
Paymo is a robust project management tool built with amazing features such as advanced task management, planning, scheduling, time tracking, collaboration, and invoicing.
You'll have no trouble managing your tasks as well as your team inside Paymo. It's quite flexible and empowers you with a clear view of your projects. You'll always know the direction your projects are moving towards.
Paymo is best suited for small businesses and remote teams.
Airtable
An all-in-one Jira alternative for free, built with some of the most beautiful types of spreadsheets, Airtable can definitely meet your expectations for efficient project management.
Even though Airtable is primarily used to manage your spreadsheets (as its slogan suggests, "Looks like a spreadsheet. Acts as a database"), it also boasts incredibly well-designed project management boards. You'll have the chance to create and spread tasks across your team quite easily.
Airtable comes with every feature you'd ever need to track your team progress from A to Z. What's more, you'll be able to readjust columns and rows in your spreadsheets easily with the drag and drop functionality.
And its UI is quite impressive. It won't boggle you down, and you'll be able to navigate your way through it.
Hygger
Hygger is the tool to make your project management as easy as ABC. It's a great Jira alternative for free that is very, very easy to use.
Hygger comes with heaps of fascinating features. And on top of that, it's super flexible. Its Kanban boards include incredible features like WIP limits, swimlanes, time tracking, and multiple projects on one board.
Keeping track of your progress is the most natural thing you can do inside Hygger. The PM tool provides you with tons of thorough reports and analytics to easily see your projects' direction.
Hygger also allows you to assess your current situation clearly so you can see the next essential tasks your team needs to complete.
Teamdeck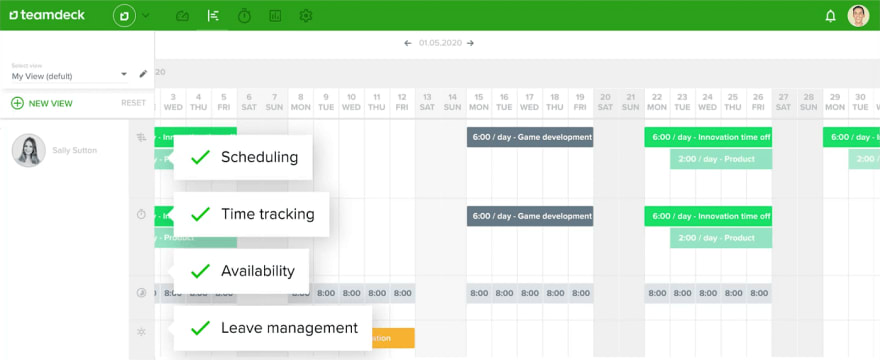 If you are looking for a less-cluttered PM tool to help you accelerate your work process so that you can meet any deadline, Teamdeck is the right pick for you.
What makes Teamdeck stand out is its simple UI. You'll be able to easily navigate your way through it. Creating and spreading tasks feels like a breeze inside Teamdeck.
With its straight-to-the-point features, Teamdeck gives you the chance to boost your productivity as well as accelerate your work process so that you can stay on top of the food chain.
ProductBeat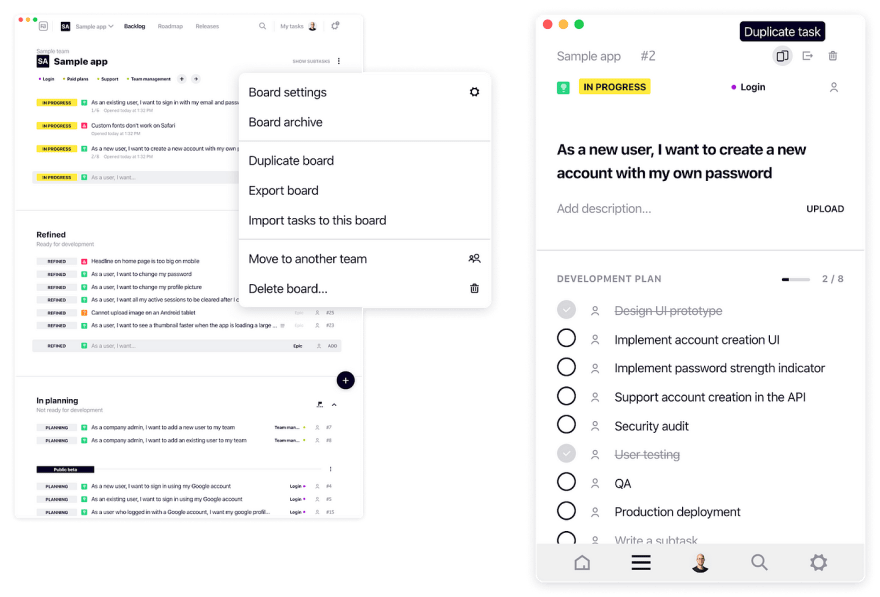 ProductBeat is a relatively new tool on the market, but it definitely grabbed our attention with its simplicity.
It brands itself as a "Jira alternative that just works."
At a glance, ProductBeat looks quite neat and easy to use. You can easily create and distribute tasks across your team without any hassle whatsoever.
It also comes with a steady amount of features for a newly-created company: intuitive backlog flow, release timeline, lightning-fast search, native desktop apps.
ProductBeat is also one of the most upvoted products on ProductHunt, and it has a promising future.
Binfire
If you feel overwhelmed by Jira's fairly complex UI, you might want to consider switching over to Binfire.
Binfire will definitely remove all the clutter from your backlog and thus boost your team productivity.
With Binfire, you can assign and prioritize tasks easily. Everybody sees the next vital step to be taken. And there is no second-guessing when working towards the completion of a project.
You can as well tag tasks and sort them easily. Moreover, assignments can be copied and moved across boards, making it easy for a project manager to organize the whole project.
Binfire's interface is a bit similar to Trello's, which means it's very intuitive and friendly. However, Binfire is designed with more features that may make the software harder to grasp initially.
Redbooth
"Project management for modern teams" — this is how Redbooth describes itself.
It's really an innovative free Jira alternative that features quite an impressive interface. With Redbooth, you'll have no problem creating, spreading, and organizing your tasks. You'll also have the chance to break down your assignments into smaller chunks so you can focus on a tiny task and keep your motivation steady.
With Redbooth, you can bring your team on the same page and thus accelerate the work process.
If we could give Redbooth a one-word description, that would be "simplicity."
Celoxis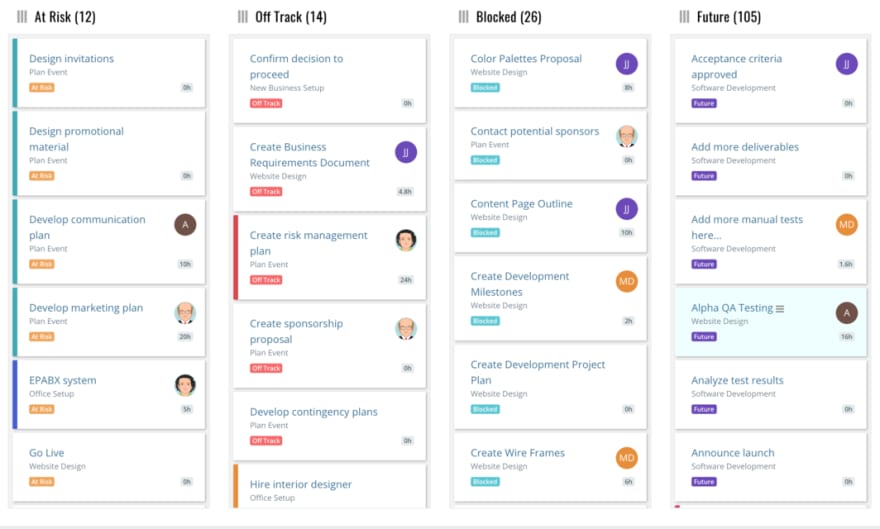 Celoxis is an all-in-one robust alternative to Jira that comes with heaps of enterprise-level features, comprehensive boards, and thorough reports and analytics.
Celoxis has every single feature your team needs to avoid the bouncing between various 3rd party apps.
With Celoxis, you'll have the chance to manage your projects and entire team easily without much hassle.
The thorough reports and analytics will give you insights on how to handle your future projects in order to ensure a 95%+ success rate.
Visor
Visor is a fantastic Jira free alternative for teams of all sizes.
It provides a more collaborative and interactive environment than Jira. You can sync your Jira data with Visor to generate a fresher view over your database.
Visor's bidirectional syncing with Jira is direct, reliable, and honestly feels like a breeze. Your data will always be up-to-date (it only needs to be updated once, either in Jira or in Visor).
Visor also allows you to view and edit your data in two ways — Table and Timeline.
When you decide to create a table of projects, a timeline view will be generated automatically (and vice-versa).
With Visor, you'll have the chance to label, color, and filter your projects the way you like it so you can feel comfortable when using it. And thus easily manage the files you share with your team members.