As of June 1st, 2019, the final cloud storage software gave in and started charging its customers. That service is Google Photos. The days of storing tons of photos and videos for free were over.
That is except for Facebook… don't do Facebook… way too lossy… videos are a pixel fest.
Although, since Google Photos was the only cloud service to offer unlimited storage anything placed on their server before that date doesn't count against your quota… Nice.
If you have Amazon Prime you are in luck since they do offer unlimited photos for free with the membership. Their video plan caps out at a measly 5GB… all their paid tier plans are anti-video. The good news is you could divvy up your content and place videos on Google Photos or iCloud but place photos on Amazon Photos. The downside is there is no office apps or drive storage on Amazon.
The most price-conscious deal is actual OneDrive, The $100 annual family plan gives you 6TB (1TB for 6 people). It includes desktop/web versions of all Office products, and windows will auto backup files on Windows and Mac. I wish that they would let you partition that drive… I would take 5.5TB and give my wife 500MB😂… Come on Microsoft.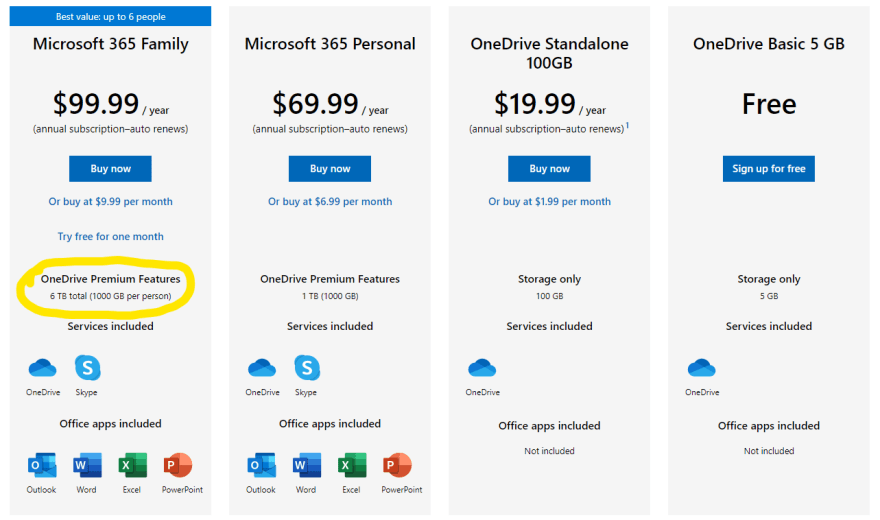 Microsoft also fails when it comes to AI… there isn't much AI integration… they want you to place photos in a folder named 03-25-2003 like it's 2003 again. Next, I will be storing the photos in a drive and placing the hard drive in a closet… sheesh.
The AI of these services make it worth it… If I can't remember what date I went on a trip I can find it on the photo location map. I can search "License Plate" and find the photo and let the hotel clerk know my plate number.
Sharing via links is great too. Videos look terrible in text messages… I rather watch something from a mechanical television. Part of it is because some people are on iPhone and some people are on Android. But if you share a link the recipient receives a high-quality version and if they use the same service they can add the photos to their drive. Below is a photo that was texted too me.
Backing up also means if your phone falls in a lake you still have all your photos. And if you have unlimited data you can opt to have photos uploaded over data thus you will have the photos you took five minutes before the fall.
Lastly, you can view your photos on any web browser as long as you are logged in. Seeing all the photos in descending order and in a titled collage with panoramas placed elongated is great.
Except for Apple's iCloud, you used to be able to log in on a browser and see all the photos. Apple took this feature away from Windows users around the time Tim Cook took over. If you want to view them on a computer it has to be a Mac with their Photo app. This also took away the ability to print photos from Walgreens/CVS's website because you can no longer validate your credentials for a browser cloud service that no longer exists.
Also when Apple made this decision older Macs weren't able to upgrade the Photo app. Apple's solution to this was to buy a newer Mac. Also, the entire time that other storage plans offered free tiers or free software, iCloud only offered a tiny 5GB drive for free. In the past, they had very expensive phones with very little storage compared to the competition hoping people would cash in. I would consider not using iCloud unless you use a Mac… a newer Mac that is.