In today's digital landscape, people are blasted with content. Brands vie for attention through any possible channel. Our emails are cluttered with promotional newsletters and once-in-a-lifetime offers. Our newsfeeds are splattered with sponsored ads, influencers' reviews, the unsolicited opinions of well-intentioned friends and family and the occasional tech-savvy great aunt.
Visual media aids help brands distinguish themselves in a quick and efficient manner. Instead of long passages of texts, brands can distill their message into one image that says it all. Unfortunately, one image is never enough. The lifespan of a Facebook post or ad lasts only for the few seconds it takes to glimpse at it and scroll onwards—approximately six seconds. You need more than that to remain visible and reach prospective customers.
As brands accumulate more and more media, it becomes difficult to keep track of the distribution, management and usage licensing. Digital Asset Management (DAM) solutions enable brands to store, organize and distribute all their digital assets in one centralized platform.
What Is Digital Asset Management (DAM)?
Digital Asset Management (DAM) is comprised of a set of business practices and technological tools. DAM enables organizations to control the storage, usage and curation of their media assets.
What Is Digital Asset Management (DAM) Software?
DAM software was originally designed to help organizations manage rich media content, back when all you needed was two sliding images to create an interactive Web ad. These DAM tools relied solely on rudimentary metadata for organizing media libraries. You can add in the name, format, description, media type and date, and that's about it.
With the traditional DAM, your searching capabilities are limited to the metadata you wrote for each asset. This is why Content Management Systems (CMS) like Wordpress fail to answer the needs of content-heavy websites—you have low visibility into your media library. Additionally, you have no ability to track licensing and usage rights, and there are no video editing features.
Today's DAM solutions take into account the constant demand for new and different content, enabling organizations to manage all media formats in one location. You can upload images, vectors, videos, animations, GIFs, PDFs, presentations and more. You can integrate DAM solutions with your CMS, and streamline your content across all channels. If you have a sales team, you can give them access to marketing materials and bring the two disciplines together under one collaborative platform.
How to Choose a DAM Solution
Make sure that you choose the right DAM solution for you. You can create a DAM guideline to help keep you focused on the capabilities that matter most to your organization. Figure out how much media you want to store, and define a storage limit. Define roles and the number of users who need access to the platform, and keep everyone informed about licensing compliance standards and security best practices.
Here are the most fundamental features you should look for in a DAM solution:
Integration—the content you manage in your DAM solution is always needed elsewhere. Ensure that your DAM solution can distribute your content seamlessly to all of your media channels.
Curation—the whole point of moving all of your content to a new location is to enforce simple organization standards. Look for solutions that enable cataloging features. AI-powered tagging and automated metadata, can especially make your work easier.
Search—a DAM solution should make it easier for you to find the media you need. To that end, some solutions provide Artificial Intelligence (AI) capabilities such as search suggestions, AI image recognition and auto-tagging.
Depending on the needs of your organization, you might also want your DAM solution equipped with the following capabilities:
Sharing
Collaboration
Version control
Access and authorization management
Cloud hosting
Intuitive user experience
Support
Once you sort and organize your content, you'll be able to manually identify content patterns and adjust your DAM guidelines accordingly. DAM solutions with intelligent analytics capabilities can also provide you with automated insights about the performance and usage of your assets.
Top DAM Software Providers
WebDAM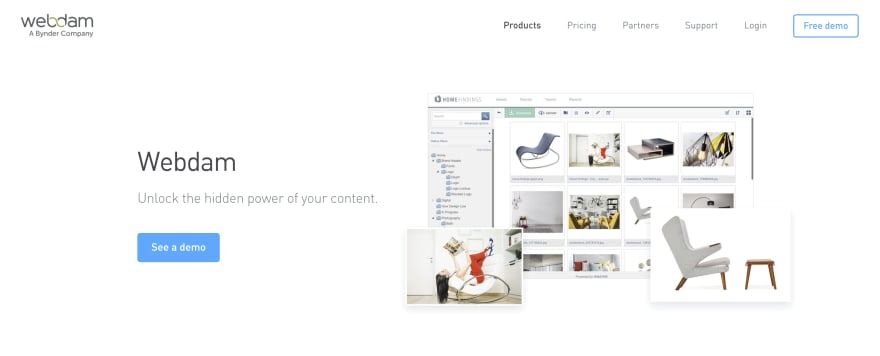 WebDAM is a cloud-based digital asset management platform, powered by Bynder. WebDAM's interface is simple and intuitive, integrating seamlessly into your daily routine.
Capabilities: WebDAM is packed with features that can be configured according to your needs. You can set up your account for 10 users or for 30 user, and for any storage requirement. WebDAM offers assistance and support during and after the adoption of their software. The core features of the software include faceted search—which enables sorting and filtering capabilities within the library—automated keywords suggestions, and intuitive workflows for collaborating and sharing.
Pricing: you can request a personalized quote via their website.
Asset Bank

Asset Bank is an end-to-end digital asset management solution, powered by Bright. Asset Bank offers a variety of hosting methods, including shared hosting, and on-premise installation.
Capabilities: Asset Bank comes with robust features for creating a searchable catalog for your digital assets, and you have full control over how you configure the library. The platform's advanced search capabilities include a search builder, saved searches and Geotagging. You can manage access and authentication, collaborate and share assets, and maintain compliance by increasing visibility into usage rights of each asset.
Pricing: Asset Bank offers three monthly subscriptions—Essential for £390, Professional for £615, and Enterprise for £1430 per month.
Cloudinary

Cloudinary provides Software as a Service (SaaS) digital asset management solutions. Cloudinary's cost-effective subscription models can help you grow at scale.
Capabilities: Free users get access to a user-friendly DAM media library, along with an upload widget and API. You can run queries, set up automatic backups and optimization, and create image and video manipulations. The Plus, Advanced, and Custom pricing models will grant you access to Artificial Intelligence (AI), user access control and workflow integration capabilities.
Pricing: Cloudinary offers three monthly subscriptions—free, Plus for $99, and Advanced for $249. You can also get in touch with a sales rep for a personalized quote.
Brandfolder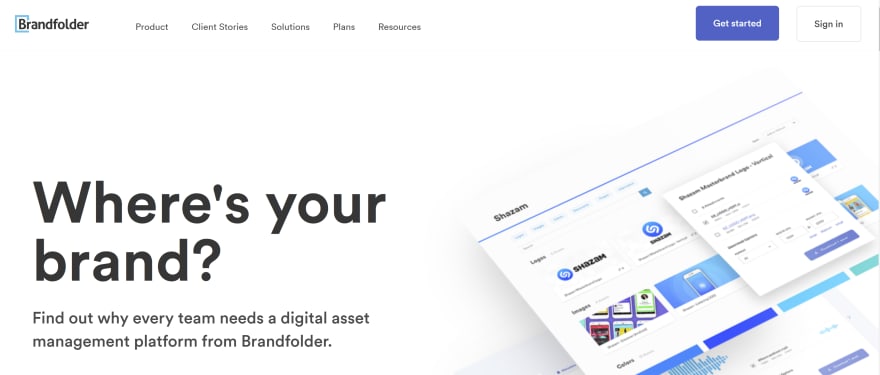 Brandfolder provides customized digital asset management solutions, configured according to industries, roles, the size of the organization, and the needs of the users.
Capabilities: Premium users gain access to features such as curated collections, cloud storage, interface branding, and user permission controls. Enterprise clientele enjoys premium features plus identity management, software support, video storage and formatting, insights and analytics reports, and more. If you handle a lot of assets on a consistent basis, Brandfolder's bulk capabilities can help you reduce the time it takes to tag, move, merge, and edit your assets.
Pricing: you can request a personalized quote via their website.
Never Lose Track of Your Media Content
Working with media content doesn't have to be a long, tedious and painful process. Instead of manually uploading, organizing, editing and publishing media, you can use a DAM solution. Even the most basic of DAM modules can set you up with an efficient workflow. A user-friendly solution can help you delegate tasks to the machine and clear up your time for what matters most to you.