Summary: In this article, we have discussed the issue of Microsoft Outlook keeps asking for passwords and provided several easy fixes to resolve it. We have also mentioned advanced software that can help recover lost PST passwords and fix a wide range of Outlook-related problems.
Sometimes, Outlook users face an issue in which the application asks for passwords again and again. This generally happens due to poor Internet connection or conflict with an antivirus program. You can switch to a stable Internet connection or disable antivirus to try to fix the problem. If this doesn't fix the issue, continue reading this post to know the fixes to resolve the 'Outlook keeps asking for password' issue.
How to Fix the Issue of Microsoft Outlook Keeps Asking for Password?
Some effective fixes to resolve the Outlook password prompt issue are:
Fix 1: Remove Cached Passwords
Clearing the cached passwords stored on the system may help fix the issue. To do this, follow these steps:
Go to Windows Start Menu > Control Panel > User Accounts.

In the new window that opens, click Manage Your Credentials in the left pane.


Then, select Windows Credentials.

Select the Outlook-related credentials and then select the option Remove.

Close Control Panel and restart the system.
Fix 2: Update Outlook Password Prompt Settings
If Outlook 2013 keeps asking for a password, then it's possible you have configured the settings in such a way. To change these settings, follow these steps:
Open Outlook and go to File > Account Settings > Account Settings.
Select your email account and click Change.
In the Change Account window that opens, click the More Settings button.
Open the Security tab and unselect the "Always prompt for logon credentials" option.
Click OK and restart Outlook.
Fix 3: Create a New Outlook Profile
If your current Outlook profile is corrupt or damaged, then it can cause the problem of MS Outlook keeps asking for passwords. You can create a new Outlook profile to resolve the issue. Following the below steps:
Close Outlook and open Windows Control Panel.
Click Mail. In the Mail Setup window, click the Show Profiles button.
Click Add and enter the name of your new Outlook profile. Then click OK.
Enter your name, email address, and other details to set up the profile.
After the profile is created, select the profile and enable the "Always use this profile" option. Then click OK. Fix 4: Update Outlook
Some Outlook users have reported that the Outlook password prompt issue is resolved by updating the application to the latest version. To update Outlook, follow these steps:
Open Outlook and then open the File tab.
Select Office Account and then open the Update Options menu.
Select the Update now option and update Outlook.
Fix 5: Stop Using Shared Calendars
If you are using shared calendars, it's possible that these calendars are interfering with Outlook's security checks. You can unselect the shared calendars, restart Outlook, and then check if the issue is fixed.
Fix 6: Disable Interfering Add-ins
Sometimes, third-party add-ins in Outlook can affect the normal operations of the application. A particular add-in may cause the Microsoft Outlook keeps asking for password issue. You can identify this add-in by running the application in safe mode, and then remove the add-in to rectify the problem.
To fix Outlook's password prompt issue by removing problem-creating add-ins, follow these steps:
Close Outlook. Then start Outlook in safe mode by holding down the CTRL key while clicking Outlook's shortcut.
Go to File > Options.
Open the Add-Ins tab from the left panel.
In the Manage menu, ensure that the COM Add-ins option is selected. Then click Goto open the list of all installed add-ins.
Unselect all add-ins and click OK.
Restart Outlook in normal mode.
If Outlook stops asking for password after the add-ins are disabled, it confirms that the problem is caused by a specific add-in. You can enable all add-ins, one at a time, to identify the interfering add-in. When found, you can remove it to fix the issue of Outlook 2016 keeps asking for account password.
How to Fix Outlook Password Prompt Issue if You Don't Remember Password?
If you have password-protected the PST file and forgot the password, then it's difficult to fix Outlook password prompt issue. However, you can use a third-party software program to recover the lost PST password. Stellar Toolkit for Outlook is one such application that can fix all kinds of Outlook-related problems, including lost password.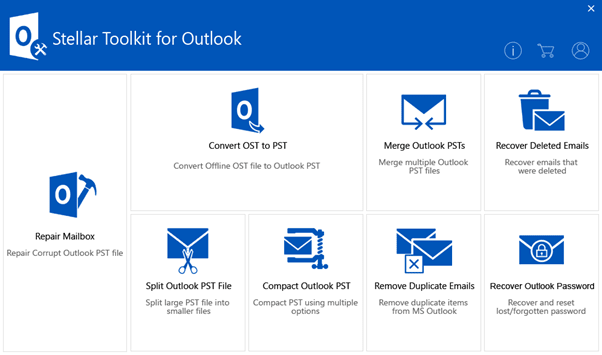 Stellar Toolkit for Outlook is a comprehensive Outlook-repair utility that offers 8 tools:
Outlook repair
OST to PST converter
PST file splitter
PST compacter
PST files merger
Duplicate Outlook mailbox items remover
Deleted emails recovery
Outlook PST password recovery
Conclusion
Outlook prompts for password problems may occur in almost every Outlook version, including Outlook 2019, 2016, 2013, etc. You can try the fixes explained above to resolve the issue. In case you have lost or forgotten the Outlook PST password, you need to use an advanced PST password recovery software such as Stellar Password Recovery for Outlook.