Every time everything is being digitalized more and more, many companies and SMEs choose to redefine and adapt their business model to adapt to the changes that have occurred in the habits and customs of both consumers; B2C (Business to client), as well as from other companies; B2B (Bussiness to Bussiness).
The digitization of a company allows them to be much closer to their client, find new business opportunities and improve productivity.
But not everything is so good, the increase in the digitization of companies also implies an increase in cyberattacks, which can make companies lose millions, even lead them to bankruptcy.
---
How much are the costs of cybercrime?
The costs related to cybercrime in the world will reach 6 trillion dollars this year, a figure that slightly exceeds the size of the GDP of Japan, the third largest global economy.
---
What is the probability of suffering a cyber attack?
39% of companies (4 out of 10) confirm having suffered cybersecurity breaches or attacks in the last 12 months (it has dropped from 46% in 2020). These attacks were highest in medium-sized companies (50 to 249 employees) and closely matched with large companies (250 employees or more): 65% and 64% respectively.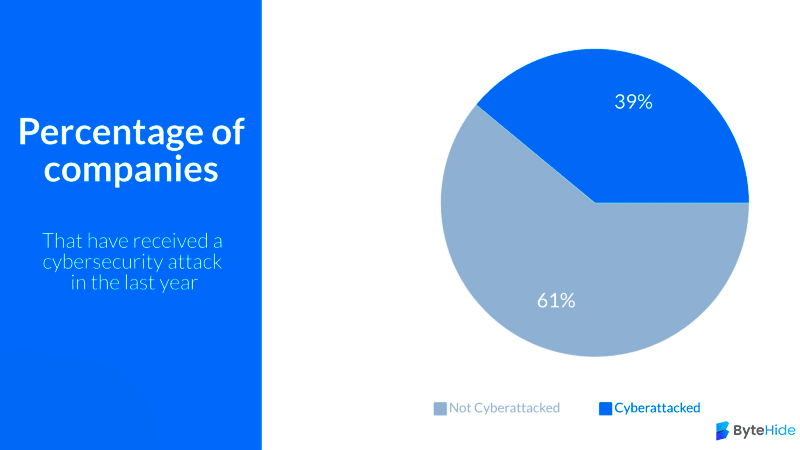 ---
What is the cybersecurity budget of a company?
Gartner expects enterprise IT security budgets to rise by 50% this year. Given the risk of theft of corporate information, which, according to the latest Accenture diagnosis, is the most expensive component of cyberattacks, which cause disbursements of 5.9 million dollars per affected company per year, also on average.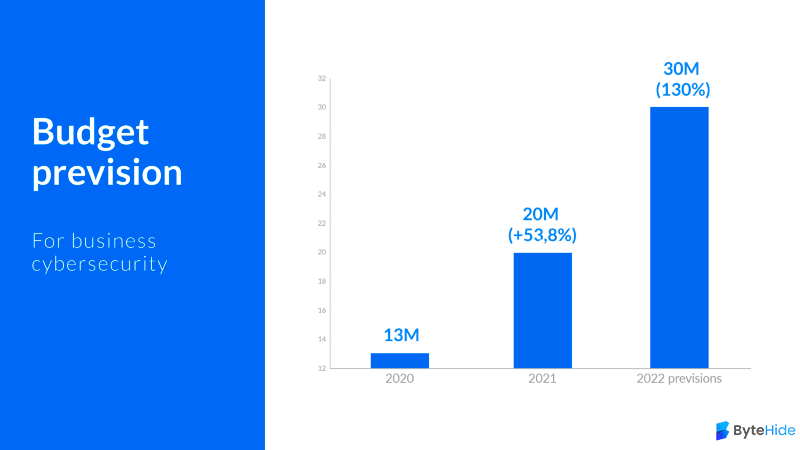 ---
How much does a company spend on cybersecurity?
50% of large companies, with more than 10,000 employees, as explained by the Ponemon Institute, allocate 1 million dollars or more in security expenses, and 43%, more than 250,000 dollars.
---
How much is the loss caused by a cyberattack on a company?
It is estimated that the loss of data caused by computer attacks causes damages worth between 2,000 and 50,000 dollars for small and medium-sized corporations, according to the Incibe. In contrast, losses for large firms amount to 3.6 million dollars, according to IBM.
---
What is the worldwide loss of companies due to cyberattacks?
At the international level, economic losses from cyberattacks in 2020 exceeded million dollars. Undoubtedly, a figure that reveals the magnitude of the consequences caused by these incidents and the urgent need for companies and public administrations to be well prepared in this matter.
---
How long does it take for a business to recover from a cyber attack?
Everything would depend on the size of the company, the amount invested in cybersecurity per year, the type of attack and the affected part. But it is estimated that it causes 50 days of repair time in malware actions.
---
Why is Cybersecurity important for a company?
Cybersecurity is important because it protects all categories of data from theft and damage. This includes sensitive data, personally identifiable information (PII), protected health information (PHI), personal information, intellectual property, data, and governmental and industry information systems.
Without a cybersecurity program, your organization cannot defend itself against data breach campaigns, making it an irresistible target for cybercriminals.
Both inherent risk and residual risk is increasing, driven by global connectivity and usage of cloud services, like Amazon Web Services, to store sensitive data and personal information. Widespread poor configuration of cloud services paired with increasingly sophisticated cybercriminals means the risk that your organization suffers from a successful cyber attack or data breach is on the rise.