Introduction
There are many reasons why you might want to create your personal developer blog. You might want to share your knowledge with your community, build a following, learn more by doing, and even get a better job.
Choosing the best blogging platform might be overwhelming when just getting started. You can choose between a WordPress blog or a custom-built site from scratch.
Both could be intimidating if you are just getting started or even if you just want to get up and running quickly without having to invest too much time.
In this tutorial, I will show you how to get your own blog with a custom domain name within 10 minutes completely for free!
Getting started
In order to get started all you need is to sign up for a free account at the DevDojo website and hit the Create my dev blog button: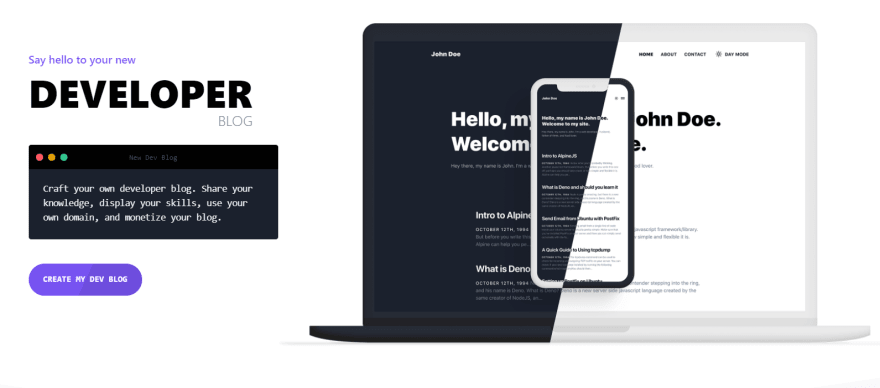 Some of the features that you would get include:
Write In Markdown
Code Highlighting
Add Your own Domain
Choose between clean minimalist themes
Another great benefit is that your blog will be super fast:

Setting up a domain name
Once you have your free DevDojo account and your DevBlog created, you can start with your blog configuration.
If you don't have a domain name yet, you can use the default subdomain username.devdojo.com instead.
However, if you have a domain name, you could use it as well.
To do that you need to point your domain to Cloudflare, then add a CNAME record with Content set to: username.devdojo.com.
If you don't have a domain name yet, you could get a free one as described in this tutorial here.
Changing the theme
Under the Themes tab you will be able to choose a different theme that best matches your needs.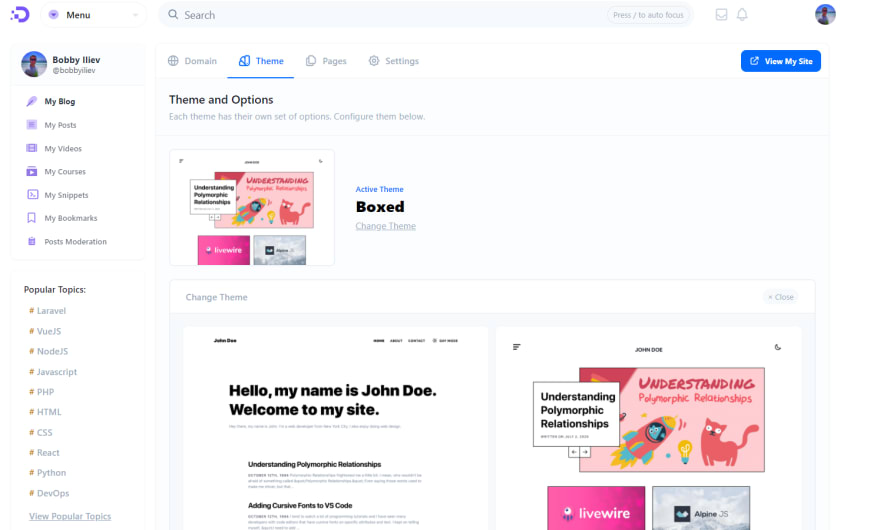 All themes were built using the Tailwind CSS.
Each theme comes with a light and dark mode as well!
Adding pages
Under the Pages tab you will be able to add new pages, and again use markdown for the content of your pages:
Changing Blog Settings
Under the Settings tab you will be able to add some additional settings like:
Your blog title
Site Description
Google Analitycs
Favicon Image
Video demo
Here is also a step by step video tutorial on how to get all that up and running:
Conclusion
Here is an example site that was built using the DevDojo Developer Blog:
I hope that you find this useful! Any feedback will be appreciated!
Happy Dev Blogging!