Picture this, you're happily coding an awesome feature for your product and you have a few VS Code tabs open specific to that feature. Suddenly, you receive a message, there is a bug in a totally unrelated part of the site and you need to investigate. You start opening new files as you debug the issue, next thing you know you have 37 tabs open. You fixed the bug (nice job!), but now you want to go back to your awesome feature and there's a lot of clutter, you start closing one-by-one the unrelated tabs until your editor is back to the state it was before the bug.
Does that sound familiar? Have you ever been in that situation before? Wouldn't it be nice if you could "save" the files related to your awesome feature, work on your bug, and then come back to your saved files with just a few clicks?
Well, I wrote a VS Code extension that allows you to do just that. I call it Working Sets.
What are Working Sets?
The idea is simple--a way to manage and organize groups of resources--but is not new. Other editors like Eclipse and Facebook's Nuclide offer versions of this concept. The VS Code team has discussed this before too. And although they may offer a baked-in solution in the near future, I still wanted to share my take on it. I've wanted to contribute to open source for a while and I thought this was the perfect opportunity.
How does it work?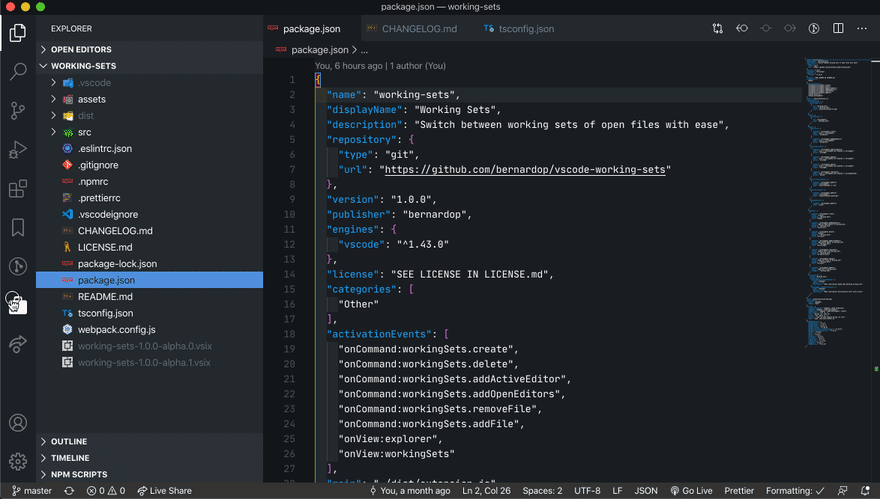 In a nutshell, it shows a new sidebar view where you'll have access to all your saved working sets. From there you can create, restore and delete them as well as add/remove files from them. You can find more details on the extension README.
I would love for you to take it for a spin and let me know what you think.
---
Cover photo by Russ Ward