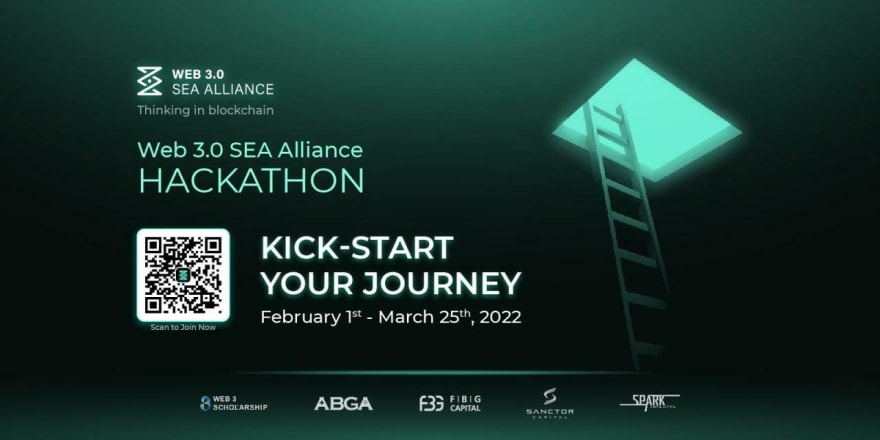 Web 3.0 SEA Alliance announce Web 3.0 Hackathon to jumpstart innovation and ideation for the coming internet revolution.
US$99,000 in prizes in total; top prize of US$25,000
Opportunity to influence the course of Internet history
The Web 3.0 SEA Alliance, an initiative by Web3 Scholarship, ABGA, FBG Capital, Sanctor Capital and Spark Digital Capital, is calling all indie developers and teams to throw their hat in to the Web 3.0 Hackathon challenge.
Challenge Categories and Guidance
We encourage new projects and tools in Web 3.0 related spaces, including DeFi, gaming, web 3.0 tools & protocols, NFT and DAO. The products submitted shall follow below guidance:
Originality: Participants are strongly encouraged to be original in their product designs. Plagiarism/breach of intellectual property is strictly prohibited.
Revelance: Entries must be in line with the theme of the event; works that are unrelated to Web 3.0 will be eliminated.
Completeness: **Deadline for product submissions is **12pm, 24th March 2022 (GMT+8). All submitted work should include product descriptions, links to the open source code, team introductions, presentation materials and any other relevant documents.
Builders will have opportunities to attend talks, workshops and to meet and interact with mentors and top judges in the industry, with a view to potentially gaining funding from leading venture capitals and industry veterans.
There are no limitations on which blockchain to deploy for projects. The aim of Web 3.0 Hackathon is to unleash builders' innovation. Do contact us if you have questions or need mentoring when building.
Prizes:
Total Award Pool Size: US$92,000
Top Winner: US$25,000 (1 slot)
Second Tier Winners : US$15,000, (2 slots)
Third Tier Winners: US$8,000 (3 slots)
Community Award: US$3,000 (1 slot)
Alibaba Cloud Credits Coupon
Top Winner: US$2,000 (1 slot)
Second Tier Winners: US$1,000 (2 slots)
Third Tier Winners: US$600 (3 slots)
Community Award: US$300 (1 slot)
Other Demo Teams: US$150 each team
Ecological Bounty
The Ecological Bounty is given to a project that best applies below technology stacks during development. The winner of each track is selected by judges from the following sponsors.
US$7,000 for the best product deployed on Dfinity, sponsored by ICPort, DMail and ICNaming.
Programme:
Registration: Now till 15th March
Challenge announcement: 16th February
Online Hacking:16th February 16 - March 24
Demo Day: March 25th 2-6pm (GMT+8) Virtual meeting
NFT Space
We have also prepared NFT gifts for builders and participants!
Participate in the event and claim the NFTs!
Learn more:
Github: https://github.com/WEB3-ALLIANCE/Web3Hackathon2022
Event registration: https://web3hackathon.typeform.com/to/XYro0spC
Website: https://web3-hackathon.com/
Blog: https://mirror.xyz/web3hackathon.eth
Discord: https://discord.gg/9v6Uv8Kn7E
NFT Space: https://galaxy.eco/web3