I got here (I'm a developer community event manager) by an odd chain of events which I can trace back step-by-step to the beginning. I ran for the role of part-time volunteering officer at my students' union whilst I was in my first year of studying an Anthropology and Media degree. By running in the elections, I was introduced to Kevin (who I now work with here at Vonage) who was running for another position and who also became the university's tech society president. He encouraged me to join their committee and get involved in organising hackathons. Prior to this, my only interaction with the tech society was asking one of their members to help get my laptop connected to the uni's wifi. I wish I was joking!
Though the computing landscape was new to me, beyond being an avid user of a computer, I quickly became intrigued, then immersed, then amazed by the tech society's wider community, it's values and its spirit. I would prioritise being at the hackathons and surrounding myself with keen hackers. I hung around at events so much that computing lecturers often mistook me to be one of their students. I picked up knowledge on a wide range of topics, including running really kick-ass events and combined my passion for volunteering to host my own social hackathon in partnership with local charities who shared the goal of using tech to create valuable impact for their community. I witnessed such awe-inspiring levels of passion from the other committee members for providing opportunities to learn, grow and connect with other folks, that when the opportunity to continue working with the community and its events came about (once again with encouragement from Kevin, who believed in me more than I did myself) I was thrilled. Without this chain of events, I would not be here at Vonage in the community team today. I am the product of saying yes to an extracurricular activity which turned into a career.
Being part of the community team means I enable our wider team to go out and support events, deliver talks, run workshops and ultimately showcase all the really cool things people can do with our products. This usually means my day-to-day consists of coordinating logistics, communicating between events organisers and our team and ensuring that everything and everyone gets to where they need to be. It's interesting to work on the peripheral of developers and I am often surprised by how much I absorb simply through hearing our team interact, something we do very well as a remote-first team who champion supporting and including each other.
I want to take this opportunity to be thankful to all the members of the community, from those first hackathon days to my growing team now, who have made me feel so welcomed and supported and who continue to do so. I also take this opportunity to renew my pledge to pay it forward. Whether it was a message sent on a postcard at an event telling me I belonged there and that I was one of them, encouragement to try out new gadgets, or patience with explaining concepts and potential uses of tech to me, the support I've received from this community has been fundamental to my personal growth and I wish everyone has the opportunity to experience the same levels of encouragement. I've not encountered such high levels of passion and spirit in any other community I've seen, it's remarkable.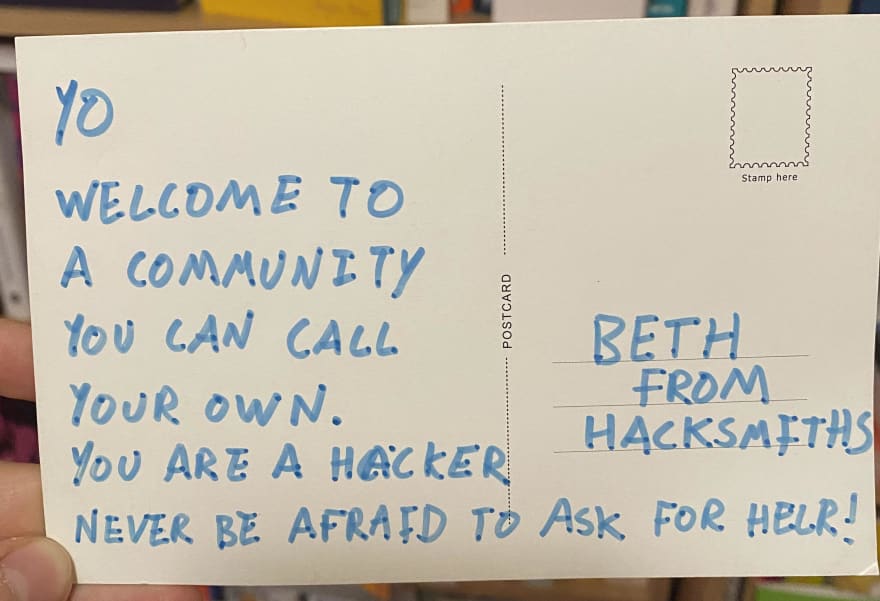 Looking forward, I hope to see the standards of inclusivity and accessibility at events continue to rise. There is some amazing work being done and some super helpful resources that are being shared and I am often inspired by the level of care members of the community take to make all people feel included. I hope to play my part in this progress by advocating to support events and initiatives that place these values at the forefront of their work. This community is something special and I will rave about it to anyone who will listen. My message for others is to utilise your sphere of influence, spot where you can make a difference and start there, take on an intersectional approach and be proactive about recognising and using your privilege and resources to include others. Listen, learn and contribute to this community however you are able.
As for me, I am spending the rest of this year with the challenge of coding my own book blog from scratch to share the numerous books I read in my spare time and with the hope of connecting with a new community. I hope the rest of your year includes a strong community also.