👋 Hi everybody.
In case you didn't know it, Blizzard games data is available through the game's official APIs.
I have created a Vue.js app from scratch using Diablo III APIs to show the user's players.
This project consists in web app made with Vue.js and Vuex. It uses Bootstrap-Vue as component library, axios for fetching data over OAuth from the official Diablo 3 API's and it's handmade from scratch.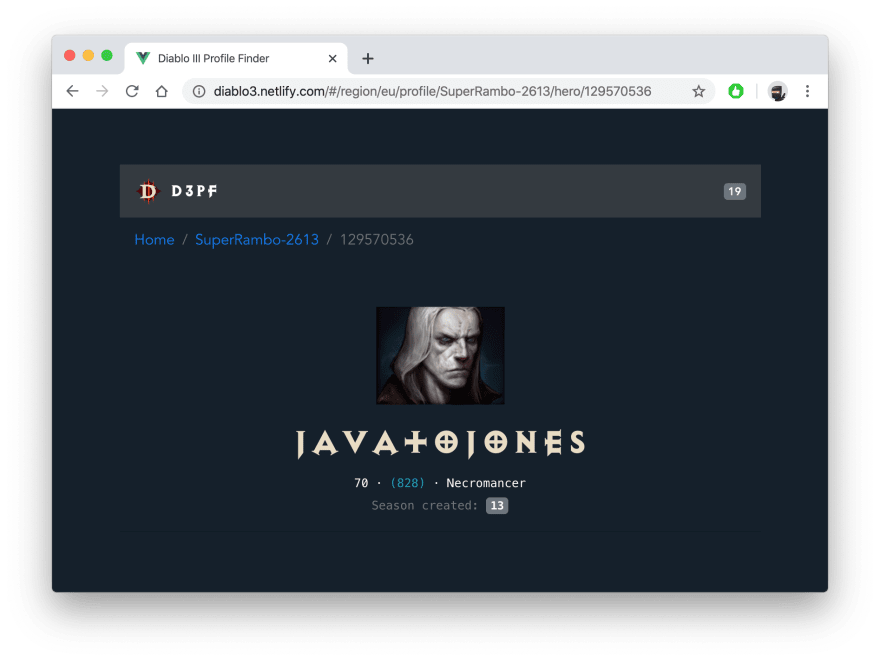 It's a simple version, and it's not showing some information like the weapons details or the character followers. Talking about this, I pretend to add this features in the future.
Source code: https://github.com/baumannzone/diablo3-vue-platzi
👾 Diablo 3 Profile Finder - 👹. Using the Diablo III official APIs
Live demo: https://diablo3.netlify.app

If you aren't a Diablo 3 player, you can use my data to see how it works:
BattleTag: SuperRambo#2613
Region: EU
Feedback welcome and really appreciated. Feel free to fork it to play around or help by creating a pull request or opening a new issue.

Also if you have any Vue.js related question, I'm here to help.
I designed the app with "dark theme" in mind because the game, Diablo 3, is about darkness. I wanted to make it a little bit more realistic.

🤔 Do you know where I got the color from? What do you think? Let me your opinions in the comments below.