The pandemic has certainly brought about a paradigm shift to virtual. It has been over a year of video conferencing - from classes in schools and grad schools going online to remote work bringing in the need for several sync calls in a day.
One of the major challenges of using conferencing apps, such as Google Meet and Zoom is the inevitable background noise from various sources during the call, which often can come in the way of effectively listening and taking part in discussions, especially more impactful in a call with a large audience.
Over the next few minutes, let's see how we can possibly mitigate the effect of noise by integrating Krisp, an AI-powered app that removes background noise and echos making meeting experiences much more pleasant, with Google Meet, widely used for conferencing in academia.
Please note that if you already have a subscription to an enterprise G-Suite workspace, you may want to try out the built-in noise cancellation feature that you have access to, and use Krisp for overhauling existing performance.
Kindly read ahead and find the steps to install Krisp and integrate it with Google Meet.
Steps to install Krisp and integrate with Google Meet
Step 1: Visit krisp.ai to download your Krisp client. You'd be prompted to sign up for a free account. Yes, it's completely free; You don't have to provide your card details.

Step 2: You may download the client for the Operating System that you use. This tutorial would focus on Windows OS.

Step 3: When you click on the Install on Windows option, you'll see this screen which has the next steps.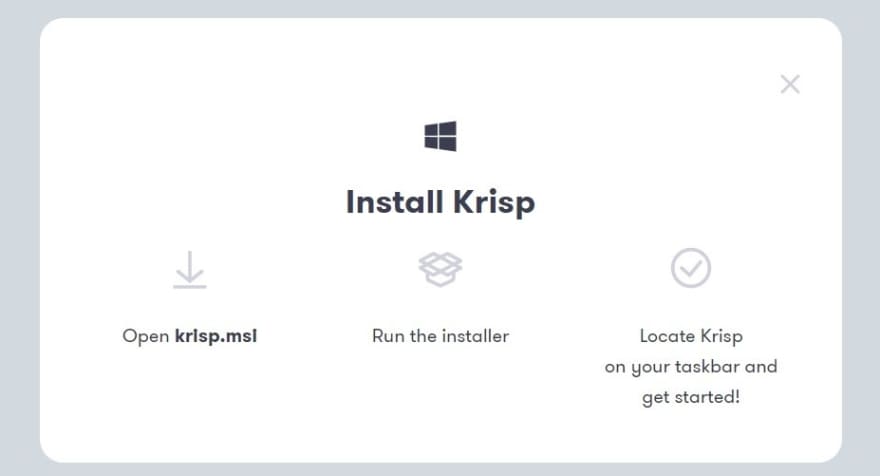 Step 4: When you click on the Install on Windows option, you'll see this screen which has the next steps.
Step 5: The setup process takes a few minutes to complete.
Step 6: Once the setup is complete, you should be able to launch Krisp client to check if it works for background noise cancellation on your device.
Step 7: So far so good? The next step is to launch Google Meet and choose krisp microphone (Virtual) and krisp speaker (Virtual) as the devices of choice.
Step 8: When you join a call, please be sure to toggle the Mute Noise option for both your speaker and microphone to enable noise cancellation. And yes,noise cancellation has been successfully enabled.

That said, maybe it's time to get Krisp up and running on your system as well?
Photo by Christin Hume on Unsplash