Update 7th January 2023 : Its been 9years now since I joined AWS and I moved to AWS Canada as a Developer Advocate in Oct 2022. First image is updated for same.
---
8 years ago, 7th January 2014, I joined Amazon Web Services (AWS) and this blog is a peek into the dream-come-true life I have had so far. These are some of the learnings, experiences and thoughts on life at AWS. If you are new to AWS or aspire to join us, read along!
Over the years, I have been a Cloud Support Engineer(CSE), a Solutions Architect(SA) and a Developer Advocate(DA) across South Africa, Singapore and India. I have moved with AWS to different geographies, and made friends globally. I got to work with hundreds of customers in different regions, and many more colleagues who have become really good friends. Meeting them in different countries has been pure joy!
While many organizations frown upon people leaving teams/projects, here at AWS we are encouraged to explore different roles. I could apply my tech skills as a Support Engineer while expanding my breadth and dive deeper into services. I used those learnings to help customers as a Solutions Architect(SA). As an SA I followed my passion of public speaking and worked with AWS community over the weekends, which led to eventually moving into Developer Advocacy.
---
A little history :
Before I joined AWS I was part of an R&D team that did Proof-of-Concepts (PoCs) on different cloud platforms we had back in 2010. Most of those public/private clouds do not exist today.
It was love at first sight, with AWS technology
I worked with AWS tech before launch of AWS Virtual Private Cloud (VPC) and AWS AutoScaling for Elastic Compute Cloud (EC2). It led to an idea and a working PoC which resulted into my first published IEEE paper. Interested? Read here.
In the years that followed, I had hands-on migrations experience of moving on-premise web applications to AWS - a highly coveted skill at that time.
The organization was acquired and its vision changed, but my love for AWS and my vision stayed strong. So, I applied to AWS, went through virtual interviews and did the unthinkable - moved to different continent - Cape Town, South Africa. In the middle of culture shock and home sickness, my tech skills soared higher every passing day.
Source : My feature in the AWS Employee Spotlight series.
---
Learnings :
While everyone talks about Leadership Principles, which we Amazonians imbibe in every aspect of our work, I wanted to shed some light on other aspects of working at AWS.
Something I tell new joiners, or people who even change roles/location internally - initially, it feels like a lot of information is sent your way and its only natural to feel overwhelmed. Drinking from the firehose. When you feel like it, remember what Dory said - just keep swimming. Trust me, it does get better.
Hence, don't rush through your ramp up time. There is a reason ramp up time is provided, use it well to learn the internal ways, do your certifications and most importantly shadow your colleagues in different roles. Everyone is busy, but if you need help - ASK! Find a buddy, or a mentor, it will help calm your nerves.
Most of us experience imposter syndrome It may feel overwhelming to be around so many smart individuals. AWS has a high hiring bar, if you made it through it, you are worth it.
If you want to be successful at AWS you have to take ownership of projects beyond your daily responsibilities. It is a great way to connect with the global AWS teams, customers and helps you build relationships. Over the years, I am proud having worked with some amazing teams here at AWS - from being part of the This is my Architecture, to managing 21 sessions across 3 theatres for Lightning talks in a physical AWS Summit India, to owning a T&C Twitch series, getting my customers speaking slots at re:Invent, building workshops, and many more.
One of the most important lessons of my life - Burnout is real. Some interviewees ask a question - is life at AWS too hectic? Well IT depends on what stresses you (and sometimes which team you are in). Here, we are not stressed by office politics, you are not worried of racing with your colleague to get that promotion. Here, everyone has more than enough work to showcase their skills. When you are so excited about the work you do, you may end up not realizing you are burning out. And it's important to pace it. There is a saying internally - it's a Marathon, not a sprint.
So, it's important to know your own limits, take breaks, talk to your managers if something is troubling you. There are multiple programs available to employees, and I have used them last year when our lives changed overnight. It has helped me tremendously!
Everyone works on schedules that make sense to them. You set your own boundaries. Saying NO is encouraged by leaders. You would find leaders saying - just because you saw an email from me that is out of business hours, doesn't mean you have to respond immediately.
All this would not have been possible without some amazing managers & leaders. A good manager is a blessing. They have always pushed me to speak up, to be a leader, motivated me when I doubted myself or just being a friend I can freely talk to. I have never hesitated to reach out to skip level or regional managers. It is never considered as an escalation, but a pure sharing of ideas and building relationships. Coming from a very hierarchical past this was the warmest welcome. Being an autonomous individual contributor has boosted my motivation and creativity.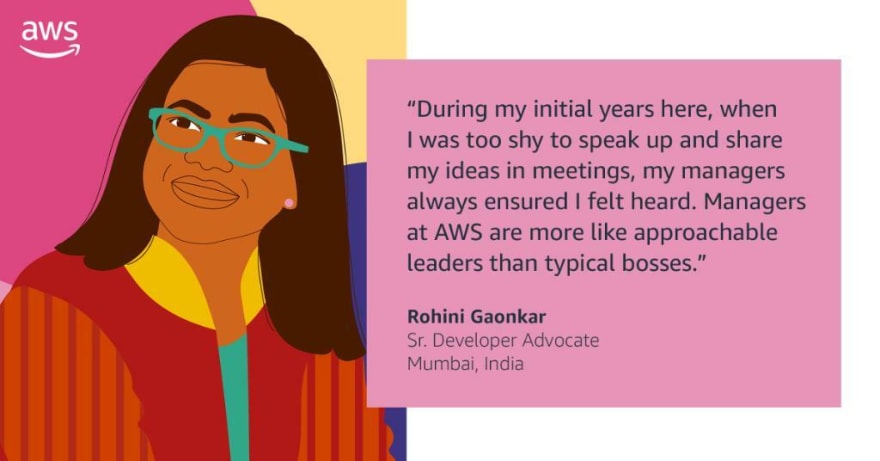 Source : My feature in the Women of AWS feature on Amazon Jobs website
---
Summary :
Life at AWS has had its ups and downs, a dream-come-true rollercoaster ride. It is AWSome because of all the amazing people I have met as colleagues, customers or community.
Hope this gives you an honest take of life at AWS! Feel free to DM me on LinkedIn, always happy to chat!
Follow me on LinkedIn, Twitter, GitHub, Youtube
Interested to grow with AWS? Check out following resources :