It seems funny to be writing this, considering how many articles are out there discussing how to better engage with virtual audiences, but if you're like me, you may find yourself in this unique position where your speaking career STARTED over the pandemic, and you've never actually had to speak to large audience in person. Or maybe you have, but the 2+ year hiatus has left you lacking confidence, motivation, or just feel like you may've been out of the game too long. Or maybe you have yet to start at all, in which case, you can take this as a sign…
These last few weeks I have been fortunate enough to travel to multiple conferences in the United States speaking about Liberty Mutual's current state of serverless in person. I know not everyone is keen on public speaking, but I wanted to take a moment to share some of my experiences as someone who has had to transition from virtual webinars and conferences to giving a talk live and in person. First, however, a quick summary of my latest travels.
 
We kicked off the speaker tour at the AWS Summit in San Francisco, where I gave the very first dev chat at the community lounge in the expo hall on Day One. Since this is a developer community talk, it is unfortunately not recorded, but please enjoy this photo of me accidentally matching the backdrop perfectly.

Next stop on the speaker tour was back at my home base in Denver for DevOpsDays Rockies. A fantastic venue, great food, and even better people, I would happily speak or attend a DevOpsDays again. If you missed it, you can catch the recording of my specific talk on YouTube, right at the 2:21:00 mark. Thanks to some really awesome audience members and the power of Twitter, we've also got another great speaking shot!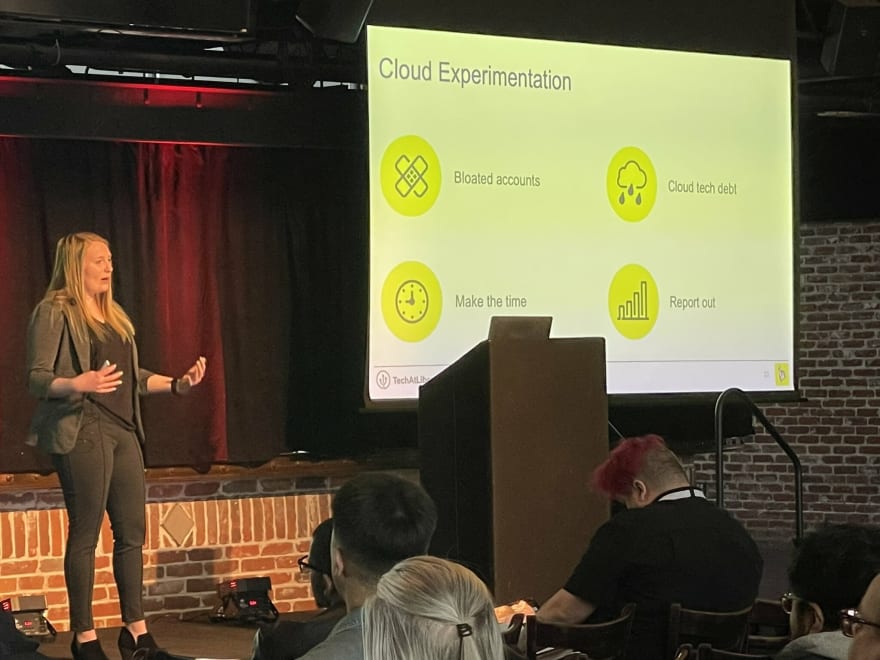 Last but not least, I headed back to San Francisco to speak at Serverless in the Park, part of this year's Reactathon conference. I am thrilled to have had the opportunity to speak at the Serverless in the Park debut, and honestly, if you get the opportunity, speaking on stage outside was an absolute dream. This was my favorite venue to speak at by far; if you missed it, see for yourself in the photo below, or check me out at the 5:00:00 mark in the recording.

Now that we've established that I clearly love to speak on a stage, I want to pass on a few tips & tricks I've learned over the past few weeks to help improve your in person speaking engagements, or at least give you a glimpse into the mind of a conference speaker.
 
Engaging with the Audience
If you've presented in a video call, you'll know that it can be one of the least engaging mediums to give a talk in. Everyone is muted, no one has their camera on and even if they do, you can't see everyone to gauge interest or engagement. It's like speaking to an empty room, and aside from the occasional comment in the chat or virtual hand raise, you have almost NO feedback from your audience. In person, however, your audience is right in front of you, clearly present, and - perhaps the most important thing - reactive! If you crack a joke, you get laughter and see smiles, instead of absolute silence and a blank screen. As you're speaking, you can clearly tell who is engaged and what is resonating with folks through body language you miss out on in video format - eye contact, head nods, note-taking, etc.
 
Which leads me to my actual point of discussion here…stage presence. In person, on a stage, it matters. Make eye contact. Utilize the space you have on the stage - you want to be comfortably in between standing completely still behind the podium and pacing rapidly back and forth. You can gesture, point, and narrate with your hands, though if you're Italian like me you may need to reel it in a tad. If you're an anxious speaker, maybe find something to fidget with to keep your hands occupied or to keep in your pocket. Oh, and don't forget, we're back in public now, so you may want to leave the sweatpants at home…no need to break out a 3 piece suit or your nicest heels, but dress to impress! Be expressive, professional, or theme your outfit to your talk for a fun twist! When all else fails, you can never go wrong with the classic tech t-shirt and jeans.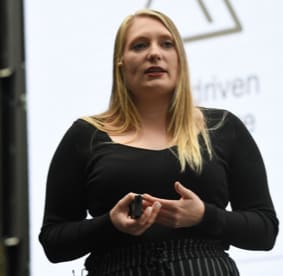 Speaking without a Script
One might call this a downside of speaking in person, but I actually quite enjoy the off-the-cuff speaking style. When you're presenting from home, it's so easy to have a script or very thorough notes right there in front of you to read from or reference while you're talking. On stage, unless you're somewhere fancy enough to be using a teleprompter, your slides are typically your only reference point - and you don't want to write everything word for word on them. You want the audience listening to you, not reading the words on the projector behind you.
 
This is why I think it is very important to speak on a subject that you are passionate and knowledgeable about, because you'll know it like the back of your hand; and preferably, it tells a nice story. Crafting a narrative is, in my opinion, easier to remember, provides for a natural flow, and hooks your audience. If you leave your slides generic enough, you can also make changes on the fly, and easily adapt to the audience. Practice this a few times out loud to yourself, or maybe your dog if that helps, but make sure to not overdue it. I have definitely run through my slide decks one too many times, and end up completely boring myself since I know it all too well. It's a balance.
 
An Ongoing Q&A
This one might be my absolute favorite thing about speaking in person - the conversation is ongoing! If you give a virtual presentation, sometimes you get a few folks that will come off mute and ask a question or send it in the chat, and maybe if you're really lucky, you get an email or DM follow up. The thing that I find really cool about speaking in person is that your talk really doesn't end after that 30min time slot.
 
With meals, breaks, and open spaces, you're provided with opportunity after opportunity to organically engage in even more conversation. I can't tell you how many times I've stepped off the stage and two hours later someone in line for coffee with me or sitting down at the lunch table asks me a follow up question or comments on one of the points I made on stage. It really allows for open two way conversation, much more than a virtual environment does. If you think of a question later, you have to go out of your way to find & follow me on social media and reach out, but in person, you could easily just find yourself sitting right next to me, a great opportunity to spark up a conversation (and you can - I swear I don't bite).
 
I'm sure I can think of plenty more tips that have helped me out these last few weeks speaking in person, but these are the top three that come to mind. If you enjoyed these ones and want to hear more, or if you have other tips & tricks I neglected to mention, comment below or reach out to me. If you're interested in my upcoming speaking engagements or recordings to some of my other events, make sure to give me a follow on Twitter or LinkedIn; clearly I love to talk ;) Happy speaking!