Good day fellow Bloggers!
I hope everyone is doing well & are meeting all of your 2023 Goals so far this year.
I recently passed both the AWS Solutions Architect Professional & DevOps Pro Examinations & I thought I would share my thoughts on how to tackle the common FUD (Fear Uncertainty & Doubt) that goes around with achieving victory within the Professional Domain.
The Value of Certifications
Let's face it, the job market is riddled with a number of individuals looking to get into the tech industry today, making your job application one of many recruiters need to potentially whitelist.
Whilst Certifications such as the AWS DevOps Pro & AWS SAP Exams do set you above the rest, its important to remember, that the Certification is just there to help you step onto a stage, to present your expertise to a panel of potential employers.
You want to place your best foot forward, so my advice is, if you are still early in your career in terms of being a University / College Graduate, I would decide on what Career Path I would like to take, the path of a Solutions Architect or the path of a DevOps / Platform Engineer.
I have plugged in YouTube's TechWorld with NaNa's advice on the different Roles and Responsibilities and based off which Track you prefer, you will know whether its DevOps, to focus on the AWS Developer Associate & SysOps Certifications, VS being a Cloud Engineer where Solutions Architecture Associate Exam Certification is key.
So you might be wondering at this point why I am referring to Associate Certifications when this Blog is related to Passing the Professional Level Certifications, Well for starters, this will give your potential employers an idea of what level you are proficient in, in terms of placing you within the organization.
Something that is VITAL / PARAMOUNT is Technical Certifications VALIDATE TECHNICAL EXPERIENCE
Which Brings me on to Point 2.
AWS Professional Certification & Experience
I have dropped both the AWS SAP & DevOps Pro Blueprints here:
https://aws.amazon.com/certification/certified-solutions-architect-professional/
https://aws.amazon.com/certification/certified-devops-engineer-professional/
You will see it in both Exam Blueprints, you need at least 2 Years of on-hands experience with AWS.
Below is my Exam History - You will be able to conclude that I have been Labbing ever since the start of my Journey with AWS September 2021. When I say Labbing, that was before I got into any prominent positions, however I marketed myself through the very same labs, by building projects and posting them on Social Media.
Social Media is a very powerful tool - When used right!
You will see I have sat 13x AWS Exams but I have only passed on 6 Occasions and that was nothing due to pure discipline and being level headed, there are no shortcuts! After landing my Cloud Practitioner, I managed to get a job through my ability to start communities even if you do not know of any, you create your own and be willing to teach. It was not long afterward I published my first website https://deadkithedeveloper.click.
This already show's you have on-hands experience. Set a regime, I wake up at 3am daily and ensure that I am asleep by 7pm daily, therefore, you have 8 hour commitments, set, in terms of a work-life balance, this includes time to blow off steam and relax with your family as well.
That is genuinely the key to pass any exam, is consistency and using failure as a Stepping Stone, remember that Certificate you are awarded is just a merit for what you learned over x Period of months.
In my opinion I WOULD NOT SUGGEST going straight for the Professional Examinations even though they are not a pre-requisite, Its the same way we don't skip Grade's at School, sure it may be hard, but if it was easy, then wouldn't everyone be doing it.
I will share the tools I used shortly to pass these exams, but as you can see above, I failed the Solutions Architect Professional in first attempt, but what is awesome about AWS is that they have a tonne of overlap between exams, for example if you were to take the SysOps Exam like I did, sure I failed on my first x2 Attempts, but I shortly after passed both AWS Solutions Architect Associate and Developer Associate. Use the x3 Associate Exams as foundation, LAB, LAB & LAB again to ensure that every Line item on your BluePrint you have covered, because they will test you on it, I literally marked off each line item as I went through the material: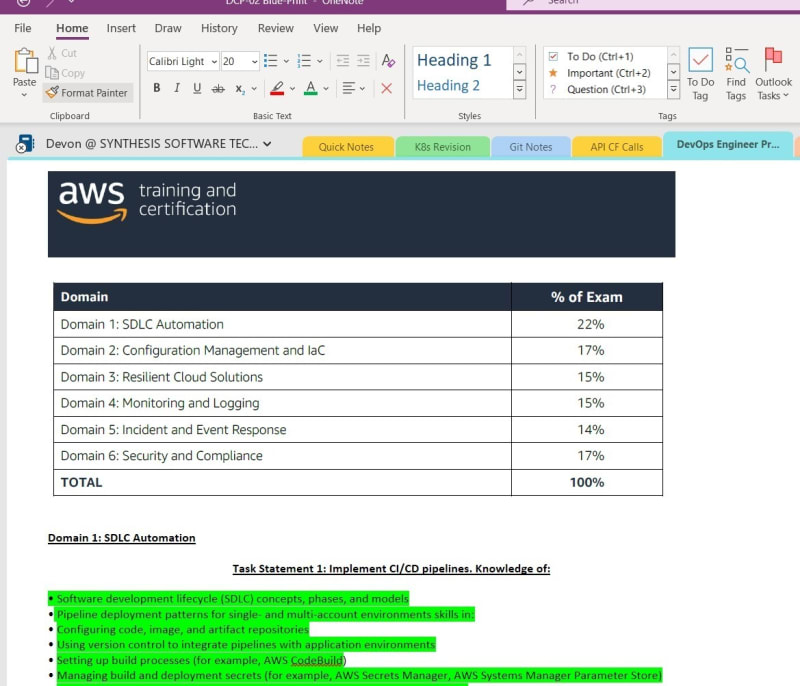 To Close this Point - Yes sure you can study and go for and even pass the Professional Level Exams, but at what cost to your Career, you a Graduate out of College / University with a Certification that Validates 2 Years of hands on Experience?
Should you be taken into an Interview for a Senior Cloud / DevOps Engineer, you would be cross questioned on a number of vast topics that you can only get through experience, so set yourself up for success!
Wait, Listen & Learn, Find a good Mentor and build many projects and let those certifications Validate all of that experience you gain on your journey!
The Materials I used - INVEST IN YOURSELF
The best investment you can ever make as an engineer, is the one you make in yourself! Do not be shy to take out an extra few dollars in terms of preparation and getting the right material, although free material on the internet is good, You need to purchase Subscription Based Training that can give you the proper tools you need, especially if you do not have your own AWS Account to Lab with as yet. Believe me when I say, when you invest in yourself it certainly pays of Solutions Architects and Cloud Engineers earn well above 6 Figures in this industry, so put in the hard work.
Cloud Academy
Thanks to the lovely #AWS Community Builders Program I was granted a Cloud Academy Subscription, I been using them since I took my SysOps Exam - They give you a well balanced experience of Domain level knowledge with Quizzes and Lab's, Love it.
Adrian Cantrill's Professional Series Courses (http://learn.cantrill.io/)
Adrian has the best put together courses from Practitioner to Specialty levels, he has a way of making you understand the most complex topics easily. He also gives you quizzes and allows you to follow along labbing with him and he will actually show you how to create AWS Accounts, Organizational Accounts and so on, as you venture forth your Journey.
AWS Power Hour Series - Twitch
Nothing ever beats learning from our AWS Professionals themselves, and what is awesome if you cannot watch the series live, they have it OnDemand and available for you. What's awesome about watching this live is that you can get to ask questions you may have picked up and get it answered by both the presenters and moderators alike. Truly Golden!!!
You can get to test your knowledge as well, with Practice and Answer / Homework Sessions:
Practice Exams
TUTORIALS DOJO! 100%%% of the way, you can tell from my track record, as well as many within the Tutorial Dojo's Slack Channel, Jon Boso has helped many Engineers pass their exams in the industry, I personally believe his exams are a little harder than the actual AWS Exams, so if you are passing them, you know you are well on you way to obtaining your Certification.
I would like to close this blog a little different from the Traditional style and whilst many people have different mentors or people they get their inspiration from, for me one of them is Eric Thomas and I wanted to leave you with one of his short video's that truly inspires me and keeps me disciplined when I feel off track. Other than that I wish you good luck and a successful year ahead, I wish you can all accomplish the goals you set yourself this year.
Remember to be kind to yourself and never give up!