As a newcomer, we can often be impatient to begin using services.
Also, don't consider the financial ramifications for us, assuming any exist.
This post is for you if you're new to learning and working with AWS services as a hobby or as part of your job. I don't want you to make the same mistake I did when I first started using AWS.
It's great that you've already considered how much you're willing to spend on AWS services to achieve whatever goal you have in mind. If you haven't already, take the time to think about how much you're willing to spend.
The strategy I'll outline for using AWS services is equally applicable to other services and products available.
So how do you make sure you don't overspend and avoid making the same mistake I did once you've decided on a budget? To that, the answer is to establish an alert.
For a while now, I've been experimenting with AWS services. And there were a few times when I went over my monthly budget. Even though I could afford it, it was not something I had anticipated or planned. I simply didn't have a system in place to alert me when I was approaching my monthly limit. My monthly budget history is shown here.
AWS allows you to create alerts for four different types of budgets.
Cost Budget
Utilization Budget
Reservation Budget
Saving Plans Budget
In this post, I'll discuss the Cost budget. If you're just starting out with AWS, this is one of the most crucial budgets to establish.
A cost budget allows you to set a specific budget for how much money you are willing to spend. It maintains track of your costs in relation to your planned amount and sends you notifications when your user-defined threshold is exceeded.
In my case, I set a monthly budget of $20 and an 80 percent threshold.As a result, when the amount exceeds $16, I get notified by email. This assists me in keeping track of my AWS spending.
The email alert shown below is an example of one I receive when my cost exceeds a predefined threshold.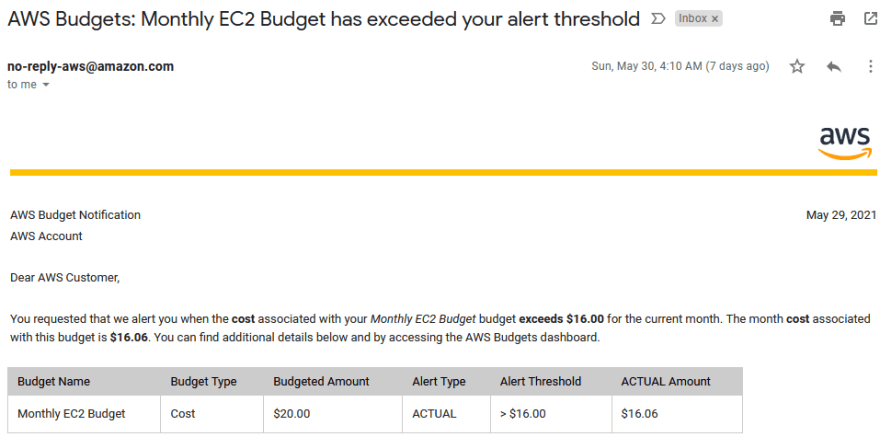 Setting up an email alert has helped me learn new AWS services while staying under my monthly bill. This email notification has stopped me from overspending several times. Based on my resource utilization, this notification usually arrives in the last week of the month. Once just over a week into the month, I received this email alert. It was something out of the norm. When I checked the resources, I discovered I had forgotten to return the Dynamodb provided capacity to On-Demand after my testing. I would have gotten a considerably bigger bill if I hadn't set the alert.
When you first start using cloud services, it is necessary to create a cost budget. This is especially true if you cannot afford to spend more than you have budgeted for.
The takeaway from this piece is that if you're just starting out on your cloud journey, the first thing you should do is set a budget and an alert. One less thing to be concerned about, giving you peace of mind.
---
Thanks for reading!
If you enjoyed this article feel free to share on social media 🙂
Say Hello on: Linkedin | Twitter | Polywork
Github: hseera