This year I participated in my first ever Hacktoberfest. Some of you who don't know what Hacktoberfest is, let me summarize it for you:
Hacktoberfest is a month long celebration of Open Source Software hosted by Digital Ocean for the 8th year in a row in partnership with GitHub and other companies. What I personally love about it is that it bring developers with the same mindset together from all over the world.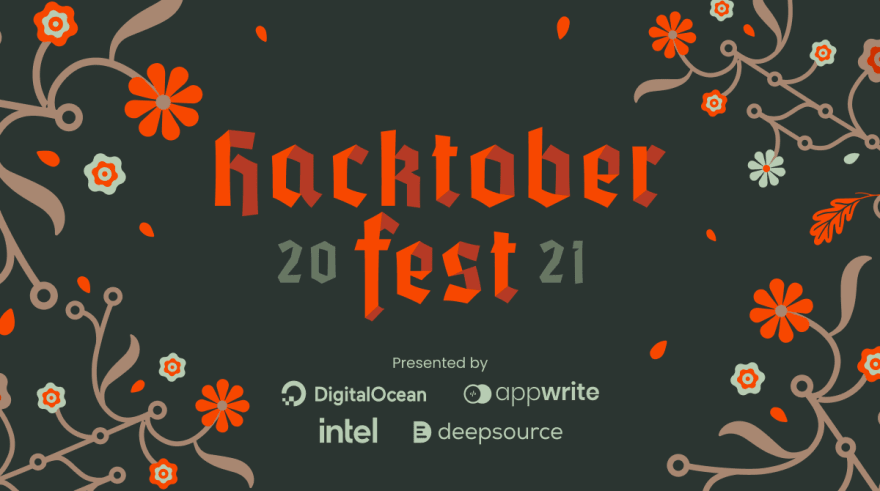 Back in 2020 I had learnt about this event and wasn't so sure about my skillset so I didn't participate, and this year I realized it was a huge mistake. The best part of Hacktoberfest is, there's something for everyone. You don't need to be a pro to contribute.🧑🏻‍💻
How did I start? 🚀
Since this was my first Hacktoberfest event, I was also confused like a lot of you guys. I was terrified to be honest, will I be able to find a good project, will I be able to contribute quality code/documentation, etc., but when the event started I luckily found good repositories (one of which was Appwrite, official sponsor of Hacktoberfest) and started non-code contributions at first, like improving documentations, writing blog posts, adding Code of Conduct to repositories. This got me kickstarted in Hacktoberfest event.
One challenge I faced was finding good repos, there were many spammy repos only merging PRs for the sake of free T-shirt. First time contributors, if you are reading this, steer clear of those repositories. You don't want your PR to be excluded right!!
I reported a lot of spammy repos, one thing that I'm proud of😌.
My Contributions 📝
Starting off with non-code contributions, I found out about Appwrite, that's one of the best thing that happened during Hacktoberfest. Their idea, code, and repository is so awesome that a beginner can also contribute. They had 4 main beginner friendly issues on their repository:
Writing a blog post to help other developers

Making a tutorial on how to use Appwrite

Submitting a demo app using Appwrite

Translating their documentation to different languages
I chose to write articles and publish them on Dev.to. If you haven't read them, check them out here
Also joined their awesome Discord community. The community is awesome and right there to help you whenever you are stuck💯😍
I also re-designed Hacktoberfest Logo for their Discord server!!
So overall, as a beginner, joining a huge community and being welcomed by them felt great. Checkout their GitHub repo and join them, what are you waiting for?
Now coming to code contributions, I have strong hold on HTML, CSS and JavaScript fundamentals, hence I contributed to project Embellish. Embellish is a collection of awesome designed components or animations or components which can be added to any website to enhance the UI of your website.
I contributed to this repository by making different CSS and JavaScript components. I had the satisfaction of knowing that this could benefit many many more people than just myself. It was fun and I got to revise my basic skills. Checkout that repository if you are a beginner and want to contribute a quality code.😉
And then I found out about Codedamn repository. In this we had to submit a front-end project listed on their website and create a PR. I made a Hulu Clone. This was fun as it turned out to be awesome🤩.
If you want to learn new skills by making projects, Codedamn is the platform for it. Go check them out!!
What added more fun in Hacktoberfest was Local Hack Day by MLH. Now this is a story for another day.
What I learned 👀
With each contribution I made, it felt rewarding giving back to the projects which I use personally. Working on a variety of projects also gave me some really welcome exposure to new development experiences. I had a very little knowledge about back-end development and documentation, I learnt about it through Appwrite, revised my front-end skills through Embellish and Codedamn.
Most importantly, I realized that contributing to open-source projects isn't as scary as it might seem. The maintainers that I interacted with were friendly and helpful. You will find Open Source maintainers always welcoming people to make their codebase better.
Overall, October went great for me, Hacktoberfest is the best event for Open Source contributions. I met new people, made new friends, contributed quality code/documents and learnt new skills. I will continue to contribute to the projects I contributed this time and also can't wait for next year's Hacktoberfest.
Until then, learn something new, engage with Open Source communities, and expand your network!!🌐
Connect with me on:
Checkout Linktree for more social media handles.
Happy Contributing!!😉✌️