The coming year will offer many lucrative opportunities for those aiming to create a rental website, while digital solutions around buying and selling real estate might experience a tectonic drop. Here is why and how to create a rental website in 2023.
What is a Rental Marketplace Platform?
A rental marketplace platform is an online rental marketplace where individuals or companies list the vacant property for rentals. The most popular online rental platforms are AirBnb (best for vacation rentals), Rent.com (best for first-time renters), Zillow (one of the best overall), etc.
Why Are Property Marketplaces Poised to Success in 2023?
The popularity of marketplace rental homes is set to rise in 2023 and 2024 as more and more people are holding off on buying a house in light of recent economic fallouts:
Loss of work and unsecured financial future. As of writing this, about 873 tech companies have laid off about 140,000 employees in 2022 (source). As the prospect of further job cuts looms, potential homebuyers are putting brakes on their home purchasing plans in favor of home rentals.
Soaring mortgage rates. At the start of December, interest rates were around 7% for a 30-year fixed-rate mortgage in the US, with a similar situation across most European countries. This inevitably adds up to the aggregate sense of financial uncertainty and is likely to keep demand for real estate marketplace platforms strong.
The age of first-time buyers is climbing up. If a decade earlier, an average 29-year-old would have been able to afford a home, today, this age is edging ever closer to 40 years old. By that time, most people end up renting and do so through house rental platforms.
All of the above has contributed to the recent surge in rents across Western real estate markets – the average asking price climbed to above 10% on average, with the US taking the lead at 10% only to be followed by the UK at 6% (source 1, 2).
Opportunities Behind Home Rental Platforms for Agencies, Tech Startups, and Investors
The surge in demand for rentals creates a perfect storm of opportunities for those looking to create a rental website. In particular:
Forward-thinking agents can leverage rental demand to provide rental property owners and tenants with value-added services through branded rental marketplace platforms and other proptech solutions, e.g., marketplace homes property management, matching tenants with landlords, screening applicants, managing showings, processing applications, and closing the initial rental transaction. A particular focus is going to be on emerging proptech fintech technologies.
Tech companies and startups may cater to those initiatives by creating property marketplaces and other proptech SaaS platforms that would cover the needs of tenants, landlords, and agents within a single website/application. Software companies with existing home buying or mortgage solutions will have to recalibrate their vision toward marketplace homes rentals if they want to keep their property business afloat.
According to Elena Ruiz, Global Investor & Corporate Innovation Manager at Plug and Play, Investors will find wealth in investments in emerging startups that focus on real estate marketplace rentals – as long as they analyze the market, use reliable data, and reach out to real estate tech experts to audit the source code of portfolio apps before making the actual investment.
In fact, 9 out of 25 top Proptech companies 2023 in the US are in some way or another focusing on marketplace rental homes, with a clear indication for further growth of this trend.
How to Create a Rental Website?
1.Decide on a Business Model for Your Home Rental Marketplace Platform
To create a rental website, you should decide on the type of your would-be online rental platform, your target audience, and the needs your real estate solution will solve. We allocate the following classifications of online rental marketplaces:
By asset type: Residential and Commercial Real Estate Rental Marketplace Platforms
Residential marketplace homes rentals like Zillow and Trulia are online rental platforms that aim to provide a hassle-free apartment and single-home search experience by matching prospective buyers/tenants with landlords and real estate agencies. The mission of such online mediums is to make all aspects of moving easier, from search to closing, by providing multiple additional services like mortgage calculations, virtual tours, neighborhood information, visual breakdowns of the monthly costs for a property, etc.
Commercial real estate (CRE) rental marketplace platforms employ CRE technology to facilitate renting commercial properties like offices, storages, and multi-family buildings. Perhaps the best-known example of such online rental platforms is WeWork – a space-as-a-service rental marketplace that is focused on office space rentals. Another notable example is Stowga – a warehouse marketplace that aims to accommodate businesses and individuals with secure storage options across the globe.
By the length of stay: Short-Term and Long-Term Home Rental Platform
Short-term, sometimes called vacation home rental marketplaces, like Airbnb, provide furnished self-contained apartments or houses that are rented for short periods of time.
Long-term marketplace rental homes are focused on leasing out a residential property to tenants upon signing a rental contract of over 6 months or a year. As a rule, residential rent will be much lower than tourist accommodation. However, due to the increased effort required and greater expenses of a short-term let, residential rentals appear much safer and still provide a profitable income [source].
By purpose: Brokerage-Specific and Generic
For marketing properties available within ONE brokerage (Century 21, Savills, Keller Williams Realty), i.e., branded marketplaces. The ultimate goal behind such websites is to generate an agent commission upon closing a deal.
For matching buyers with sellers by displaying property listings from different brokerages (Zillow, Trulia, LoopNet, Redfin, CREXi, etc.). These online rental platforms make money by selling subscriptions and targeted advertising to mortgage lenders, homebuilders, and rental property management companies.
2. Think of the Monetization Model
Before creating a rental website, think about how you are going to make money with it. There are at least three actionable models of monetizing a rental marketplace platform.
1) By receiving commissions
A commission is a percentage/fixed flat fee for each transaction made on a platform. If your real estate marketplace software is going to list properties within a single real estate agency, such percentage/fee is called agent commission and usually goes to a person that closed a deal.
For generic marketplace homes rentals like Airbnb that provide a venue for listing properties from a wider brokerage community this percentage/fee is generated upon each transaction that takes place on the platform and charged to landlords or tenants.
The advantage of such a rental marketplace monetization model is that it is relatively easy to implement and does not require the involvement of any third party, like advertisers.
However, an ultimate drawback is that the total revenue is dependent on the number of transactions completed on the platform. So, this monetization model is likely to generate the most revenue if applied to short-term market place rentals like Airbnb and Homestay with a shorter home-staying cycle and more transactions as opposed to long-term rentals.
However, if there're few visitors to your rental marketplace platform, you'll not generate much revenue anyway.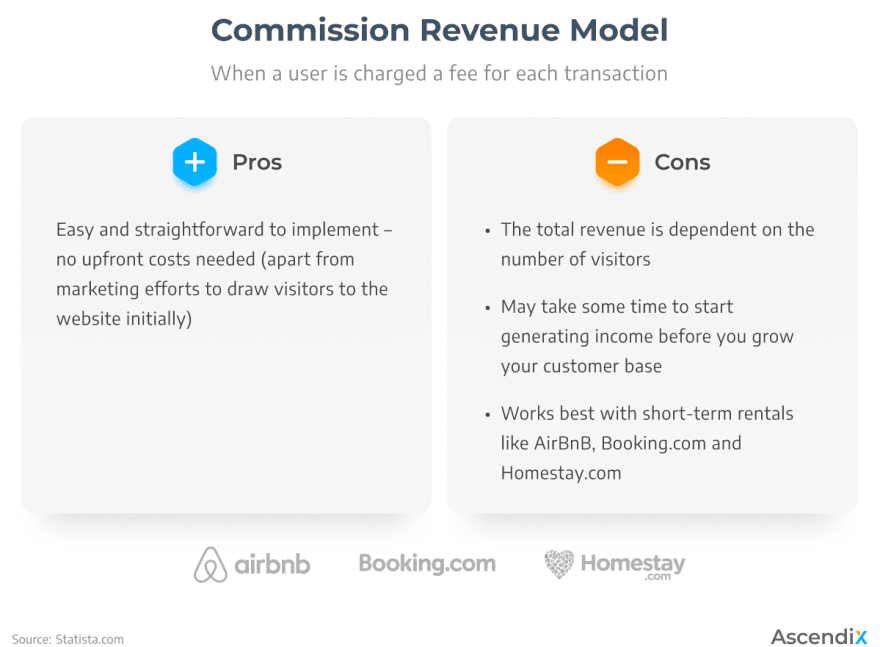 2) By selling subscriptions
The subscription revenue model means that a property marketplace charges a monthly fee for access to the platform or particular functionality. Rightmove, for example, sells an advanced subscription called Rightmove Plus that, apart from basic features, offers brokers:
Property Promotion Products (Featured Property & Premium Listing)
Branding Products (Local Homepage, Agent Microsite within the Rightmove platform, Sold By Me view to show all properties sold by an agent, Featured Agent to include a personalized agent banner on each listing)
Branded E-Marketing Products (E-Leaflets to include in automatic email campaigns, Property Alert Sponsor to include a banner advert in email alerts)
Valuation Generation Products (Local Valuation Alert to be listed among local agencies, Rightmove Discover to easily launch proactive, behavior-driven targeting)
Rightmove is very secretive about its premium membership, as different agencies are charged differently based on their size and location. But it has been numerously reported that the rough monthly cost is £1000+ (1200+ USD).
The ultimate advantage of such a model is that your rental marketplace doesn't have to support payments to charge users a commission fee upon each transaction. Instead, you can and should focus on other value propositions in terms of functionality to draw more visitors to your rental marketplace platform. As a result, your revenue will be much more predictable than within the commission-based model.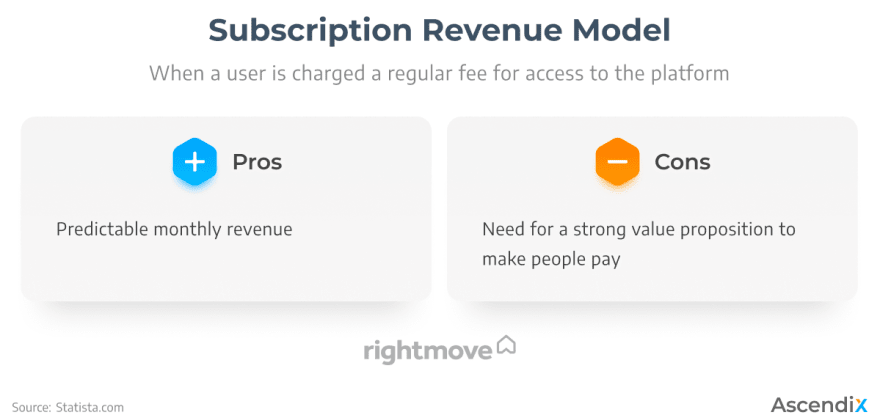 3) By advertising featured listings (Zillow, Appartments.com)
This monetization model means that agents can pay a fee to get listed on the top of the search and get more visibility on the online rental platform. Just as an illustration, Craigslist charges anywhere between $3 to $75 for adding a listing.
This revenue model is attractive for one-branch brokerages that don't post listings on a regular basis and thus can spend less than when buying a subscription.
However, the drawback of this revenue model is very similar to that of commission-based monetization – it is not easy to turn free users into those who are ready to pay a fee. The only way to deal with this is to offer sufficient value to your users.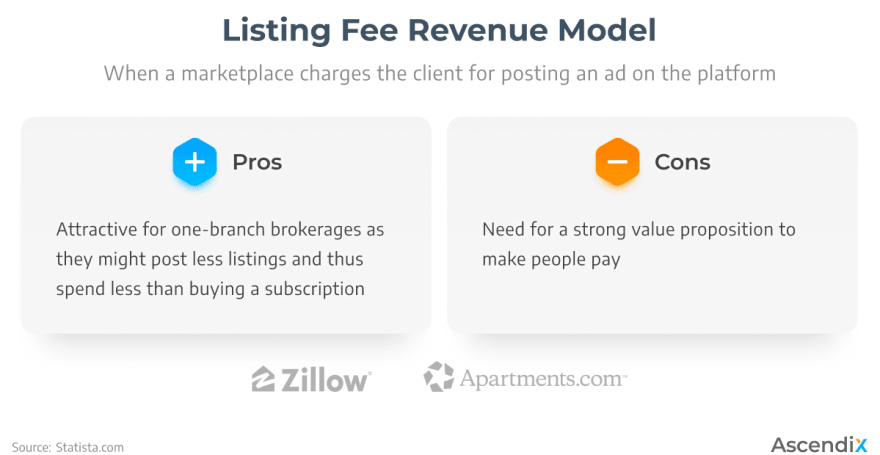 3. Build from scratch or use a ready-made solution
Generally, there are two main ways to create a rental website:
Developing it from scratch
Utilizing pre-existing software/platforms or no-code solutions.
1) Creating a rental marketplace from scratch
Creating your rental marketplace from the ground up can be a viable option if you require advanced features or significant customization. This approach requires a significant amount of time and resources, but the advantages you get in the end are simply incomparable.
The key benefits of custom development include the following:
Unlimited customization and personalization capabilities, meaning that at any point in time, you can amend the software's source code to add required functionality, e.g., your own payment gateway.
The ability to seamlessly integrate any third-party services, tools, and APIs, meaning that your custom-made rental marketplace will be perfectly scalable
Increased security as you can select your own security measures and apply industry best practices
Flexibility in design and functionality with a dedicated development team that can create a simple or complex platform based on your needs.
If you feel overwhelmed by technical jargon, integrations, and compatibility concerns, consider partnering with a technology company with experience in the real estate industry to guide you through the process.
By assembling a team of skilled professionals, including UI/UX designers and engineers, you can ensure a smooth launch and ongoing support for your product.
2) Using a pre-existing solution or building on a no-code platform
Utilizing a pre-existing solution can be a great option for small to medium-sized businesses that don't have the resources or desire to make large initial investments or implement significant customizations.
With a no-code rental marketplace tool, businesses can quickly launch their ideas without a tech team, which is a significant advantage over costly custom development. These tools typically include pre-built features such as payment gateway, listing management, and user accounts.
However, as your business grows and expands, the need for additional functionality may arise, and no-code tools may not have the technical capabilities to accommodate these needs due to limited customization options.
Even if they do, the final costs may be even higher than building a custom solution from scratch, as these simple, non-technical platforms do not allow for any amends in the application's source code.
What is the Cost of Developing the Online Rental Marketplace from scratch?
Developing an online rental marketplace from scratch will take a lot more time and money than getting a ready-made solution.
An average of $10,000 to $25,000 (with $40 per hour as the service charge) will cost to develop an online rental marketplace from scratch. These numbers will largely depend on the complexity of your project and the development rates of your tech team, so it makes sense to consider all development options, including outsourcing and offshoring, to optimize your costs.
4. Create an MVP for your rental website
A Minimum Viable Product (MVP) is the initial version of your product that has enough features to appeal to early adopters and validate your idea but does not include any unnecessary functions.
Creating an MVP for your real estate marketplace platform can assist you in:
Verifying if your product is of interest to your target audience
Identifying if the core functionality is appropriate
Discovering which features are most valuable and popular
Building a base of potential customers and early adopters for your product
Identifying potential issues and addressing them in the early stages of development.
Is an MVP so different from a fully featured product?
There is a significant difference between an MVP and a fully-featured real estate marketplace. An MVP focuses on validating the target audience, while a fully-featured product is designed to serve a specific target group.
The cost of an MVP is lower compared to a fully-featured product, but it should not be considered a raw or poorly-made product. An effective MVP should be a high-quality application, containing only the most essential features that can address the users' most critical problems.
Having a successful MVP can reduce the time and cost required to create a rental website with a full set of features. It also allows you to present the app to a validated, loyal audience.
Marketplace Homes Rental Requirements: What Features to Include
For renters:
Registration
A sign-up or login feature is necessary for all users, including the platform owner, end users, and product/property owners, to access the platform's features and functionalities.
Search
An advanced search feature with filters to narrow down the results and help users find the right products or properties.
GPS Integration
A map integration feature that uses Google Maps for accurate location-based searches. You can also add an advanced version of map search like that in the Rightmove Plus subscription that allows users to search by drawing a circle on the map.
Favorites
A feature that allows users to save their preferred products or properties in a wishlist or cart.
In-App Text/Call
A feature that enables users to communicate with the product or rental service providers for any issues or concerns.
Booking
Users can quickly book and confirm rental products or properties, with the details reflected in the "order history" feature.
Rent Order History
A feature that keeps track of past rental orders, including information on the product/property rented, rental dates, payment method, and amount.
Payment Integration
An essential feature that provides multiple payment options for users, including credit/debit cards, UPI, PayPal, and cash.
Push Notifications
Users receive notifications regarding their rental orders.
Reviews & Rating
Users have the ability to rate and review the rental services they received at the end of their rental period.
For property owners:
Seasonal Pricing Calendar
This feature allows service providers to set different pricing for their goods based on the season. They can increase prices during high demand and lower them during low demand periods.
Instant Book & Request to Book
This feature allows rental owners to label their listings as "Instant book" or "Request to book". With the instant booking option, end-users can book without needing to request the service provider. The request to book option sends a booking request to the provider before the booking can be confirmed.
For admins of the platform:
User Messages Auditing
The platform owner can audit the messages that go between the providers and the end-user. This feature helps the owners to know what has happened to understand the dispute.
CRM Software Behind the Platform
Having a Custom Relationship System helps administrators route and execute communications with multiple clients that left a request on your real estate marketplace platform in a centralized way.
Content Management System (CMS)
The platform owner can add a new page or change the existing content on the website by using a content management system.
Report and Brochure Generating Tool
Brochures and property reports are vital in any rental business but may be time-consuming if you need to create each one manually upon a client's request. With an integrated report generation tool, admins can generate eye-pleasing brochures by pulling information directly from your rental website / CRM system behind it.
User Reviews Auditing
The platform owner can delete or edit the reviews given by the user and provider on the platform. This feature helps in minimizing the untrue reviews posted by the users.
Multi-Currency & Multi-Language
You can integrate multi-currency and multi-language to make your real estate marketplace platform reach beyond the local community.
Rental Marketplace Startups to Learn From
Bilt Rewards
Headquarters: New York, New York, United States
Founded Date: 2021
Funding Round: Series B
Total Funding: 213.3M USD
Status: Unicorn
Bilt Rewards is a fresh proptech startup that has disrupted the home rental market with unique rewards programs that allow renters to earn points simply by paying their rent. Bilt's points can be redeemed for a variety of rewards through 12 different loyalty programs. These include major airlines, hotels, travel, fitness classes, Amazon.com purchases, and even credit toward rent or a future down payment.
Bilt also unveiled a new initiative called Bilt Homes, which aims to assist renters in achieving homeownership. The program compares the member's monthly rent payments against mortgage rates in the area to identify homes that they could afford to purchase with that same payment. This takes into account real-time interest rates, taxes, income, credit profile, and other personal data to calculate mortgage eligibility.
Bilt's is officially one of the most quick-growing market place rental startups as just in a year its total valuation skyrocketed from 350 million USD to 1.5 billion USD, which gives the company unicorn status.
Proplar
Headquarters: San Francisco Bay Area, Silicon Valley, West Coast
Founded Date: 2014
Funding Round: Series Unknown
Total Funding: 3.5M USD
Status: Unicorn
Poplar Homes, co-founded in 2014 by Toschi, Chuck Hattemer, and Rico Mok, is an online marketplace platform that primarily operates in the single-family home rental market. Its target audience is private individuals with only one or a few properties, who are estimated to control 90% of the market.
The company manages leasing, maintenance, legal, and accounting matters for owners and also aims to make the process more convenient for renters by providing an online platform for touring properties, getting approvals, and paying rent.
SquareFoot
Headquarters: New York, New York, United States
Founded Date: 2011
Funding Round: Series B
Total Funding: 29.4M USD
Status: Unicorn
SquareFoot is a modern real estate marketplace software that caters to companies searching for their next office space. The software prioritizes providing a stress-free and transparent experience for companies that require flexible leasing options.
The platform offers a seamless process supported by user-friendly technology and a dedicated team of real estate experts who match clients' unique needs with the current market's offerings.
Residently
Headquarters: London, England, United Kingdom
Founded Date: 2017
Funding Round: Series Unknown
Total Funding: 16M USD
Status: Unicorn
Residently is a real estate marketplace software that enables renters to schedule viewings, take virtual tours, make offers, pay deposits, and extend or renew their leases. The platform also supports realtors, property managers, and institutional landlords in managing their tenants, reducing costs and void periods.
By digitizing the renter's experience, both agents and property managers can streamline operations, saving £400 per property per year and doubling the landlord's Net Operating Income through void reduction.
The company was established in 2017 and is based in London, England.
Month2Month
Headquarters: London, England, United Kingdom
Founded Date: 2017
Funding Round: Series A
Total Funding: 15M USD
Status: Unicorn
Month2Month is a company that aims to transform the rental industry by creating a rental website that features beautifully furnished housing on flexible rental terms. Month2Month.com provides thousands of fully furnished, ready-to-move-in homes in various states such as California, Florida, Texas, Nevada, Oregon, and more, for families and working professionals to enjoy.
The company has an innovative culture and is staffed by a diverse group of vibrant, energetic employees dedicated to providing excellent customer service.
Final Thoughts
Building and launching a rental marketplace platform seems to be a daunting task. But only until you have the right knowledge and technology partner along with you.
Ascendix is a proptech development expert with almost two decades of practice-based experience in real estate.
The world's biggest real estate services corporations like JLL, Hanna CRE, and Colliers trust us because:
As product owners ourselves, we nurture an extensive solution portfolio of as many as 17 real estate tech products and do know all the nuances of bringing innovative ideas to life from scratch.
Anchored in Dallas, the US but having 4 more offices worldwide, we combine our local, national, and international experience to deliver disruptive proptech solutions at reasonable rates and around the clock.
We offer flexible engagement models to give you absolute freedom of how close you want to be involved in the development process
Tell us more about your project, and we'll make sure to provide you with the knowledge and resources to make innovation happen for you and your business.