Are you tired of feeling overwhelmed with tasks and deadlines? The average workweek is 45.6 hours long because employees are overworked with way too many tasks and meetings than they actually have time for. And there are countless productivity apps to help you save time every week -- but with so many options, the biggest challenge is deciding which one is right for you.
Fortunately, we've researched hundreds of apps to save you the time you don't have in finding your productivity solution -- and broke them down into 25 different categories so you can find the best productivity app to improve your top challenge. 
Let's take a look at the top productivity apps in 2023. Say goodbye to procrastination and hello to efficiency with the help of these innovative tools.
25 Best Productivity Apps of 2023
1. Reclaim.ai --- best productivity app
Reclaim is an AI calendar productivity app that automatically finds the best time for your tasks, habits, meetings, and breaks in your busy schedule. This is the #1 productivity app across the board because it truly optimizes your most valuable resource -- your time. Reclaim helps you auto-schedule time for all of your tasks and work routines around your existing Google Calendar events, while still keeping your schedule flexible for priority changes if something more important drops on your plate.
And we all know meetings are the biggest offender of our time -- which is why you need Reclaim to both find the best time for them, while also protecting your calendar from being overloaded with meetings. Their Smart 1:1s meeting feature finds the best time across both attendees schedules and auto-reschedules around meeting conflicts or PTO. And if you're booking one-off meetings, the Scheduling Links tool lets you share your max availability over lower-priority events so it doesn't take weeks to get a meeting on the calendar.
Lastly, work-life balance is a must for productivity -- if you're fried out, you're not doing your best work. Reclaim allows you to auto-schedule breaks throughout your workday, create set working hours so meetings aren't scheduled during your personal time, and auto-sync your Slack status to your calendar so coworkers don't interrupt you when you're in a meeting or a focus time session. And if you're a data junkie, you can even track your productivity through advanced analytics on where you spend your time every week.
Reclaim.ai pricing: Free → paid plans start at $8/month
2. Todoist --- best to-do list app
Tired of juggling endless to-do lists and struggling to stay organized? Todoist streamlines your task management with its user-friendly interface, allowing you to effortlessly create, categorize, and prioritize your daily tasks. There are many to-do list apps out there, but Todoist is one of the best. Beyond personal efficiency, Todoist is also a great collaborative tool for teams, with shared tasks, real-time updates, and the ability to sync with tools like Google Calendar, Reclaim.ai, and more to keep projects on track. It's amazing how productive you can be when you're organized!
Todoist pricing: Free → paid plans start at $4/month
3. Notion --- best note-taking app
Notion is one of the best all-in-one productivity tools, merging note-taking, project management, and team collaboration under one digital roof. Its modular approach to organization allows users to create custom workspaces, accommodating everything from personal to team workflows. Notion's intuitive drag-and-drop interface enables the effortless creation of databases, to-do lists, wikis, and more. Whether planning a project, drafting a blog post, or coordinating team tasks, Notion's flexibility scales to meet your requirements. Real-time collaboration enhances teamwork, while its offline capabilities provide uninterrupted access to your critical information.
Notion Pricing: Free → $15/month
4. Superhuman --- best email app
Email is one of those unavoidable things that can eat up a ton of our time -- while causing a great deal of anxiety to boot. Superhuman is an AI-powered email app designed for busy professionals seeking a blazingly fast email experience. With dozens of features like automatically prioritizing emails based on the recipient, follow-up reminders, automated phrases and email copy, along with event scheduling, Superhuman can make you way more productive on your email. Free up all that time spent managing your inbox, so you can focus on your most important work while eliminating your email anxiety and maintaining your responsiveness with your team.
Superhuman Pricing: $30/month → $45/month
5. Asana --- best project management app
Asana is the gold standard when it comes to a project management tool, allowing teams to organize tasks, track progress, and keep everyone on the same page. With a focus on visual task management, Asana enables you to map out all your projects in customizable boards, lists, or timeline views, with deadlines and dependencies all there to see. Not only that, but teams can extend Asana's functionality even further by integrating it with dozens of tools. So if project management is a project in itself -- give Asana a try so you can put that time back towards productivity.
Asana Pricing: Free → $24.99/user/month
6. Freedom --- best distraction-blocking app
Ever find yourself unable to pull away from the digital distractions that disrupt your workflow? Well, Freedom is one of the best distraction-blocking apps that allows you to block websites, mobile apps, and any other digital distractions that prevent you from getting things done. Users can create personalized schedules that temporarily block access to distracting websites, apps, and even the entire internet if need be. Best yet, Freedom works on all your devices, keeping any and all digital distractions at bay so you can stay focused on productive work.
Freedom Pricing: $3.33/month → $8.99/month
7. Raycast --- best workflow automation app
Raycast is a crowd-favorite productivity app that redefines how users interact with their Mac computers, integrating tasks, searches, and workflows into a single command-driven interface. Raycast features workflow automation and a centralized hub for launching apps, executing scripts, and navigating through files right from the menu bar of your Mac. However, Raycast really shines after setting up some of its many extensions, such as Reclaim.ai's. Now, access to calendar events, GitHub repositories, Jira tasks, and more are all accessible with a few quick keystrokes.
Raycast Pricing: Free → $12/user/month
8. Brain.fm --- best for music
Many people like to work with some music in the background. But have you ever found that music can be a source of distraction? Maybe your favorite song comes on, you start mouthing the lyrics, or even start jamming out, and three minutes later you've completely forgotten what you were working on. Brain.fm is a cutting-edge app that harnesses the science of music and neural entrainment to optimize focus, relaxation, and sleep. The platform offers a selection of specialized audio tracks scientifically designed to enhance cognitive states. Whether you're striving for deep productive concentration, a calm mind, or restorative sleep, Brain.fm provides soundscapes that synchronize with your brain's natural rhythms.
Brain.fm Pricing: $6.99/month → $49.99/year
9. Headspace --- best mindfulness app
It's difficult, no matter what tools you're using, to stay productive if your head is full of noise. If your mind is always racing, you obviously can't stay focused. That's why Headspace, an app dedicated to mindfulness and mental well-being, is on our list. With a mission to provide tools for a healthier mind, Headspace guides users through several meditation exercises, breathing techniques, and mindfulness practices. Its inviting interface and soothing narration make it accessible to beginners and experienced practitioners alike.
Headspace Pricing: $12.99/month → $69.99/year
10. 1Password --- best password manager
Passwords are the first line of defense for protecting your digital information and your accounts. Weak or easy-to-guess passwords are often all it takes for nefarious actors to gain access to things they shouldn't. Even so, generating and remembering all these strong passwords can be a pain, and forgetting and resetting your passwords is also one of the least fun (not to mention time-consuming) activities we all struggle with. Luckily, 1Password simplifies the management of countless passwords across various accounts, guaranteeing both security and accessibility. Its encrypted vault securely stores passwords, credit card information, and even secure notes, safeguarding them from breaches and unauthorized access.
1Password Pricing: $2.99/month → $19.95/month
11. Ocoya --- best for social media marketing
Ocoya is a relative newcomer but has proved itself to be an incredible productivity tool for social media marketers. Ocoya merges the capabilities of AI-powered content creation with the efficiency of a comprehensive social media scheduling platform. Think of it as ChatGPT, Canva, and Hootsuite -- wrapped into a single package. By harnessing the power of AI, Ocoya optimizes social media marketing, allowing your marketing team to curate compelling posts tailored to their audience faster than ever before. No more endless hours of inspirational research, drafting, and design -- automate some unbelievable messaging for your social media with Ocoya.
Ocoya Pricing: $15/month → $159/month
12. Fathom --- best for sales meetings
If you're on a sales team, you're probably running dozens of remote sales meetings a week. And Fathom is the tool you need to capture, transcribe, highlight, and summarize these discussions. With the app recording and transcribing meetings in real time, you no longer have to carry the burden of taking notes yourself -- which not only saves you a ton of time after your calls, but also allows you to stay engaged in the discussion without worrying about missing a beat. Beyond transcription, Fathom's intelligent algorithm highlights key points and action items. The cherry on top is Fathom's summarization feature, which distills lengthy discussions into concise, insightful takeaways, great for sales teams.
Fathom Pricing: Free → $19/month
13. Gong --- best for sales
Gong is another great productivity tool for salespeople. By analyzing and transcribing sales calls, Gong unlocks a treasure trove of valuable data, providing a panoramic view of all your customer interactions. This in-depth analysis not only enhances coaching and training opportunities but also reveals patterns, objections, and opportunities that might have otherwise been overlooked. The app's integration with CRMs translates these insights directly into actionable steps, streamlining your sales process.
Gong Pricing: → $1600/user/month
14. Canva --- best for novice designers
Graphic design can be a time-consuming and daunting task for many, even for little things like social media posts or cover photos. But Canva helps transform even a complete novice into a proficient creator with an intuitive design platform and endless library of templates. From social media graphics to marketing collateral and presentations, Canva offers ready-to-use images, fonts, and design elements across any design type you need to create. Its print and digital output options cater to both online and offline needs, making it a great choice for a productivity design tool for all of your creative endeavors.
Canva Pricing: Free → $29.99/month
15. Figma --- best for UX designers
Like Canva, Figma is another impressive digital design tool that can really ramp up your productivity. With its rich set of tools, Figma allows designers to craft user interfaces, prototypes, and even animations with fluidity and precision. And the best part is multiple designers can work simultaneously on the same project, making your design reviews and feedback cycles way more efficient. Its version history feature ensures that no design iteration is ever lost, giving your team the freedom to experiment and iterate fearlessly.
Figma Pricing: Free → $75/user/month
16. Workday --- best for enterprise HR
Workday is a great productivity tool for HR teams that simplifies many critical business functions that keep a company operational. It's a sweeping platform that brings everything together in one place, allowing your HR team to efficiently manage human capital, payroll, benefits, and financial operations. HR professionals, managers, and employees can easily navigate through their tasks, whether it be recruitment and onboarding to performance management and talent development. Workday's real-time analytics also provide valuable insights into workforce trends and financial performance, enabling data-driven decision-making -- without all the manual legwork to pull these stats together.
Workday Pricing: → $45/user/month → $99/user/month
17. Rippling --- best for small-mid-size HR
Rippling is another popular choice for HR and business operations, merging human resources and IT management into a single unified platform. With a focus on efficiency and automation, Rippling empowers organizations to onboard, manage, and support their workforce with unparalleled ease. From employee benefits and payroll to device management and security protocols, Rippling helps you streamline all your administrative processes -- improving productivity across the entire HR and operations team. And its user-friendly interface provides a centralized hub for employees to access their information, benefits, and tasks.
Rippling Pricing: $8/month/user 
18. Github Copilot --- best for developers
With all the hype over generative AI tools like ChatGPT (which we'll cover below), one of the most impressive demonstrations is its ability to generate usable code in countless programming languages. Needless to say, this could save developers an enormous amount of time and energy. And Github Copilot aims to do just that with its AI-powered code completion tool. Copilot assists developers in generating code snippets, functions, and even entire blocks of code. Supporting a wide range of programming languages and frameworks, it's a great companion and pair programmer for developers of all backgrounds looking to boost their daily productivity.
Github Copilot Pricing: Free → $21/user/month
19. Mint --- best for tracking expenses
Money makes the world go round, and managing it well can be pretty time-consuming. After all, entire professions, like financial planners and accountants, are centered around just that. However, Mint is a great tool for productively managing your own money, budgets, and financial goals, bringing together bank accounts, credit cards, loans, and investments into a centralized platform. Its real-time syncing and transaction categories provide users with a comprehensive view of their financial picture in no time. And its budgeting features also allow users to set financial goals, track spending, and identify areas for potential savings.
Mint Pricing: Free → $4.99/month
20. IFTTT --- best for connecting apps
Finding yourself spending way too much time bouncing between apps to reference and pull information together? You might not realize it, but it's a huge productivity loss if you're still doing this manually. IFTTT (If This Then That) is a powerful automation tool that allows you to connect and coordinate these online services and devices to maximize your productivity and time. With a simple "if this, then that" logic, IFTTT users can create automated workflows, known as applets, that trigger actions based on predefined conditions. Whether syncing data between apps, automating social media posts, or receiving notifications for specific events, IFTTT unlocks a world of possibilities and can free up a ton of time.
IFTTT Pricing: Free → $5/month
21. Hemingway App --- best for writing
No matter who you are or what you do, chances are, you're probably spending time writing every week. One of the biggest barriers to effective communication is clarity. If your writing isn't clear, concise, and impactful, many people will struggle to read and understand it. But the Hemingway App can help keep all your writing crisp and clean. Named after the writer renowned for his straightforward style, Hemingway offers a virtual editor that highlights complex sentences, unnecessary adverbs, and passive voice constructions. By emphasizing readability, the Hemingway App transforms dense text into approachable content. This is a must-have productivity app for anyone in a marketing writing or content creation role.
Hemingway Pricing: Free → $19.99
22. Miro --- best for flowcharts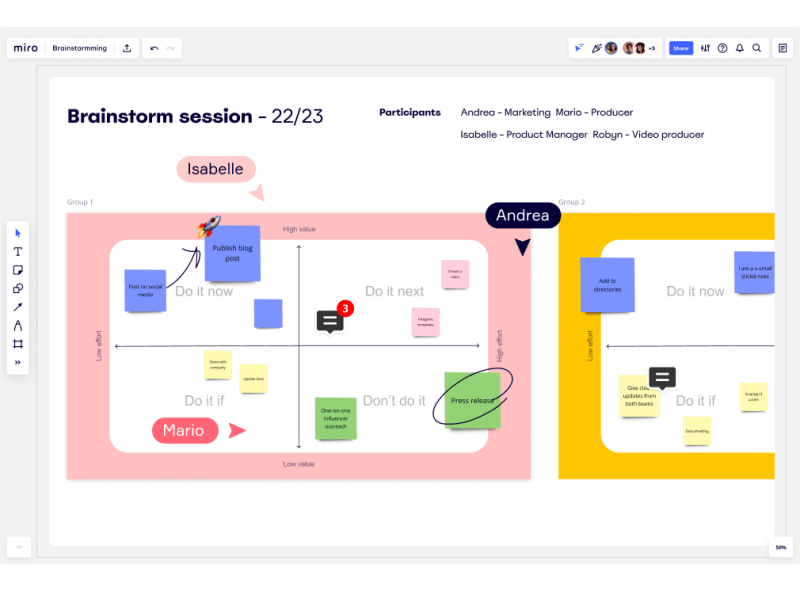 In the current debate over remote work vs. return-to-office, the most common objection is the "remote isn't great for collaboration" line. While it's true that brainstorming may be a bit more spontaneous in an office setting, the same can be true of remote work with tools like Miro. With its interactive whiteboard interface, Miro transforms brainstorming sessions, project planning, and design processes into engaging and dynamic experiences. Teams can create, edit, and share visual content through visual flowcharts in real-time, no matter where they're located, and maximize productivity across their team. Miro also comes loaded with a range of customizable templates, allowing teams to tailor their boards to their specific needs, whether it's mapping out user journeys, agile sprints, or architectural diagrams.
Miro Pricing: Free → $16/user/month
23. Slack --- best communication app
Still wasting hours of your day over email? Slack is an awesome alternative for asynchronous communication that can really boost productivity for remote teams. This simple chat platform allows you to communicate in real time with individual team members, small teams, or your entire organization to share information and solve problems without needing endless meetings. Slack connects with hundreds of apps too so you can bring your work directly into your chat rooms, eliminating the need to open new tabs to search or review assets.
Pro tip - make sure to sync your Slack status to your calendar with a tool like Reclaim.ai so you can let coworkers know when you're busy, or even set DND to prevent interruptions during important meetings and focus time sessions. Slack's scheduled send feature also makes it easy to message someone when a topic comes up -- while scheduling it into the future so you don't disturb them when they're busy.
Slack Pricing: Free → $12.50/user/month
24. Loom --- best for problem-solving
Ever had an issue that takes more than a screenshot or a Slack message to explain? Screen-sharing communication tools like Loom allow users to easily create and share video messages, whether explaining a complex concept, providing feedback, giving a presentation, and more. Loom also integrates with many popular communication platforms, so video messages can be easily embedded into emails, chats, and other documents.
Loom Pricing: Free → $12.50/user/month
25. ChatGPT --- best AI
One of the most famous and popular tools on our list, OpenAI has made huge waves upon the release of its artificial intelligence-driven communication platform, ChatGPT. To use the advanced language model, all you have to do is submit a question and ChatGPT will think on the spot to provide thoroughly researched answers in a natural and dynamic conversation. By harnessing a vast array of knowledge and language patterns, ChatGPT can respond to queries, provide explanations, generate text, and even code in countless programming languages. Given its capabilities, ChatGPT can drive productivity boosts in numerous contexts, from content creation and customer support to brainstorming and learning assistance.
ChatGPT Pricing: Free → $20/mo
Boost productivity with the best tools 🚀
Did you know that, on average, only 53.5% of planned tasks get completed each week? Luckily, plenty of productivity tools are out there to help us stay on track and accomplish our goals. From AI calendars like Reclaim to distraction-blocking apps like Freedom, there's a tool out there for everyone. In the end, the key to productivity is finding the productivity software best for you and your workflow. So why not give some of these top productivity tools a try and see how they can help you achieve your goals?
Did we miss anything? What productivity tools do you use? Tweet us @reclaimai to let us know!