Angular Material is one of the most popular front-end frameworks for building performant user interfaces with Angular. Today, we are excited to announce that starting in 2022. This decision was made based on our desire to give back to the community and help accelerate the development of high-quality user interfaces.
Here is the list of Popular Angular Material Templates:
---
(1) MaterialPro Angular Lite
It is a free Material Template built on the Angular framework. It can be easily customized and it also comes with reusable beautiful UI elements. This Angular Admin Template is responsive by design. It works well with all device screen sizes.
It uses the essential Angular components along with pre-setting design patterns and re-styling plugins to craft consistent web designs and enhanced user interfaces.
2+ unique and attractive dashboards
Open-source web application
Six distinctive live demos
4 predefined color skins
Dark and light color schemes
Over 40 angular elements
SaSS based CSS
Clean, attractive, and engaging site landing pages
Dashboard PSD files
Multiple Widgets
Mega Menu
Fully responsive web pages
Quick and easy customization
Multiple file upload
Validation forms
Data tables and charts
For a 10% Discount Offer, use code WRAPPIXEL10
---
(2) Mash Able Angular Template
Mash Able is the most comprehensive AngularJS admin template, among all other admin templates in the market. It has high feature-rich pages. Also, components with fully developer-centric code. While developing this Template, the team has gone through various testing & code optimization processes, for making this Mash Able Angular Admin Template a performance-centric backend application.
---
(3) Material Dashboard Angular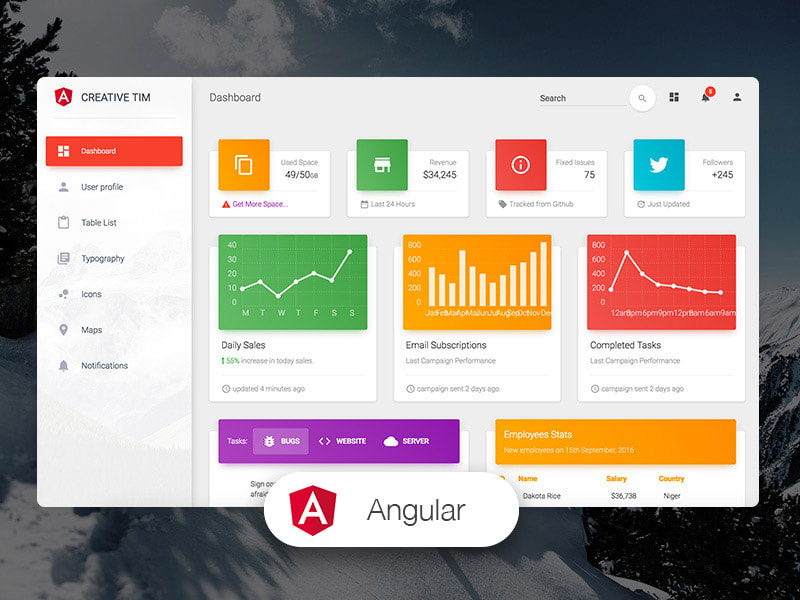 It is inspired by Google's Material Design. The team is very excited to introduce a take on the material concepts through an easy-to-use and beautiful set of components. This Template was built over the popular Angular framework and it comes with a couple of third-party plugins redesigned to fit in with the rest of the elements.
---
(4) Gradient Able Angular Template
It is the most stylized Angular Template, among all other Free Admin Templates in the market. It comes with high feature-rich pages and components. The team has gone through various testing & code optimization processes, for making this performance and design-centric backend application.
---
(5) AdminPro Angular Lite
It is a carefully handcrafted, resourceful Angular Admin Template. It comes packed with all the features you need to create stunning, high-performance Admin Dashboards.
AdminPro Angular Lite is one of the most powerful, dynamic, and efficient free Angular themes in our marketplace. The free version of the angular theme comes with 7+ page templates, 10+ UI Components, Basic table examples, and fully responsive pages.
Note: You can use AdminPro Angular Lite for your personal and commercial projects, and upgrade to the pro version for more features.
For a 10% Discount Offer, use code WRAPPIXEL10
---
Conclusion:
Angular Material is a great way to create responsive, modern web applications. And best of all, it's open-source and free. In this article, we looked at some of the best Angular Material templates available. We hope you find one that you like and can use to create your next project.