Ever since COVID-19 stuck the world, a lot of communities have taken to hosting events, meetups, conferences, and webinars online. It might look really easy and super convenient. But trust me when I say this, it's a hell lot of work.
It takes a lot of time, a lot of collaboration with other people who are willing to serve the community, and a lot of effort and energy into hosting such events(may it be offline or online). At one point, you might even think, what's the point? Why am I doing all this?
The motivation 🔥
Well, just think of it as a ripple effect. You see amazing people out there in the community. You get inspired by them. Then you do similar things(with them or without them). And then you inspire others to do the same.
I met Martina Kraus via the Google Developers Expert Program. And we're connected on Twitter ever since. I used to see all the amazing work that she did for the community through these awesome ngGirls Workshops that she used to organize. And then I met her in person at ng-India 2020
Martina Kraus

I'm so glad that I finally met the wonderful

@SiddAjmera

. I was really really excited 😆

He's great and funny and I do admire him a lot 🤗🤗🤗

02:29 AM - 02 Mar 2020
That's where I got to discuss with her regarding the ngGirls Workshops and how we could do one for India as well. But since we couldn't do it in person as she's based out in Germany and I'm based out in Australia, doing it online was the only way we could do it. But we couldn't do it nationwide in the first go as we hadn't ever organized one.
ngGirls@Indore (where it all started) 👶
Since we had just started hosting events online, we needed to test waters so that we could come across as many challenges as possible. We thought we'd start small to face all those challenges and learn from them. And so we hosted a ngGirls@India workshop at a very small scale. We didn't promote the event soo much as it would have led to more participation.
With close to 2 dozen participants and merely 5 mentors, we successfully hosted the first ngGirls@India workshop(check out the key highlights from the event here). This workshop was mainly focused on the central part of India. That's also where I originally am from, BTW. And it was only possible because of more amazing community members and my dear friends Srashti and Gaurav.
After working with them, I was certain that these are definitely the people I want to collaborate with. The way they work, their ideas, their management, and people skills are exceptional.
But we needed to scale. And we had soo many things in mind. And we wanted to incorporate all those things in the workshops that we conducted. And so we set out to organize the next one in Australia at a slightly bigger scale.
ngGirls@Australia (playing with scale) 🦘
This was where we had close to 150 registrations for participating and about 30 mentors. We also had Tanya Butenko(the founder of MusesCodeJS) and Shmuela Jacobs(the founder of ngGirls) as our keynote speakers.
A peculiar thing about this workshop was that most of the participants here and a lot of mentors were from India. Even the timezone difference between India and Australia(which was 4:30 hours that time) couldn't stop them from attending the workshop. They woke up at around 4 AM India Time, just to attend the workshop or mentor budding female developers in Angular.
This gave us a positive reinforcement that there's a lot of women out there in India who want to attend workshops like these. Plus a lot of people out there, who want to mentor and empower women, in India. That's when we started gearing up for #ngGirlsIndia
ngGirls@India 🇮🇳
But we did know that India had its fair share of issues in terms of online events like these. So we got onboard a vibrant bunch of people as volunteers.
The Volunteers 💪
These are mostly college students who are also actively involved in doing a lot of community work out there and are associated with various programs and organizations like GirlScript and Microsoft Student Partners Program.
They made our lives as organizers soo much easier and took care of a lot of key aspects of organizing the workshop like:
Promoting the workshop so that it reaches to every potential female out there.
Calling potential participants to get them onboarded.
Onboarding them to MS Teams(the platform where we hosted the workshop).
Proofreading the tutorial that we shared with the participants for the workshop.
Creating posters for the event.
Coordinating with mentors and participants to resolve their issues throughout the workshop etc.
On that note, we'd like to give a big shout out to Aditya Oberai, Ritesh Sharma, Pooja Vyas, Samiksha Kapoor, Ali Mustufa, Aanchal Mishra, Sujay Das,Simran Makhija, Akshay Mandliya, Ekansh Gupta, Vaidehi Jain, Tanushree Aggarwal, and Vaidehi Bhardwaj for all the work they did in the workshop. These are a very talented bunch of people.
The Mentors 👨‍🏫👩‍🏫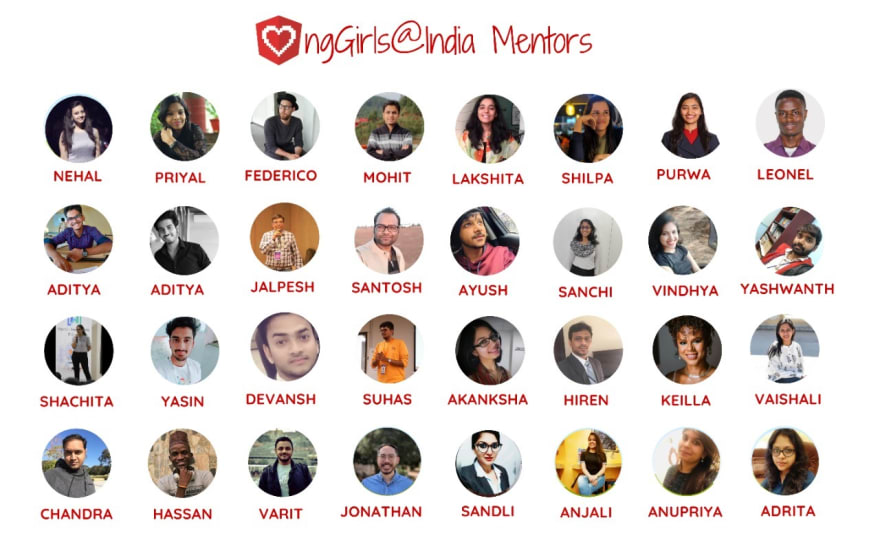 A workshop like this was unimaginable without the support of mentors. We had a very diverse set of mentors. Diverse in terms of geographies(Australia, Europe, South America, and India), genders, and experience levels(from 2nd-year college students to CTOs of successful companies to Google Developer Experts).
We'd like to extend a deep appreciation to
Chandramouli Srivastava, Vaishali Tekale, Nehal Jaisalmeria, Akanksha Singh,Anupriya Batra, Santosh Yadav, Vindhya Hegde, Leonel Elimpe, Purwa Gaikwad, Mohit Khandelwal, Hiren Dave, Jonathan Yee, Keilla Fernandes, Federico Tasso, Jalpesh Vadgama, Varit Patel, Sandli Matharoo, Anjali Verma, Adrita Sharma, Suhas Parameshwara, Priyal Jain, Lakshita Malhotra, Shilpa Lalwani, Ayush Mishra, Aditya Tyagi, Yashwanth Sagar, Sanchi Bansal, Yasin Shah, Devansh Shrivastava, Aditya Gusain, and Shachita Jain for dedicating their time and efforts the whole day for guiding and helping all our participants.
Another great aspect of the workshops that we hosted in the past was that a lot of mentors for this workshop were participants from the past workshops. This will give you some perspective on the impact that such workshops have.
As I mentioned earlier, it's more of a ripple effect. The participants from this workshop will mentor other budding female web developers in the future workshops. You get inspired by others, then do something and inspire others. That's also why we wanted to listen to some stories from our inspirations. That's where the Keynote Speakers come into the picture.
The Keynote Speakers 🎤
We needed some talks that could motivate the participants and guide them in the right direction at the end of the workshop.
So we started the day with an amazing keynote session by Minko Gechev from the Angular Team at Google. Minko's story fuelled the enthusiasm of all the participants and they joined the workshop on a really positive and motivating note. We'd recommend you to watch his Keynote. Check it out right here:
We ended the day with an amazing closing keynote session by Lakshya Sivaramakrishnan from the Google India Team who talked about the Women Techmakers Program. She talked about the power of community and how it can impact your lives in unimaginable ways. You'll get to know about the power of community after watching her closing keynote here:
Moving on to the most important aspect of the workshop.
Participants 👩‍💻
We got an amazing response from India in terms of participation. Close to 300 people registered for the workshop and about 180 people showed up. Nearly 120 participants successfully completed the workshop by participating in extensive coding sessions and also testing the concepts they acquired via quizzes.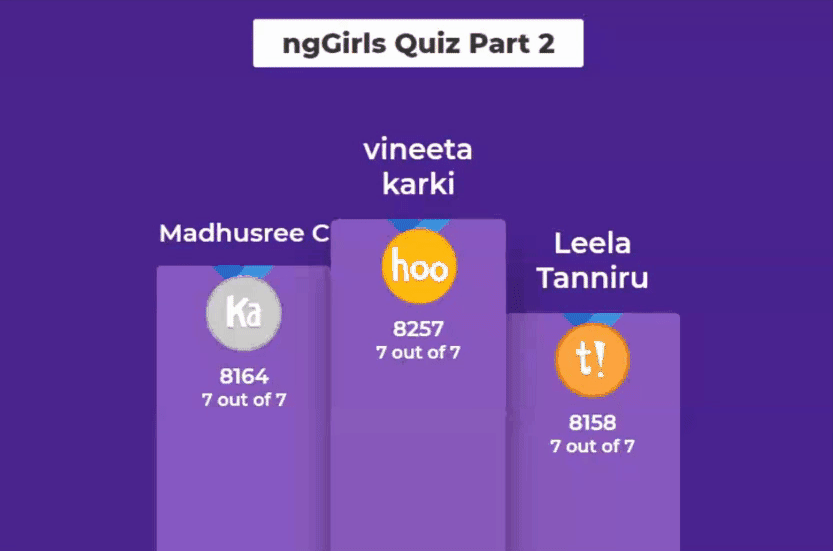 And we received wonderful feedback from a lot of our participants. That's what keeps us motivated into doing this community work after all.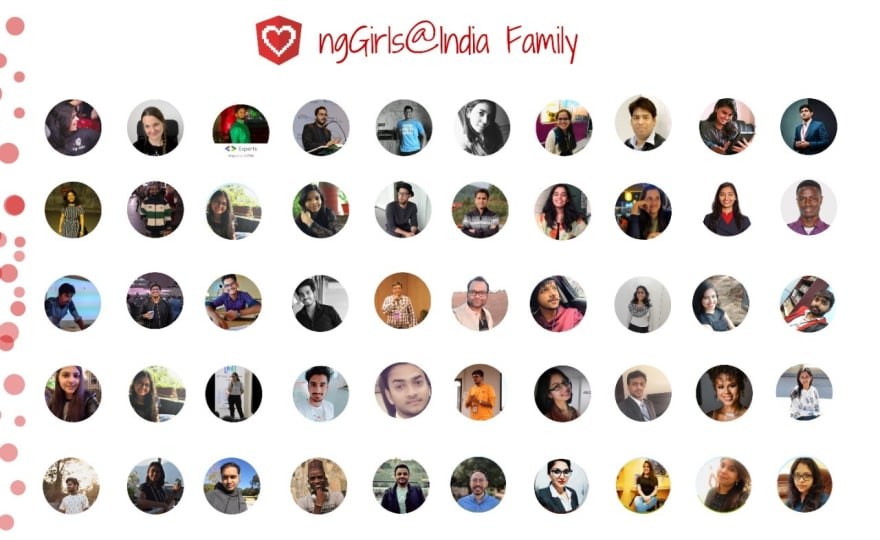 And so, for all of that and for receiving the workshop so well, we(the whole ngGirls@India Family) thank you all very much. 🤗
We'd also have to thank Biswajeet from Google India for supporting us with all the requests for this workshop.
Where to from here?
Well. This is just the beginning and we've just gotten started.
We keep receiving requests from various people for doing such workshops in other technologies, and for something that's open to other genders too. Receiving a lot of these requests got me thinking about doing something in that direction.
All About Web(The Genesis) 🚀
There are a lot of really amazing people out there, who are doing soo much for the community. There are people building amazing things, in various technologies and sharing about it with the world. We feel that if we get these people to share their work on a single platform, it would make a huge impact.
So that's the general idea behind All About Web. We want to make this as something that you could reach out to, for learning about several different web-related technologies, getting inspired by various active members from the community, and expanding your perspectives about the web in general.
That's also something that Ashok discussed with me recently. And so we also thought we'd get him on-board. He has a lot of experience and has been working in this industry for well over a decade now. He is a really amazing person to work with and there's always soo much to learn from him.
And so with that, we present to you, All About Web, an amazing community for web around the world. The ngGirls@India Workshop was the very first event that we did under All About Web. But you can expect a lot more such events including workshops, webinars, and pair programming sessions from us.
Consider staying in touch on social to stay up to date on the latest webinars, meetups, workshops that we organize and tech-related content that we post.
Relevant Links to help you find us:
All About Web | Our Twitter Handle | Our YouTube Channel | Our LinkedIn Page