Summary: The impact the pandemic has had on brick-and-mortar retail is detrimental. In the US, 12,000 stores had to shut their doors. And those left wonder: What do we do to sustain our businesses? Below, we look at retail technology trends that can help brick-and-mortar stores survive the pandemic, reopen safely, and lure customers back.
2020 wasn't easy on retailers. Although brick-and-mortar stores saw foot traffic go down even before the pandemic kicked in, lockdown measures have pushed more users online. For retailers with no omnichannel presence, this turned out sour. The hopes for more offline buyers coming back during the COVID-19 plunge in summer and early fall have crumbled, too. The hesitancy to enter shops potentially crowded with people has kept shoppers off-premises. And as much as 37% of them say they'd prefer to shop online even after the lockdown measures are lifted. 
Considerable drops in demand (excluding for the essentials like groceries) have added fuel to the fire, making it extremely hard for brick-and-mortar chains, and especially smaller ones, to pull through. So, the legacy 2020's left for retail looks pretty sad: a record of 12,000 stores had to shut their doors — and some for good. And those still standing face a challenge. How do they sustain their business, workforce, and revenue? And as we live off the expectations for a nationwide vaccination and a sense of normalcy, how do they reopen safely and lure customers back? 
To provide the answers, we've summarized what retail technology trends can bring to the table. In short: implementing retail software solutions, businesses can make it safer, easier, and more enjoyable to shop. Now, let's take a more detailed look at new retail technology that helps retailers stay afloat, engage with, and retain buyers.
Retail technology trends: 13 essential use cases
Techs for augmenting retail operations
Smart point-of-sale systems 
More than 40% of retailers have already replaced or plan on replacing dated cash registers with smart POS systems. So, what are these, and how do they help retail? A smart POS is figuratively a "brainy" cash register. But along with cash management, modern POS solutions do much more — from storing customer databases and managing loyalty programs to tracking store inventory and monitoring staff productivity to generating analytics reports and supporting mobile payments. This feature-richness turns POS solutions into innovative retail technology tools that improve store management from every angle, namely:
Improve customer experience with lightning-speed checkouts, flexible payments, personalization of shopping experience, and loyalty reward programs
Optimize store management, giving a clear picture of a store's inventory levels at all times
Help make right decisions providing useful analytics on which items are in high demand, which marketing campaigns are effective, which employees show high performance and more
Following the improvements above, smart POS solutions can save about 10% of revenue annually. And with relatively low adoption costs — businesses with a single register can expect an initial investment of around $1,250 and an additional $1,000/year of maintenance and credit card processing fees — smart POS solutions drive fast ROI. UK's retailer M&S leverages the mobility of smart POS to the fullest. A handheld component of the POS allows customers with a small number of items to check out while queuing. The M&S staff uses the device for contactless payments, which makes shopping safer and way more convenient. 
2. Retail data analytics 
One of the hottest retail technology trends, AI-powered data analytics can help retailers make better marketing and procurement decisions. Take sales forecasting, for example. Analyzing past sales data for each SKU against seasonality, special events, marketing promotion campaigns, and other demand-influencing factors can help retailers align supply with demand, avoid stockouts and overstocking, anticipate staffing needs, and plan advertising campaigns. With customer sentiment analysis, you can dig in your customers' feedback to capture what they feel about your products, service, and brand. 
AI algorithms analyze an array of messages across social media and review sites to get insights about why shoppers feel negative about your customer service, which product features they love the most, and more. Innovative retail traffic analysis solutions can help you dive into customer behavior patterns and preferences to reveal peak times, draw-in rates, hot zones, average dwell time, and customer demographics. With this data, you can optimize store operations and create new sales opportunities. 
The benefits of using AI solutions in retail are many. Deloitte reports that AI-powered retail analytics results in a minimum of:
10% higher customer satisfaction
16% higher success rate of strategic initiatives
49% more accurate decisions
40% increase in revenue 36 months post-adoption.
3. Inventory management 
Inventory overstocks and stockouts are a real problem for retailers. In the US alone, retail businesses lose $224 billion each year because they have too much inventory and another $45 billion — because they don't have enough. Using innovative retail technology for inventory management, retailers can overcome this issue. Here's how. Marked with barcodes or RFID tags, inventory items can be tracked in real time as they move along the supply chain. So, retailers gain unprecedented visibility into the entirety of their stock across stores and warehouses and can replenish when needed. With inventory analytics, retailers can predict how much of each SKU they need on hand and distribute inventory items across multiple stores and storage facilities to better suit the demand. And when integrated with ERP, inventory management solutions can even be configured to automatically send replenishment requests to suppliers whenever the volume of a particular product is reaching a set threshold. The adopters of retail technology for inventory management software say they benefit from:
Increased customer satisfaction and loyalty
Increased profits
Better relationships with vendors and suppliers
Higher inventory accuracy
And as far as the cost of inventory management solutions goes, businesses spend an average of $100 per user for an entry-level system and up to $300 per user for more complex solutions with advanced features like AI-based analysis. 
4. Smart kiosks 
With smart self-service kiosks and self-checkout units, you can let your customers order and pay for goods without any help from the staff. So, retailers can prevent crowding while buyers enjoy safer and more convenient shopping without having to wait in lines. Also, modern self-service kiosks and units can be enriched with AI features, so you can, for instance, serve customers with tailored advertisements and special offers. 
Along with improving buying experience, self-service kiosks drive such benefits as:
Creating new revenue opportunities by letting retailers reach more customers without having to invest in additional brick-and-mortar space
Increasing shop efficiency by automating operations like processing credit applications, managing gift registries, and selling gift cards
Improving job satisfaction for the employees as they wouldn't have to handle as many customer requirements as before and could concentrate on providing personalized service and increasing sales.
The cost of implementing a self-checkout solution varies depending on the number of factors, including a solution's type, featured integrations, and the availability of peripherals like credit card readers, barcode, or RFID scanners. For example, for a touchscreen kiosk with a bill validator and card reader, an average setup price would start at $11,000. And such retail technology trends as AI-powered apps and autonomous shopping carts take self-checkout a step further. Once a customer links their phone to a shopping cart via a mobile app, computer vision algorithms powering the cart recognize the products in it, so a buyer can pay via the app and leave the store without scanning.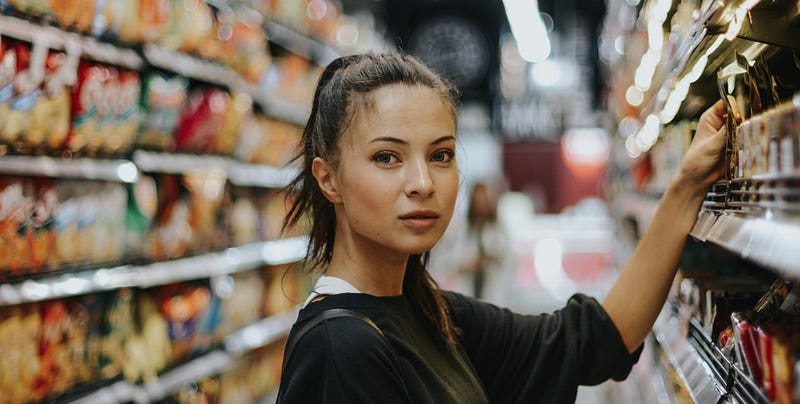 5. Delivery systems 
Fostered by the pandemic, the availability of delivery options has become a significant factor in the customer's decision-making process. To attract customers with fast and reliable same-day or scheduled deliveries, retailers opt for new retail technology and implement direct store delivery systems. Competitive delivery solutions feature:
Live shipment tracking. You can track all of the logistic movements on a single dashboard, including the details about deliveries, drivers, vehicles, customers, and routes, and let your customers monitor the status of delivery online.
Route planning. Delivery software can help you optimize routes, so you can deliver bulk orders on time while engaging fewer drivers and reducing fuel spend.
Vehicle capacity optimization. You can make sure your vehicles are neither under- nor overutilized by optimizing the volume capacity for each car.
Driverless delivery is another innovative use case of retail technology. The industry moved from experimenting to adopting drone delivery a few years ago, with Amazon's Prime Air as a pioneering solution. Today, drones are routed to deliver goods to areas with poor traffic infrastructure. The cost of implementing delivery software depends on whether you opt for a custom or a SaaS solution, the solution's feature set, the size of your business, and the size of your fleet. The prices vary a lot, with the popular delivery software providers charging between $2 and $35 per driver.
Techs boosting in-store engagement
6. Mobile apps with loyalty and referral program features 
Increasing customer retention rates by 5% can increase profits by 25% to 95% as loyal customers are 50% more eager to try new products and pay 31% more. So, it is worth investing in developing a loyalty program and delivering your repeat buyers special treatment. The simplest way to do it is to power your customer service with a customer loyalty app. Here're a few examples of excellent customer loyalty systems to get inspired by.
Nike puts considerable effort into making their customers feel special, rewarding repeat buyers with exclusive products and free merchandise in exchange for loyalty points managed in an app. The brand also embraces personalization, from offering discounts for a customer's birthday to handing gifts after completing a purchase to granting a free subscription to ClassPass.
H&M's fully digital program enables their app users to collect loyalty points in exchange for rewards. For every dollar, customers receive a point. Once they have 200 points, they are entitled to an additional $5 off their next purchase. Repeat customers also get personalized offers and discounts, can use free online returns, participate in exclusive events, and have the option of deferred payment.
Sephora's repeat customers, too, earn points that can be exchanged for rewards. Loyal customers can access exclusive previews and have an option of free shipping. Leveraging retail technology trends to the fullest, the brand also serves their repeat buyers with tailored product recommendations that match their beauty type and let them use a virtual makeover tool.
The outcomes of having a mobile loyalty program are promising. 77% of consumers say they are likely to stay with a brand with a loyalty program, and 63% of consumers say they're ready to increase spending to maximize the benefits of a loyalty program. 
7. Real-time marketing 
For retailers who want to impress their customers with a frictionless shopping experience and reach them with timely, targeted messages, beacons might be worth attention. 
One of the retail technology trends that is quickly gaining in popularity, beacon technology uses Bluetooth to transmit information to the customers' mobile phones and enable real-time marketing. This way, placing beacons around brick-and-mortar stores, retailers can gather detailed information about customer movements to optimize their in-store experience and create highly personalized marketing campaigns. 
Macy's was one of the first chains to have adopted beacon technology in retail. When a Macy's customer opens the brand's mobile app, it registers their exact location. Say, the customer is in the beauty products section. The app can remind the customer of a particular product they have previously added to their wish list and help navigate to where the product is located, or prompt a purchase with a tailored offer. The retailers who use beacon technology say the outcomes they see are pretty compelling. The early adopters of this innovative retail technology could increase profits by nearly 9% with an ROI of 175%.
8. Digital signage solutions 
Eight out of ten buyers say they have entered the store due to a digital sign catching their attention. But besides fostering the drop-in rate, placing digital signs at the shop windows and throughout the premises can influence customers' buying decisions, ease navigation, and even improve staff communication. For example, placing a screen with the details about a clothing garment, the material it's made of, and styling tips makes a difference to whether a shopper buys it or not. 
Digital signage solutions provide entertainment, too. You can share everything from social media updates to news to videos, feeding in the retailtainment trend and extending your brand into the phygital space. 
Burberry was one of the first brands to have embraced this retail technology trend. Their London flagship store features mirrors doubling as digital signage displays. At the same time, the staff use iPads and RFID-enabled screens that trigger related catwalk footage when products are taken into a fitting room. 
Another example is Kroger's digital price technology they've rolled out partnering with Microsoft. This retail tech allows digitally displaying products' prices and nutrition information, and the staff can update the data instantly. The tech claims to impact retailers' sustainability efforts, too, as it runs on renewable energy. 
9. Augmented reality 
Having become one of the crucial retail technology trends helping build consumer relationships and boost sales, augmented reality is now contributing to improved hygiene and safety as stores are reopening. More retailers are starting to offer AR-powered virtual try-on experiences that range from previewing furniture to trying on luxury fashion. 
This retail technology provides a safe and convenient way of shopping for customers as they can dive into AR experiences in any location and via any medium, be it a customer's PC, a mobile device, or an in-store kiosk. AR also helps drive conversion. 
In fact, Shopify has recently stated that interactions with products having AR content show a 94% higher conversion rate than products without AR capabilities. 
Zara introduced AR technology back in 2018. Stores visitors were prompted to use their phones as a lens. Holding the phone against a sensor made virtual models appear, showing pieces from the retailer's latest collection and interacting with the space around them. 
The AR experience gave shoppers a clearer idea of how the clothes fit and how they could be styled without venturing into a changing room. Another retailer to have taken on retail technology trends and implemented AR is Ulta. 
The beauty brand uses this innovative retail technology to let customers test beauty products via their try-on beauty tool GLAMlab. During the pandemic, the tool has seen a surge in usage, with the engagement increasing seven-fold. 
10. Conversational commerce 
Another attention-worthy innovative retail technology, conversational commerce stands for interacting with customers via messaging apps or voice technology. With the help of chatbots or personal shopping assistants, customers can get support, ask questions, receive personalized recommendations, read product reviews, and do much more. 
So, product research, price comparison, and even purchasing become just a few clicks or even words away for many customers. Walmart, has embraced this innovative retail technology and developed a voice ordering service. The customers can use Siri or any other voice assistant to add products to the cart. The products then get delivered by the chosen delivery method and paid for online.
Techs improving store and warehouse management
11. The Internet of Things 
IoT continues to make its way into the retail sector with different sensors used for managing inventory, equipment, and utilities. Along with monitoring the location of inventory items along the supply chain with RFID tags, IoT sensors can fetch data on products' temperature, humidity, and tilt, facilitating quality control. IoT solutions for retail help determine whether the products are transported in proper conditions, reducing product damage and loss. 
According to Deloitte, 74% of companies that have implemented IoT for inventory monitoring saw their revenue increase by 4 to 10%. Intelligent lighting technology, smart thermostats, and connected water meters can be used to optimize and even automate utilities management. 
Different types of sensors can be installed throughout stores and warehouses to automatically turn off lighting, lower room temperature when no one is around, and help save up resources. IoT also helps speed up order picking by quickly locating warehouse equipment like trucks and forklifts and automating operations with warehouse robots, including automated guided vehicles, automated storage and retrieval systems, and collaborative robots. 
12. Security solutions 
AI-powered CCTV cameras and other next-gen anti-theft solutions contribute to store safety. Placing CCTV cameras across the premises and analyzing the footage in real time with AI algorithms helps retailers detect suspicious and unsafe activities, like signs of flames and smoke, people lingering around employee entrances, or lying on the ground. Leveraging new retail technology, retailers can prevent theft, too. 
By placing RFID tags or sensors on products or shopping carts, businesses can track their exact location and get notified if any damage takes place. In turn, biometric authentication and alarm systems prevent unauthorized access to high-security areas. 
13. Ensuring social distancing 
Technologies help keep customers and staff safe and ensure they follow COVID-19 guidelines, and provide for extended measures to prevent the spread of the virus. 
Shop owners can turn to crowd monitoring with real-time video analytics to quickly detect bottlenecks and queues and communicate video and audio messages in and out of stores to inform buyers of the existing regulations. Indoor cameras with built-in video analytics also help detect customers with alleviated temperature. 
Such thermal cameras measure human temperature at a distance of 2 to 4 meters, analyze the fetched data in real time and notify the store staff. Placing people counting sensors around the store, too, enables retailers to enforce physical distancing measures and tap into additional benefits, like more effective staff scheduling and reduced energy costs. 
Self-checkout and checkout-free shopping solutions are of great help when it comes to ensuring epidemiologic safety. Self-checkout stations, mobile POS, and Amazon Go-like solutions that let customers pay via a mobile app as they walk out of the store help eliminate queueing.
The benefits retail technology trends hold for brick-and-mortar stores
The use cases above prove it once again — the future of retail is digital. A safe and convenient shopping journey now lies at the intersection of physical experiences and digital technology. The benefits of embracing innovative technology in retail are many; those deserving a mention include:
Operating with leaner staff. As of June 2020, there were 1.9 million store-based retail workers unemployed, according to the US Bureau of Labor Statistics. Analysts believe that the workforce could shrink further after the pandemic as retailers discover they can't make payroll with the same headcount. Retail tech innovations can alleviate the labor shortage problem through task optimization and automation and contribute to higher employee productivity, helping retailers operate as efficiently with leaner staff.
Embracing omnichannel. In advanced economies, the market share of ecommerce and the expenses spent online have increased by 10% to 30% due to the pandemic, making omnichannel the key to the sector's survival. Leveraging retail technology trends, businesses could combine in-store and online sales to cater to a larger pool of customers.
Optimizing expenses. By adopting a data-driven approach to store and warehouse management, improving purchasing, optimizing inventory spend, and automating day-to-day operations that previously required staff, through innovative retail technology, retailers can cut the cost of running their businesses.
Boosting sales. Shoppers are willing to pay more for stellar customer service. With sales analytics and in-store engagement technologies, you can attract and retain more customers while ensuring their safety.
So, what does the future of retail technology look like?
The retail sector is undergoing massive disruption. Retailers will be expected to turn to digital means and leverage retail technology trends to stay in line with new customer habits and provide engaging and experiential brick-and-mortar offerings. 
As retail futurist Doug Stephens puts it, "Consumers become increasingly technologically entrenched, so they'll crave for more and better physical retail experiences. And so brick-and-mortar spaces will be required to offer the opportunity to draw the consumer into the brand story, deliver a remarkable and immersive brand and product experience, and ultimately galvanize their relationship with consumers."
If you're willing to take on the path of transformation to weather the disruption, ITRex is eager to bring its experience in developing retail software to the table.