Web3-projects are gaining popularity at a rapid pace. One of the most popular Web3 technologies is NFT or non-fungible token. It is a digital asset consisting of data stored in a blockchain. The ownership of an NFT is recorded in the blockchain, and can be transferred by the owner, allowing NFTs to be sold and traded. Creators make several NFTs united by one theme, and such a set of NFTs is a collection. Every day new NFT collections and tools for creators and holders are launched - all of them need to somehow tell the world about themselves before their mint (sale) date. At this point, the need for collaboration appears.
Collabs are essential throughout the project life cycle, especially at the pre-sale stage. Post-mint collabs (after mint date) have the goal of adding value for the holders of both projects, e.g. by sharing pieces of technology and not necessarily promoting them to new people.
Pre-sale collaborations are made between two projects to expand their communities, raise interest in a new collection and collect access lists of collectors willing to buy. There are two main ways to organize pre-sale collaboration, let's shed some light on each of them.
Classic collaboration
Whitelist marketplaces
Classic collaborations are made between two collections, organized by one collection (usually the new one) and made on the Discord or Twitter channel of another collection (usually a more popular one).
In such collaborations you usually get the opportunity to win WL spots by completing several conditions (joining a Discord channel, leaving a reaction to the post, etc.). The winners are determined randomly using bots - for example, Giveaway bot in Discord or Twitter Picker on Twitter).
Collaborations are more often held in Discord, and less often on Twitter. On Discord it's usually 50-100 WL spots in giveaways and 5-10 WL spots on Twitter. The reason for this is the audience you can reach. On Discord you only cooperate with reliable servers, so the audience is more involved, they have relevant experience and tokens in their collections. However, this audience is limited to the members of the servers. On Twitter the audience is much wider (it's only limited by the number of Twitter users), you can share tweets and get more and more reach, but these people are less engaged.
How to measure the success of your collaboration? The more people are reached and the more sign-ups you get for your WL and new members in your community, the more effective the collaboration. Perfect collaboration occurs when holders of the collection you're collaborating with have tokens of more popular collections. Then you know that you have a good chance of being exposed to the blue-chip holders.
Whitelist Marketplaces - is an alternative way of collaborating where there are no randomly held giveaways, collectors receive their WL sport guaranteed for some amount of the native token of the marketplace host project. Say, for example, you have some $SPIT, a Llamaverse token. You can enter their marketplace (provided you hold a Llamaverse Genesis NFT for the access), find a collection you are interested in and buy their WL in exchange for $SPIT.
In projects that host WL marketplaces holders usually get incentivized to stake the NFT they have which leads to a decrease in NFT listings and an increase in price. That's why it's good for collections to have marketplaces so they can get new projects there.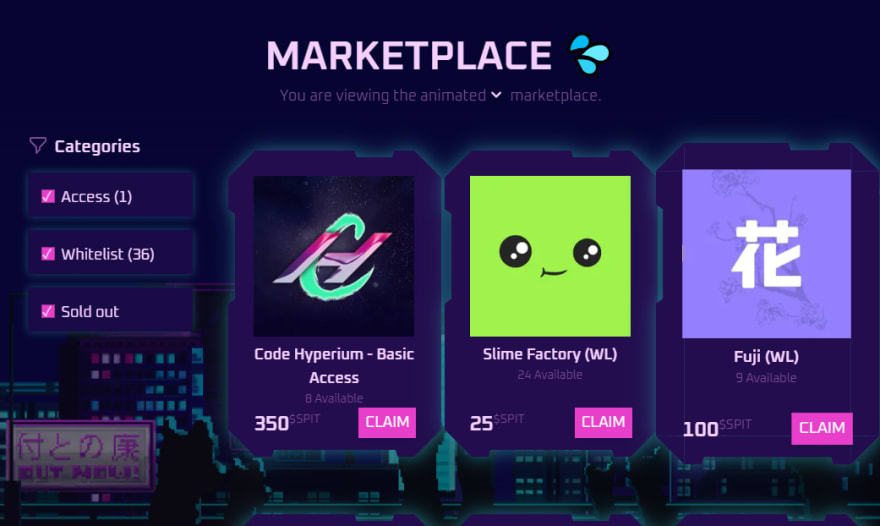 Here are some examples of Whitelist Marketplaces:
Reconrams-adventure Marketplace
How to organize collabs?
Basically, all you need to do to make a collaboration is to establish a connection with founders or collab managers. Sometimes popular projects even have a collab request form to fill in. If your project is new and unknown, it will be pretty hard to make a collaboration with some blue-chip collection. Moreover, it's very time-consuming to send dozens if not hundreds of collab requests. It is better to hire a collaboration manager so as not to spend days on it. You'll gain better results from collaborations.
A collab manager is a person responsible for establishing these kinds of connections in a web3 space. The main responsibility is to organize collaboration - find the best collections, negotiate with their founders, and make sure that all winners are taken care of at the time of mint.
So it's public relations plus some down-to-earth work, which means that a perfect collab manager should be well-known among holders and at the same time responsible and organized.
Usually, in order to get WL in such collaborations collectors need to fulfill some conditions: join the Discord channel, follow the project's Twitter account and sometimes invite other people. The fulfillment of the conditions of collaboration has to be controlled by someone. These activities usually also fall under the purview of a collab manager. And you can often find yourself with dozens of collaborations going on at the same time and thousands of collectors participating - managers have to control all of it. When it gets hard to manage so much data it's better to use WL building services to create a collaboration. Such services will automatically check all the requirements, collect analytics and keep track of all participants. A lot of manual work can be avoided. All you need to do is create your collaboration page and spread a link on it in your and your partner's Discord.
Here are some of these tools:
Where to find a collab manager?
Even if you use tools to automate most of the process, you still need people to negotiate collaborations. These people are collab managers. So how to hire such people? Just like in any other sphere, collab managers are not equally effective. There are a lot of cheap workers out there. These specialists are good at the most mundane work - sending hundreds of collab requests to all the projects they are able to find and then making sure winners got their WL. Cheap managers aren't well-connected in the web3 space, so don't expect to make a collaboration with overly hyped projects. Moreover, they may not be very responsible and may just not see through all the deals or simply disappear midway. Hire them if you need to do a preliminary market research, test the water or reach as many collections as possible.
If you want to have the best collab manager and you are ready to spend some money on it, look for popular or successful products you like. Successful collections usually have a well-connected collab manager, so this person may help you to open many doors.
Such a person can also assess the potential of the project and choose the best way to market it. Don't hesitate to contact the person you're interested in - when the project has already passed the stage of active marketing, the collab manager will usually be able to take one more project to work on.
If you are not ready to pay for the best one, you can look for the best fit on NFT jobs websites.
Here's a shortlist of them (some require ownership of their token):
Collaborations are crucial for marketing collections and tools. NFT space is oversaturated with projects, so it is much easier to get known in the market by relying on well-known, famous names. So the quality of your collaborations is more important than the quantity. Find good collab managers, target famous collections for collaboration, and very best of luck!