✨ I'm getting PUBLISHED ✨
My most recent book proposal was accepted by not 1, but 2 publishers! I'm humbled to have been given the opportunity to select to work with Apress.
📚 Designing Developer Documentation as a Product
🗓 Early 2022
It doesn't feel real quite yet, but looking at the official Apress contract sure helps make it real! Eeek!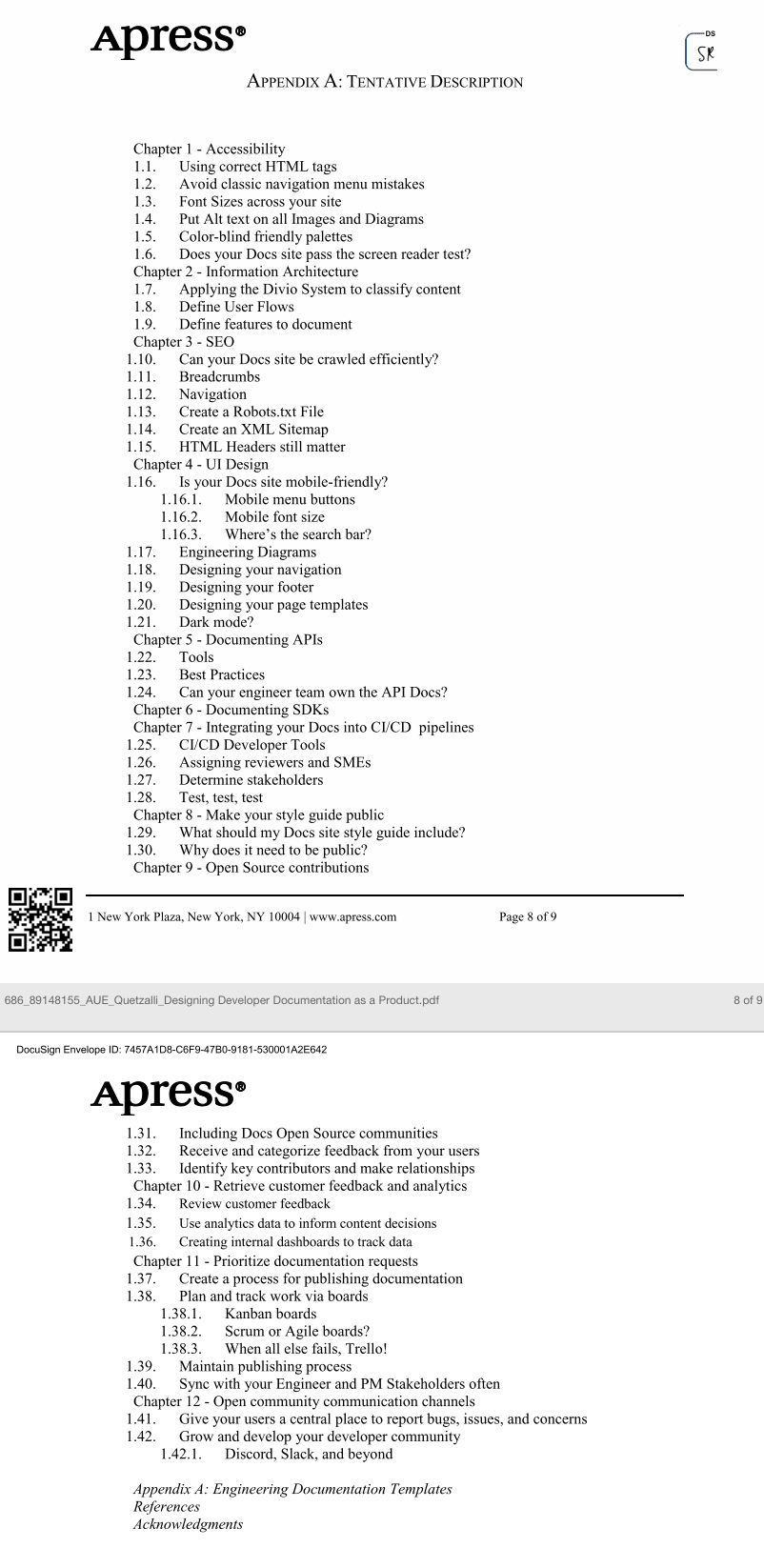 A big thank you to @dabit3 who first introduced me to contacts in acquisitions at both Manning and O'Reilly. Next thank you goes to Corey Quinn for pushing me to not go with the first publishing house that accepts me. He also introduced me to Apress folks.
I've dreamed and had the goal of getting published since I was 8 years old. It still feels unreal to me! I am so excited for the dream to come true! This vid is a little longer than 5mins, but I wanted to tell my story, so worth it.😁
Lastly, thank you all who are responding with such enthusiasm already to my book! 📚🤗
Apress

@apress

@QuetzalliAle

Alejandra, we are all looking forward to working with you!!

03:41 AM - 03 Jun 2021
maggie

OMG, a HUGE congrats to

@QuetzalliAle

for securing a book deal and fulfilling her dream of being published since she was 8!! Can't wait to read this book and all the other ones that follow! 📚💫💕

twitter.com/quetzalliale/s…

01:17 AM - 03 Jun 2021

Alejandra 📖✍🏽 y Canela🐕‍🦺

@QuetzalliAle

📚✨I'm getting PUBLISHED✨📚 My most recent book proposal was accepted by not 1, but 2 publishers! I'm humbled to have been given the opportunity to select to work with @Apress. 📚Designing Developer Documentation as a Product 🗓️Early 2022 https://t.co/DlN5eVt1a7
Welmoed Spahr 🌞

@welmoedspahr

@QuetzalliAle @Apress

Dear Alejandra, how nice to see your video. We are very happy that you decided to go with Apress as your publisher- the whole team here looks forward to working with you towards a successful publication of your book!

03:39 AM - 03 Jun 2021
Nader Ξ Dabit

21:45 PM - 02 Jun 2021
Brian Hall

@isforat

@QuetzalliAle @Apress

So happy for you Alejandra! Thanks for continuing to share your accomplishments so we can celebrate them and appreciate you and them! this one is amazing!

22:03 PM - 02 Jun 2021
Shiva Ramachandran

@editorshivangi

12:39 PM - 03 Jun 2021

Alejandra 📖✍🏽 y Canela🐕‍🦺

@QuetzalliAle

📚✨I'm getting PUBLISHED✨📚 My most recent book proposal was accepted by not 1, but 2 publishers! I'm humbled to have been given the opportunity to select to work with @Apress. 📚Designing Developer Documentation as a Product 🗓️Early 2022 https://t.co/DlN5eVt1a7
Olena Sovyn

12:53 PM - 03 Jun 2021

Alejandra 📖✍🏽 y Canela🐕‍🦺

@QuetzalliAle

📚✨I'm getting PUBLISHED✨📚 My most recent book proposal was accepted by not 1, but 2 publishers! I'm humbled to have been given the opportunity to select to work with @Apress. 📚Designing Developer Documentation as a Product 🗓️Early 2022 https://t.co/DlN5eVt1a7
AcqEditorJoan

@acqeditorjoan

@QuetzalliAle @Apress

So I don't even know where to begin

@QuetzalliAle

!!! I'm humbled to listen to your story. I'm touched by your passion and enthusiasm for authoring. And I agree that the richness and mysticism of Mexican stories and storytelling is an undiscovered gem by many. Suerte con todo!

16:19 PM - 03 Jun 2021
Megan Sullivan

16:30 PM - 03 Jun 2021

Alejandra 📖✍🏽 y Canela🐕‍🦺

@QuetzalliAle

Yesterday, I announced having procured a book deal with @Apress. 📚 I can't even begin to describe all the emotions I have right now, but I wanted to write a quick

@thepracticaldev

post to capture all the buzz and excitement already starting. 🌈 https://t.co/LnLzUiOfYP
Susan McDermott

@editorsusanmcd

@QuetzalliAle @Apress

Congratulations, Alejandra! As an Apress editor I can tell you the very best thing for us is getting to work with such enthusiastic authors. Wishing you all the best on your journey to being a published author. 📚

16:35 PM - 03 Jun 2021