Azure Data Factory Mainly Follow Two Approaches
Direct Copy Approach .
Stage Copy Approach .
To load Data From Sources like Azure Blob Storage or other Azure Storage Services and Destination Other than Snowflake, In that case we can use Direct copy Approach , We do not need to Configure Staging area . By Just passing Source Data Set and Sink Data Set we can Implement our Pipeline .
If We Want to Load our Data to Snowflake from Sources other than Azure Storage Services , we will use a Stage Copy Approach. For that we need to Configure our staging , and pass the Source Data Set as well as Sink Data Set .
Now Let's See how we are Loading data from MYSQL to Snowflake using ADF
*Steps - *
Setup Azure Account → SignIn into your account → Go to Azure Portal.
In Azure select and create a new Project in Azure Data Factory.
Setup Snowflake Account → Create a Users → Create a Database and Schemas.
In Studio Go to the Manage Section , And Create a new Linked Service To Connect MYSQL with ADF.
After that , Create a New Linked Service for Snowflake .
Now go to the author section in ADF and click on the icon of the data set and create a new data set from the source table.
After creating data sets from source, now create a data set for destination. For this we need a table in our snowflake account, so create a table in a snowflake account and then in ADF create a new data set for the snowflake table.
After you are done with creating data sets now we are good to move to create a pipeline. For this you need to go in the pipeline section and create a new pipeline, In activity section you will Copy Data.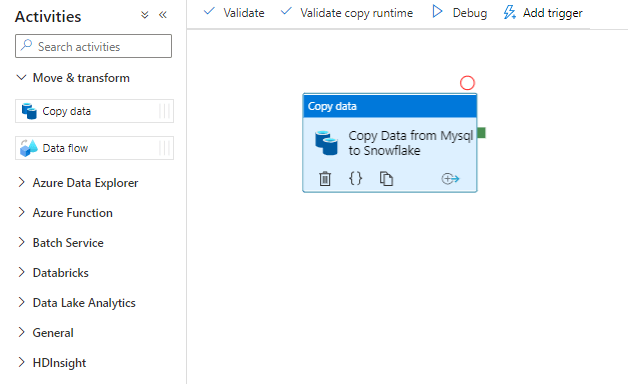 Now , click to the Copy Data command and configure the Source and Sink Tabs.
Run your Azure Data Factory Pipeline to load the data into Snowflake. You should see in Snowflake a call to the ODBC in your history table. This is how you know ADF has successfully landed data in Snowflake .