Private equity firms play a crucial role in the economy by helping the enterprises grow while generating returns for investors. During the pandemic, they played an important role by providing capital and industry expertise for companies. In brief, the modern private equity industry has come a long way. Some of the top private equity firms include Advent International, Apollo Global Management, Blackstone, Carlyle, and CVC Capital Partners.
As a USD 4 trillion industry representing 5.5% of all equities, private equity firms are a behemoth in the finance industry indeed. There is no less performance from the past decade, and there are no signs for it too -come what may! It could be the recent pandemic or any other recession, PE firms are prepared for it. Private equity firms view digital transformation as an opportunity to value creation.
Though private equity firms had a free fall in the first quarter of 2020, deal and exit values snapped back to normal in the third quarter of 2020. The H2 2020 ended up very strong in all sense for the industry.
To expand, the industry proved to be resilient despite the challenges brought about by the pandemic. The PE industry witnessed an abrupt decline the Q1 as the pandemic hit the market at the end of Q1. PE firms put a hold on transactions, concentrated on stabilizing the existing portfolio companies by providing operational support. Q3 was a profit period, where the transaction volume reached USD 168 billion – exhibiting a 90 percent increase over the same period in 2019. Asia-pacific doubled its investment money in the H2 as compared to the same period in 2019, and North America registered a 30 percent increase in deal values in H2 2020.
To summarize., PE firms are already helping their portfolio companies to manage inventory and cash flow; share best practices and review operation models. Some of them have even set up crisis-management hubs and have appointed leaders to provide support across portfolio companies.
For e.g. 1. Apollo Global Management Inc., has created an online-sharing portal and increased the conference calls with management teams.
HireVue Inc., a portfolio company of Carlyle Group has video interviewing systems to hire during the pandemic.
Let's have an insight into the private equity industry here.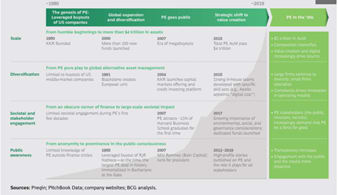 Fig 1. Private Equity through Decades
In brief, private equity firms played a key role during the pandemic situation. As they have lots of dry powder, they can wait for the right time to deploy cash, have more control over investment durations, and steer companies through a crisis.
The pandemic opened a lot of opportunities in sectors such as life sciences, information technology, and the healthcare industry. Further, PE players are becoming more attracted to minority investments. They are holding exits to assess the long-term impact of the pandemic and bring affected businesses on a recovery mode.
In conclusion, PE firms have the potential to gain a strong position in the financial market by 2030, provided they capture the growth. Current business practices and operating systems must need a change to capture the anticipated success. PE firms may have to work in a different and unique way with a focus on value creation, and new organizational models.
Also, ESG (Environmental, Social, and Governance) is becoming a critical factor to gain market share these days as customers, employees, and limited partners demand it. PE firms who can deliver these only can reap the expected rewards.
Conclusion
PE industry is one of the kinds that are always prepared. The pandemic situation is a direct witness to it. If private equity career interests you, this is high time to take a plunge into the career as the industry grows further bringing opportunities for young and aspiring professionals.