It was only this week that I got my final semester results from university, finally knowing that undergraduate studies are, at last, over. Honestly, seeing the result brought to me some very thought-provoking insights, reminding me how turbulent the last 4 years had been. Starting off as an enthusiastic student to taking my first steps in communities to starting my first job in Developer Relations, I have truly had a far more exciting journey than I could have hoped for, and I am thrilled to be able to share that here.
📄 Table of Contents

Since the blog is covering my entire journey through college, it might feel a tad bit long. This can help you navigate it more easily.
🛣️ My Journey
The journey I have had over the last 4 years has had its ups and downs, twists and turns. However, it took me from being another engineering student to someone who has spoken at over 50 events, catered to (a reserved estimate of) over 30,000 technologists and organized the largest student-led hackathon in India, so I thought it'd be best to go year by year and share my experiences.
👶 An Eye-Opening Freshman Year
I joined Amity University, Noida back in July 2018 as an enthusiastic freshman, willing to learn and grow and play with all the world had to offer. One habit I had brought over from my days at The Doon School was that I couldn't be someone who just sat in class and studied and did nothing else. I wanted to participate in co-curricular activities, help the Computer Science & Engineering department (the one I was a part of), get involved in hostel activities, essentially pick up some work and responsibility outside of class. One of the first groups that I got connected to (circumstantially) was the team behind 3 of our department's technical clubs and organizers of the department's technical fest, Cyber Cup.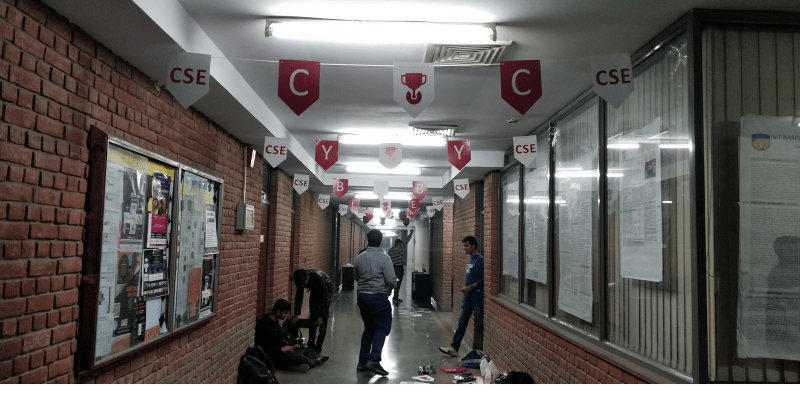 Cyber Cup became one of the biggest highlights of freshman year for me, not just because it gave me the opportunity to stand out from a lot of my peers and substantially enhanced my network, but because it featured our department's first-ever 24-hour hackathon. I primarily focused on building partnerships and bringing sponsorship to the event. I also assisted with promotional activities and manage the final day on-premises hacker experience. Cyber Cup is an especially crucial part of my journey because it let me take a glimpse behind the curtain into the world of hackathons as well as the surrounding tech community ecosystem. The Cyber Cup hackathon saw over 150 hackers join from various parts of India, GitHub Campus Experts, and Microsoft Student Partners (now Microsoft Learn Student Ambassadors). The end of first year saw me apply for both of these program, one of which, the Microsoft Student Partners program, accepted me, thus beginning my community journey.
👨‍👩‍👧‍👦 A Stormy Sophomore Year
My sophomore year started with my entry into the world of tech communities through the Microsoft Student Partners (MSP) program. The program allowed me access to upskilling on various fronts (technical and beyond) and placed me in a global community of like-minded individuals who are accessible with just a single message while providing an extensive amount of resources such as monthly Microsoft Azure Credits, LinkedIn Learning, Microsoft software licenses, and more.
Things at university, on the other hand, became less than favourable. While working on the next edition of Cyber Cup, one of our team leads was accused of certain university rule violations, which brought our entire team under severe scrutiny. This resulted in the undoing of all my efforts in supporting the department and almost led to about 20 of us facing disciplinary actions. Following this incident, I stopped supporting our department's co-curricular initiatives for good.
Participation in the MSP program, however, led me to some wonderful opportunities. I got a chance to return to my alma mater, The Doon School as a speaker barely a year out of school as well as speak at other institutions like GTBIT, New Delhi. I also attended some wonderful events like the .NET Conf 2020 local event organized by Geek97, the HackCBS 3.0 hackathon which also happened to be Major League Hacking's Asia-Pacific League launch event, and the Microsoft Student Partners India Summit 2020 which saw our Global Program Lead, Pablo Veramendi joining us in New Delhi.
Meeting the Geek97 team, led by Dhananjay Kumar, resulted in me getting an opportunity to lead the volunteer team at ng-India 2020, India's largest Angular developer conference. HackCBS allowed me to meet some wonderful folks, including MLH Co-founder and CEO, Mike Swift, whose journey through hackathons inspired me to begin my own as a hacker. This led to me further increasing my involvement in the hackathon space, resulting in me organizing MLH: Local Hack Day Share and HackOn 1.0, which saw over 2000 registrations, as well as participating as a first-time hacker at RookieHacks.
The end of my sophomore year saw the beginning of the COVID-19 pandemic, which was a terrible time for most of us. As difficult as it may have been, it created a new set of remote work opportunities. One of the first ones I grabbed was my first internship as a Community Intern at Progate. Working with Progate has, till this day, been one of the most wholesome and fulfilling experiences that I have had on a professional front. I spent 5 months actively working with student communities all across India, empowering students to begin their journeys as independent developers with Progate.
🧑‍💻 A Toilsome Junior Year
Junior year started right in the middle of my internship at Progate. This was right about the time when the pressure to choose my career direction had started mounting up, major companies like Google and Goldman Sachs had started their Software Engineer internship tests, many of my peers had ramped up their preparation efforts and entered the (placements') race, and here I was doing none of that. I was happily content with my ongoing internship, won my first hackathon, the Microsoft VS Code Hackathon, had spoken at my first conference, MLH Hackcon VIII, and was on a steady rise in the student community circles in my local region. On top of that, I had been selected as a Gold Microsoft Learn Student Ambassador (in a cohort of 23 from 1200+ Ambassadors in India at that time), joined the MLH Coaches program and was consistently supporting hackathons and speaking at community events in India and beyond. For a while, it felt like I was owed the world.
About 4 months into my internship at Progate, it somehow started feeling like I was doing the same things in circles, like I wasn't learning new things anymore. I realized that I had hit my learning and growth ceiling at that internship, and I spoke to my then manager, Shun Uno (who's an absolute gem of a person by the way) to conclude my internship and take a break. I spent this break participating in some hackathons and speaking at my first Developer Relations conference, DevRel Asia 2020. I returned to Progate a month later time in a new capacity to work with Shun better understand their market and audience and support product growth as a User Research Intern.
At this point, I had convinced myself that I'd be pushing forward towards a career in Community Management. I had opportunities lining up on that front and had started my recruitment process at HackerEarth, a company that I had been referred into by my fellow HackOn organizer (and then Program Manager intern), Rishabh Bansal. I was one call into their process when it struck me that if I moved forward here, it'd end my development journey for a while. In all of this process, I had always felt like a technologist and for the very first time, I saw that fading away, which created a massive dilemma for me. I had a call with Rishabh, who then advised me to take some time away from communities to focus on my technical skills. Looking back, this conversation was one of the most important ones I had in my journey because it truly changed my future path (for the better).
Halfway into junior year, I made the decision to return to active development. Huge credits to the recruiter at HackerEarth; they respected my decision and encouraged me to take the right steps for my journey as well. It did, however, lead me into the most difficult period of my student journey. Every single internship application I made (and I made over 50) returned with either no response or a rejection. I was honestly spiralling into oblivion, having lost most of my self-esteem. The one thing that kept me focused was CodeCapture and the Microsoft Imagine Cup. CodeCapture was a web application that aimed to facilitate coding education for individuals with limited to no access to computer systems by taking code from paper to mobile. My journey with CodeCapture started at the Microsoft VS Code Hackathon. An unfortunate circumstance within our team, however, resulted in one of our teammates leaving our team close to the Imagine Cup submission deadline. This caused the entire backend development workload of CodeCapture to fall in my lap, which (looking back) was the best thing that could have happened to me. It threw me back into the development world, having me work with .NET, SQL, APIs, and the cloud day in day out for a couple of months. In the end, we became the National Winners in the Education category at the Microsoft Imagine Cup 2021.
An even bigger personal win for me was that, in our journey, CodeCapture was accepted by Code.org to be featured in the Hour of Code 2020. The Hour of Code is one of the world's largest computer science education movements, with activity in over 180 countries. It gave me my start in the world of computer science and programming during its first edition back in 2013. Through CodeCapture and Hour of Code, we were able to directly work with 250+ school and college students in India and impact many more indirectly. To be able to come full circle in such a manner and give back to people through the initiative that gave me my start in the tech world will always be something I'll remain grateful for. It was the triumph I never realized I needed, and I will always be grateful to my teammates, Simran Makhija and Ekansh Gupta, for supporting me through my spiral and for earning this win.
Following Imagine Cup, I reached out to Gaurav Chouhan, one of the organizers of ngGirls India (where I had volunteered). He chose to gave me a chance, and this is how I spent the summer of 2021 working as a Junior Software Developer Intern under Gaurav and my manager, Rahul Joshi at Techdome Solutions. Those 8 weeks were definitely extremely insightful for me and I did come out of Techdome a far better developer than I went and I can't thank Rahul and Gaurav enough for their mentorship.
🏆 A Triumphant Senior Year
And thus began senior year. The year began with a wave of major high points, having recently organized the HackOn 2.0 hackathon (which with 8298 registrants became the largest independent student-led hackathon in India), spoken at one of the biggest Developer Relations conferences in the world, DevRelCon Tokyo 2021, and been selected among MLH's Top 50 Hackers of 2021 from their community of 135,000+ hackers. I was also accepted to be a part of Twilio's MVP program, the Twilio Champions and onboarded as the Google Developer Student Clubs Lead for my university. Having spoken at 30+ technical and thought leadership events, written a few blogs, built multiple real-world projects through various hackathons, and led many community initiatives from scratch till conclusion, I finally realized that the career direction I wanted to take was one that included all of code, content, and community, and the domain that brought all of there together was Developer Relations.
I started applying to various companies ranging from startups to big-tech for Developer Relations focused roles in July 2021. In this process, I had 4 companies respond positively. The first of these companies to complete my interview process and send an offer was Appwrite, a wonderful open-source Backend-as-a-Service platform. I genuinely fell in love with the project and the team through my interview process, and by the end of it, I felt this was the right place for me. On the 24th of August, Appwrite's Founder, Eldad Fux sent me my offer and on the 1st of September, I became Appwrite's 10th employee as a part-time DevRel Engineer (part-time because I was still at university). My journey with Appwrite has been ethereal, having worked on our Hacktoberfest 2021 activities, our participation in the GitHub Externship, the Appwrite x DEV Hackathon, and now that I am a full-time Developer Advocate, there are so many exciting things in store for everyone!
On a personal level, I've had lots of major accomplishments throughout the year since, including speaking at my first technical conference, C# Corner's Cloud Summit 2021, having my code shipped to space at Twilio SIGNAL 2021, being featured in eCairn Inc.'s list of Top 100 Influencers in DevRel, speaking on multiple occasions at the Microsoft Reactor Bengaluru, leading the ng-India 2022 volunteering team, and being invited to join DevNetwork's Developer Evangelist/Advocate Advisory Board.
📚 Learnings I've Had Through My Journey
Of course, a journey of this sort does not come without its teachings, and there are a few learnings I have had that I want to share with you all.
You're running a marathon, not a sprint 🏃‍♂️
Far too many of us have the tendency to believe that 4 years in college decide our fate in the world. Everything in my experience says that the truth is different. Our careers don't span over 4 years, they span over 40. These 40 years will bring you far more opportunities to learn, grow, and win that you can possibly imagine. Why limit yourself to just the first 4? Just because you weren't first in the initial stretch does not mean you can't win at the end.
Effort must never be compromised on 🏗️
Opportunities don't mean anything without effort. Every opportunity you choose to partake in needs to be paired with hard-work to ensure that you wins you chase are wins you achieve. And even if don't win, it's alright because you still build steps in your growth. It's just like a free kick in football. Not hitting it hard enough will mean the wall stops the ball. Put in the right amount and you just might assist or score a goal.
Collaborate, collaborate, collaborate 👨‍👩‍👧‍👦
No matter how much effort a single person make put in, over time, 5 people working together can always put in more. When you work in a team, you have people with different perspectives, traits, and skill-sets working towards a common goal. This can be leveraged to your advantage through collaborations. The more you learn from each other and collaborate, the more you can achieve together. Moreover, building long-term relations with these folks can go a long way in your career.
Choose your mentors carefully 🧑‍💼
It is crucial to discover the right mentors for your journey. The right folks will guide you in the correct direction, help you navigate rough waters, and (possibly) create opportunities for you.
For that matter, I have had the fortune of finding some incredible mentors throughout my journey in tech communities. People like Shun Uno, Ankita Mishra, Yashraj Nayak, Paras Pundir, Ankita Tripathi, Ali Mustufa Shaikh, Cherish Santoshi, Dhananjay Kumar, Sunny Sharma, Gaurav Chouhan, Rahul Joshi, Santosh Yadav, Stephen Simon, Vivek Sridhar, Eldad Fux, and Tessa Mero have been amazing mentors who helped me better understand the tech and community spaces professionally and have always been willing to help and support me whenever I need them. I am very grateful for all that they have done for me and I hope I can take the same spirit forward and make a similar impact for people in the days to come.
Have a personal support system 🫂
Believe it or not, you are allowed to have friends and enjoy yourself with them more than occasionally. We are, at the end of the day, humans and we need to ensure that we are taking care of ourselves. There will be times when you aren't in the best place and you need a support system, be it your friends, family, partners, or beyond. At that point, I truly hope you have people in your life to be your crutches and help pick you up.
One thing I will always be grateful for is that, through all my times, I have had the very best of friends to support me. I would be nowhere without them. Aside from my family, folks like Simran Makhija, Nirupama Singh, Ekansh Gupta, Shreedev Ganesh Mishra, Kanishk Gupta, Arjun Jai Khanna, Diya Anand, Archit Bhargava, Rishabh Bansal, Shubhangi Gupta, Ankita Mishra, Ankita Tripathi, Stephen Simon, Shubham Sah, Rishit Dagli, Siddharth Dayalwal, Ali Mustufa Shaikh, Kartikey Rawat, Vedant Bahel, Raghav Agarwal, Ayushi Srivastava, Khushi Sharma, Shivay Lamba, Haimantika Mitra, Saurabh Kumar Suryan, Sreekaran Srinath, Vikramaditya Jaisingh, Pratim Bhosale, Tejasvi Soi, and many more have had an immense impact on my life and I truly wouldn't be me without their love and support.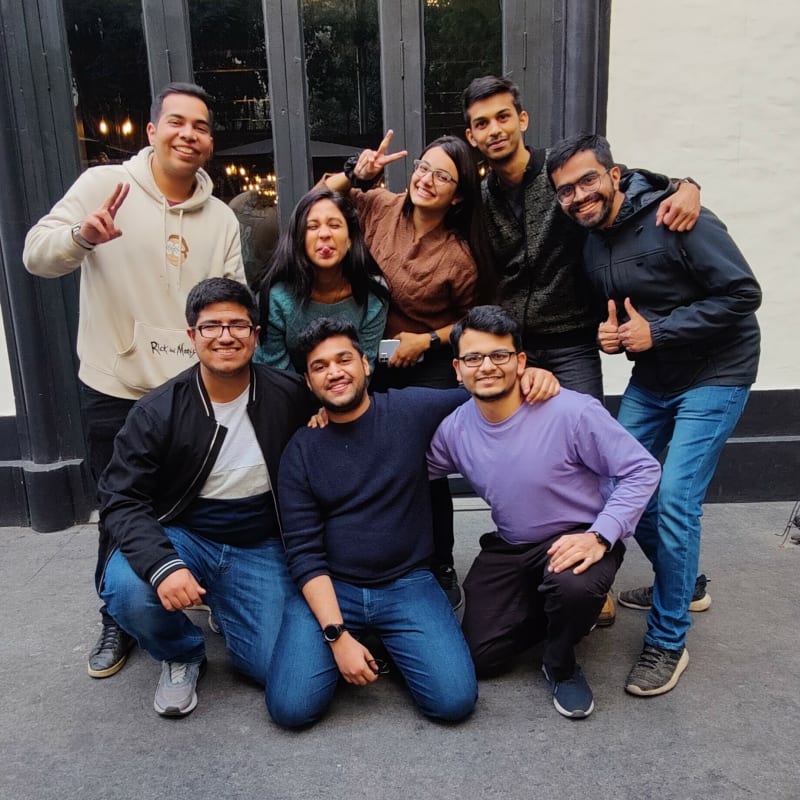 Keep your priorities straight 📏
It is very important to ensure that you have your personal and professional priorities in sync. When I had to learn more about to tech, I stopped organizing community events and started focusing on building at hackathons and taking up a developer internship. When I wanted to grow as a tech speaker, I paused thought leadership opportunities and started creating more technical content, especially through the MLH Coaches program which gave me opportunities to take technical workshops at major MLH events. You need to understand what's necessary for your growth and keep that at the top of your priority list.
Learn to navigate the noise fast 🗣️
There are far too many people making enough noise on enough public forums making noise on what's best for you in their terms rather than yours. You'll need to learn how to let this in through one ear and let it out through the other. Most people have their own agendas and not everyone's will be friendly to you. You'll need to learn how pass through these smokescreens to let you achieve growth in your chosen path.
Taking risks and experimenting are good habits 👨‍🔬
When we talk about our career choices, there's no one fixed way for a person to succeed. Even with DevRel, for example, some enter as technical experts, some are prolific content creators, and some are community champions. While it is great to follow pre-existing methodologies and roadmaps that have been successful in the past, you should be willing to experiment and find new ways to pave your way. The courage to take risks is a trait that will benefit you substantially in the future.
Fail fast, learn fast, act fast ⚡
No matter how well you plan or how perfectly you execute, you will make mistakes and fail along the way. And that's totally alright. Failure is good because it is sign that we're pushing ourselves beyond our capabilities. Just make sure to embrace those mistakes, analyse them, absorb the learnings and move forward to operate. That's how you grow and win!
Your actions are in your hands, your reputation is in others' hands 🤝
There will be occasions when, due to your actions or unforeseeable forces operating beyond you, everything that can go wrong will go wrong (yes, Murphy's Law is eerily real). At that point, whether your result is good or bad, chances are people will talk about you. The truth is that you cannot control the reputation that precedes you, so make sure to do right by your morals and ethics when choosing your actions. Not every voice matters and those screaming from the sidelines are on the sidelines for a reason. So, it does not matter whether you appease everyone, just stay focused on your goals and move forward on your terms.
🏁 The End (... Or Is It?)
My 4 years in university were turbulent but exhilarating, and overall, rather fulfilling. I'm very happy with where I have reached, but this is the very start of my journey and I can't wait to take this forward. I really do wish the same for you folks as well.
All the very best, take care, and have a great journey ahead!