Not to be confused with digital asset management software (DAM), media asset management (MAM) software helps media production teams store, manage, organize, and access rich multimedia digital assets more efficiently.
Specifically, MAM software is used by organizations and teams that handle rich multimedia files like voice-over tracks, linked footage, animation, processed MP4, and more. These technologies are critical for optimizing complex media production workflows, allowing teams to manage extensive media libraries from one reliable, centralized source. Organizations can drastically transform their media production workflows by leveraging the technological capabilities of specialized MAM software.
Why Use Media Asset Management Software?
Media asset management software offers several benefits to teams, media asset managers and content creators. Some of these benefits are:
Improved Productivity
MAM software improves your media team's productivity by automating arduous manual tasks and managing digital assets more effectively. Advanced functions like AI search helps teams spend less time searching through digital assets and more time on creative tasks. This simplifies content management, helping teams to complete collaborative projects faster.
Effective Collaboration
The best MAM solution should fit well into other cogs in the media production machine - project sharing, check-in/check-outs, reviews, and processes, helping teams collaborate effortlessly from anywhere. MAM software also represents a single source of truth for media assets, allowing users to manage every part of the media production workflow seamlessly.
Archive Management
MAM software efficiently handles voluminous content archives with no size threshold penalties or restrictions on file types. This saves large organizations the pain of recreating content due to an ineffective asset management system.
Asset Security
The best asset management software must use enterprise-level security to protect digital assets. Increased security comes from strong access controls and the ability to store media assets in one secure, accessible central location rather than relying on fragmented, easily misplaced drives.
Flexibility
Modern MAM software must go beyond accommodating various asset formats and sizes. Smooth management of high-volume video and multimedia files is the distinguishing feature that qualifies modern MAM solutions to optimize post-production workflows and meet growing consumer demand for video content.
Quick Search and Discovery
MAM software must save users time otherwise spent searching for assets. It must use modern technology like metadata to accurately categorize file types and more importantly, use artificial intelligence (AI) to automate metadata on sub-clips or video timelines in order to offer the ability to scrub through a video timeline and extract relevant clips within files.
You will find several feature-rich MAM software options in the market. These ten tools are the most impressive, but first, here are some definitions:
Definitions
Our seasoned testers assessed each of these options pretty rigorously. So for clarity, here's a brief guide showing how we defined the following for the purpose of this assessment:
Desktop app: By this, we refer to MAMs with desktop apps that are not limited to just one function (file transfers only, for example). By "desktop app", we mean fully-functional desktop apps that are compatible with diverse editing suites such as Avid Media Composer, Adobe Premiere Pro, and more. These desktop apps allow multiple roles - editors, studio operators, archivists to use the MAM features including file transfers natively without a web app.
Security: For this assessment, multi-tenant security is a negative feature because of the security risks that shared resources pose by design.
Deduplication: By this, we refer to front-end deduplication - the capability to natively provide block-level deduplication and work with both cloud and on-premises storage. This assessment distinguishes between lazy on-premises-only storage vendor-provided deduplication and content deduplication that starts at ingestion right from the client's desktop, aka front-end.
Duplicate detection that uses hashes and doesn't deal with common file blocks inside two files whose checksums vary (and therefore are not the same file, yet share substantial data) is not considered as deduplication.
For example, an editor renders an After Effects animation 5 times, with a different version for each rendered file, while 90% of the data stays identical. A MAM system that understands this can take advantage of its deduplication at the source before storing it on the cloud or on-prem.
Version control: Our testers assessed each MAM for industrial-level version management. MAM systems that can create a non-repudiable version history and do not allow tampering (by manually deleting older versions, for example) rank highly for version control in this assessment. Manual deletion of older versions (thus, compromising audit changes) breaks the fundamental tenet of version control. This level of version control is only possible in DAM or MAMs that have been fundamentally architected from the beginning with in-built version control.
Motion graphics capabilities: Beyond standard motion graphics capabilities available through integrated software, our stringent testing specifically assessed the listed options for extensive image sequence management that many MAMs offer as part of their motion graphics support.
Cloud storage costs and setup: For this review, we assess the need for on-premise servers, technical system integrators, and additional deployment costs. This is because today's post-production teams tend to avoid on-premise server management due to the associated requirements for IT expertise and system integrators to securely set up and manage Windows or Linux servers on-premise with backups and DR.
10 Best Media Asset Management Tools
Evolphin Zoom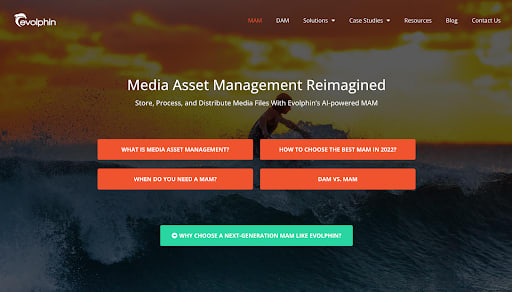 Evolphin Zoom Media Asset Management is next-generation, AI-powered MAM software with robust features and integrations for post-production teams of all sizes. It's designed for efficient collaboration and handles not just video but every kind of rich media asset handled by media teams. Evolphin Zoom also integrates with editing tools such as Adobe Premiere, Apple Final Cut Pro, Avid Media Composer, DaVinci Resolve, and more.
*Key Features *
Patented front-end deduplication technology that saves server space (and money!) and keeps your team organized
Built-in, smart version control that ensures that your project collaborators always work on the right project files
More Adobe app plugins than any other MAM software (complete with panels)
Single source of truth for all your multimedia assets. Parent assets and produced exported files are stored in the same place so your team can easily trace the relationships between individual assets and finished projects
All components come from one vendor, so you interact with the subject matter experts if you have an issue
True single-tenant setup for maximum security. Each client has its own AWS account with a virtual private cloud (VPC)
Native AWS S3 ingest by way of any client application (desktop, web, or plugin)
Resume-able, multipart S3 upload & download capabilities
Automatic sync in Adobe Premiere Pro panel
Motion graphics capability with automatic file linking into a single composite sequence
Collaboration apps (multi-device)
Multiple app integrations and over 3000 automations (via Zapier)
Creative app plugins supporting video, vector art, web design, and more
AWS high-resolution transfer management
Rules-driven AI hub
Image sequences including motion graphic, render queue, Cinema 4D, and more
Data migration capabilities
Tiered archive management
Cons
Markers don't update live in the Adobe Premiere Pro panel. (While import & sync is available for data timelines, live sync is not.)
Users can't add a proxy stream on the timeline, although it's possible to stream them for hover scrub or viewing.
Sequences from one Premiere Pro project can't be imported into another.
Teams need to provide their own third-party project management solutions, but integrations are possible with Trello, Asana, etc.
Pricing: $$-$$$
Adobe CC Integrations: After Effects, Illustrator, InCopy, InDesign, Photoshop, Premiere Pro
Desktop App Available? Yes
Who It's For: Post-production teams of all sizes looking for a high-powered, versatile MAM solution with all the bells and whistles.
Iconik
Iconik is a cloud-based MAM tool that combines cloud and on-site file storage. This "hybrid cloud" tool allows users to bring their own storage while indexing searchable proxy files in the cloud for remote teams. Users can invite key stakeholders to be part of post-production through Iconik's collaboration tools.
Key Features
Media management tools, including file transfers, bulk actions, and metadata tagging
Remote file access and video editing
Iconik Storage Gateway to manage on-site storage and automate media ingest
AI transcriptions and tagging
Review & Approval Workflows
Cloud-based proxy workflow
Users can invite anyone to collaborate
Review tools with comments and annotations features
API for integrations and automations like the webhooks, custom actions, and more
Flexible pricing model
Email and Telephone Support
Cons
No single-tenant security. Multiple customers are hosted in the same Google cloud account with shared resources. While customer accounts are firewalled, one hacked account could open up access to multiple accounts, resulting in costly consequences for organizations that must protect programs set to air or other assets from hacks and contamination.
No front-end deduplication capabilities.
Some panels for Adobe Photoshop, Illustrator, or AfterEffects with varying levels of functionality. For example, the Iconik Premiere Pro plugin lists 14+ features. Our research suggests that other plugins like Photoshop have around 3-4 features.
Some version control. Iconik's version control feature helps you manage file versions interchangeably. However, the ability to delete older file versions creates a repudiable history that might not stand up to stringent auditing.
Deployment process can involve multiple vendors.
No auto-sync in Adobe Premiere Pro panel. That means producers can't mark up footage which automatically syncs with their editor ( saving a massive amount of time in the editing process). However, the manual sync functionality makes time-based comments and annotations visible in Adobe Premiere Pro as markers when imported via the Iconik panel.
No motion graphics capabilities apart from standard Adobe Premiere Pro MOGRTs..
Pricing: $$$-$$$$
Adobe CC Integrations: Photoshop, Illustrator, Premiere Pro, After Effects, Audition CC
Desktop App Available? No. However, the Iconik agent is a companion app for file transfers.
Who It's For: Teams who want a file storage setup only in the cloud and are less concerned about a "hybrid cloud" MAM software.
Orange Logic

Orange Logic is technically a digital asset management (DAM) tool–(not a MAM) that allows customers to organize, store, and utilize their digital assets. Unlike media asset management software, Orange Logic isn't tailored for editing and post-production teams. Instead, it's a DAM platform that supports customized metadata, permissions, collaboration, and sharing, and offers an advanced search tool that makes finding files quick and simple.
Key Features
Archiving and file preservation
Economical, unlimited cloud storage
Automatic and manual workflows, including time-saving AI tools
Fast bulk uploading and downloading
Multiple app integrations, including Adobe, Microsoft, Dropbox, Google Cloud, and more
Safe, HIPAA compliant file protection and security
Cons
DAM software. Doesn't offer the MAM functionality that a video editing team requires. While Orange Logic has more video-related capabilities than other DAMs on the market, it's not designed to handle the requirements of the full video production process.
Multi-tenant security keeps all users simultaneously secure
No deduplication capabilities.
Some Adobe panels available, but not all.
No version control.
Deployment process can involve multiple vendors.
No Premiere Pro auto-sync.
No motion graphics capabilities.
Pricing: $$$$
Adobe CC Integrations: After Effects, Illustrator, InDesign, Lightroom, Photoshop, Premiere Pro
Desktop App Available? No
Who It's For: Teams who need a robust tool for managing their digital assets (images, graphic, marketing material, etc) and securing private information (such as data that's covered by HIPAA regulations).
Brandfolder

Brandfolder is a DAM software designed for collaborative creative teams and customers looking to manage finished or finalized asset portfolios. It is not optimized for raw media or video post-production, but it better serves teams who need to store, share, and utilize finalized multimedia assets. It is great for customers that want to track the performance of their assets across campaigns.
*Key Features
*
Intuitive asset search
Brand intelligence asset insights
Customizable sharing, collaboration, and asset distribution tools
Multiple integrations, including Adobe, Figma, Getty Images, Microsoft Active Directory, and more
Web-to-print capabilities
Custom API integrations
Cons
DAM software, not MAM
Finished asset stores only (Brandfolder doesn't store large production assets such as native videos from camera cards)
Assets are stored separately from finished files, making specific assets challenging to trace
Multi-tenant security
No deduplication capabilities
No Adobe panels
No version control
Deployment process can involve multiple vendors
No Premiere Pro auto-sync
No motion graphics capabilities
Support function (local/ 3rd party/ off shore??)
Pricing: $$-$$$
Adobe CC Integrations: Photoshop, Illustrator, InDesign
Desktop App Available? No
Who It's For: Marketing professionals, agencies, and businesses that want their DAM with a side of analytics and aren't looking for media asset management tools.
Widen

Widen is a DAM solution targeted toward content creators. Like Orange Logic and Brandfolder, Widen is not media asset management software. The workflows associated with content creation and publishing are often heavy in scope and can involve multiple visual, graphic, and video assets. The Widen platform benefits teams who need support with not only DAM tasks but also with the overall brand, marketing asset, and product management.
*Key Features
*
Integrates with Acquia DXP (Digital Experience Platform)
Web design, cloud storage, multimedia, image licensing, and many other integrations
Digital asset organization
E-commerce product information management
Analytics to track content performance
Collaborative workflow and review management
Cons
DAM software, not MAM
Finished asset stores like other DAMs on the marketplace
Multi-tenant security
No deduplication capabilities
No Adobe panels
No version control
Deployment process can involve multiple vendors
No Premiere Pro auto-sync
No motion graphics capabilities
Support is offered by a web form
Pricing: $$-$$$
Adobe CC Integrations: InDesign, Premiere Pro, Illustrator, Photoshop, After Effects, InCopy
Desktop App Available? No
Who It's For: Sales, e-commerce, and marketing teams who are looking for a DAM with powerful search, workflow coordination, and content publication capabilities.
Celum

Celum is a DAM software solution created primarily for content management purposes. It's not media asset management software, but it does store digital assets and documents related to the content marketing process. The platform also integrates with several CMS options such as WordPress and Sitecore.
*Key Features
*
Content Hub to store digital content assets
Online workrooms for collaboration
Task automation and tools for building workflows
Tools for feedback, annotation, and approval
Secure file storage and sharing capabilities. GDPR compliant
Over 100 third-party app integrations
Cons
DAM software, not MAM
Finished asset stores
Assets are stored separately from finished files
Multi-tenant security
No deduplication capabilities
No Adobe panels
No version control
Deployment process can involve multiple vendors
No Premiere Pro auto-sync
No motion graphics capabilities
Pricing: $$
Adobe CC Integrations: None
Desktop App Available? Yes
Who It's For: Marketing and sales teams who want to use DAM software in their overall marketing asset management strategy.
Imagen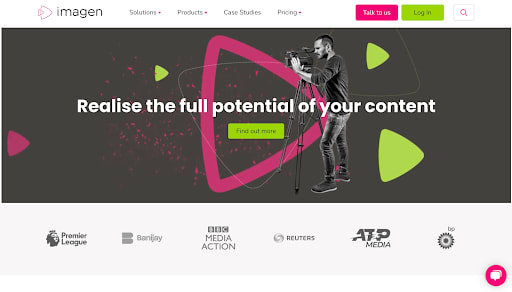 Imagen is DAM software with two primary offerings: Imagen Go for basic digital asset management and Imagen Pro for a more comprehensive, dynamic DAM experience. This platform works well for organizations focusing on multimedia assets. However, like the aforementioned solutions, this doesn't offer MAM capabilities like collaborative video editing. If you're operating on a tight budget and need a DAM solution, however, Imagen Go might be ideal for your team.
*Key Features
*
Digital asset management for rich media content and video
Content distribution tools, including media logistics
Archiving capabilities for long-term digital asset storage (including social media)
Asset management for your overall brand
Tools that allow for collaboration, reviews, and approvals
Video, image, audio, and document storage
Cons
DAM software, not MAM
Finished asset stores
Assets are stored separately from finished files
Multi-tenant security
No deduplication capabilities
No Adobe panels
No version control
Deployment process can involve multiple vendors
No Premiere Pro auto-sync
No motion graphics capabilities
Pricing: $+
Adobe CC Integrations: N/A
Desktop App Available? Yes
Who It's For: Imagen Go could work well for marketing professionals and small businesses on a budget, while Imagen Pro is more scalable and geared toward larger media companies and sports organizations.
Dalet Galaxy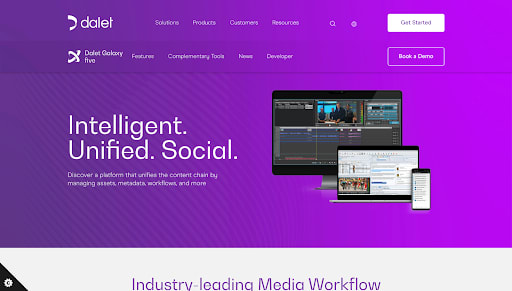 Dalet Galaxy is media asset management software that serves organizations such as news and media companies, sports organizations, and other broadcast-centric businesses. It's primarily for companies that want a MAM to manage their media ingest workflows in the context of broadcast operations.
*Key Features
*
One multimedia catalog, with digital assets all in one place
Workflow configuration, task automation, and custom API
Media asset, metadata, and workflow management
Mobile user interface
Collaborative and completely integrated news wire system for media companies and news publications
Over 300 app integrations

Highly customizable
Cons

Dalet is broadcast-centric software built on an infrastructure that predates the current digital video editing model. While its broadcast capabilities work well for customers still using a historical broadcast model, it is not current for the needs of today's post-production using apps like Adobe CC.

Complex cloud deployment. Not designed for the cloud.

IT support-heavy deployment models can be expensive.

No deduplication capabilities.

No Adobe panels.

No version control.

Deployment process can involve multiple vendors.

No Premiere Pro auto-sync.

No motion graphics capabilities.
Pricing: $$$$-$$$$$
Adobe CC Integrations: Not available
Desktop App Available? Yes
Who It's For: Dalet is a MAM tool that's great for media teams and creative companies built around broadcast workflows.
Vidispine

VidiCore by Vidispine is a cloud-based API that allows users to build custom media asset management tools for their organizations. It can be used to build a custom solution for integration with an existing content supply chain or to create something entirely new. In other words, if your company has the resources, budget, and desire to create a MAM system that is fully customized to fit your needs, VidiCore offers the exact tools you need.
Key Features
Completely customized solution for each customer
*Cons
*
Build not Buy solution
API for building your own MAM
Capabilities are limited to what your developers can build
Costly and unpredictable support model
No seamless integration into your existing workflows. Building a custom MAM would mean building out a software testing process, multiple updates, and multiple software versions before a smoothly-operating MAM solution is complete
No deduplication capabilities
No Adobe panels
No Premiere Pro auto-sync
No motion graphics capabilities
Pricing: $$$$
Adobe CC Integrations: Custom
Desktop App Available? No
Who It's For: Organizations with the budget and capability to create a completely custom MAM from the Vidicore API. In fact, many of the MAMs on the marketplace use their SDKs (Software Development Kits)!
Bynder

Bynder is a digital asset management (DAM) tool, and not media asset management software. The product is well known for its easy-to-use UX, which makes the tool easily accessible to individuals of all tech skill levels. Beyond DAM operations, Bynder seeks to help organizations integrate their brand strategy and guidelines all in one place, making it easy for collaborators to stay on brand at all times.
*Key Features
*
Finished asset platform
Great interface for basic digital assets management needs
Built-in brand guideline tools
One place to create content, then review and approve
Studio space for video creation, asset storage, and distribution
Data and analytics tools
Automation tools to optimize and scale digital assets
Cons
DAM software; not MAM
Finished asset stores
Assets are stored separately from finished files
Multi-tenant security
No deduplication capabilities
No Adobe panels
No Premiere Pro auto-sync
No motion graphics capabilities
Pricing: $$$
Adobe CC Integrations: Available, but unspecified
Desktop App Available? No
Who It's For: Mid-size to large businesses and organizations that need a DAM with a simplistic interface.
Why Not Use a DAM for Media Asset Management?
While digital asset management (DAM) software is often mistaken for media asset management software, the difference lies in their distinct capabilities.
The best digital asset management software would be well-suited for marketing teams with relatively low volumes of published content, with a capacity to manage around 100,000 assets averaging 100MB each. Modern DAM systems usually have advanced features like cloud compatibility, metadata search, and download capabilities. These would primarily be used to execute marketing and sales tasks, especially illustrations, graphics, product images, etc.
MAM software, however, offers a broader range of capabilities, and must be scalable with greater capacity for larger media files and assorted asset types. MAM software can typically manage millions of assets, with individual media assets several terabytes in size. This capacity is crucial for media operations teams, including media asset managers, art directors, video editors, etc., who manage vast volumes of rich media assets on-premises or in the cloud.
The best DAM software would likely struggle to handle work-in-progress media workflows. However, modern MAM software can efficiently orchestrate and streamline several processes in complex high-res video post-production workflows.
In practice, production teams in the film, broadcast, or video industry would use MAM software to manage, store, and work with video files for an efficient video post-production workflow. But, to handle brand and marketing materials such as photos, graphics, or texts, DAM software would be an OK choice.
Selection Criteria to Consider when Choosing MAM Software
There are several MAM software options available in today's market. Choose wisely by checking the capabilities of your options against specific criteria:
Features
First, identify the problems that your company is facing. Then assess the must-have features that address them, and choose a MAM solution that offers these. The primary role of your selected MAM software is to manage your team's inefficiencies, so picking a tool with the right features will help you achieve this.
Cost
MAMs can be expensive, more so than DAMs. List your qualifying MAMs and compare the prices of your shortlisted solutions. Choose one that balances cost with your desired features.
Customer Support
MAMs often have a longer deployment cycle than a typical DAM. Check that your selected MAM offers a reliable customer support system to resolve technical & workflow issues you might face during a roll-out.
Proof of Concept
Investing in new software for your team can be expensive, so MAM software with a proof of concept option will help you test the waters before you commit.
Configuration
Check that your prospective MAM software offers customization using built-in configuration options to fit your business needs. The software should be flexible and helpful in managing media and video files within your unique workflow without requiring additional software development by your system integrators.
Media Asset Management Software Best Features
When choosing the best media asset management software for your organization, look out for these key competitive features:
Cloud compatibility
Is your prospective solution cloud-compatible? Most modern-day MAMs make digital assets accessible from any internet-enabled device through cloud technology.
Third-party integrations
According to research, context switching (switching from one task to another) steals up to 23 minutes of work time. Robust MAM solutions integrate with third-party tools using APIs to allow teams to execute their workflows without distraction. Choose a deeply integrated MAM solution with extended capabilities that supports diverse media production tasks from one user-friendly interface.
Scalability
Because MAMs are usually designed to handle huge volumes (Petabytes) of data, they help organizations scale their operations by replicating the same performance capabilities across vast volumes of data. This is useful for companies of all sizes - small or large.
Multiplatform accessibility and security
The best MAM software should be accessible from various platforms and devices to support hybrid teams. It must also provide this support while keeping user and asset security paramount. Choose a MAM solution that allows team managers to change user access controls and securely regulates access to your creative assets.
AI Capabilities
Modern MAMs leverage AI capabilities to perform time-consuming tasks in seconds. Tasks like transcoding, automatic logging, subtitling in various languages, etc., can traditionally take days or even weeks to complete manually. However, introducing AI-powered workflow automation can be a game-changer for teams looking to shorten production time or increase output.
And there you have it. These are the ten best media asset management systems of 2023. Hope you found this useful in selecting the best software for your team.