Yeah! You might have been wondering which is better or preferrable, Figma or Adobe XD? Figma and Adobe XD are widely known as software design tools used by designers and developers. These tools perform same tasks. In spite of that, some people tend to choose one over the other, perhaps due to their distinct features.
Figma and Adobe XD are online design tools usually used by developers and UI/UX designers in the tech industry. It's a software tool widely used by UI designers to carry out their design work with the aid of unlimited plugins, design mockups, and design special features.
Now, let's check out the similarities and differences between the two.
Figma and Adobe XD are design tools but Figma requires internet connection for its use While Adobe XD requires no internet connection. Hence, Adobe XD is cheaper for users to access
Both tools have same features and components in common but different working interface. Figma has the specs embedded within the file, and offers different types of specs such as web, iOS & Android, while that of Adobe XD has separate spec sheets that you can easily publish as a link for people to access.
Figma has always been used on its main site i.e it's cloud-based, so you'll need to be connected to the internet to access it at figma.com. Until recently when the desktop and mobile application version was developed, it used to be only available for MacOS and Windows users. Adobe XD on the other hand does not necessarily need internet connection but has a desktop application.
As for me, Figma has been my best and regularly used tool for UI design. The simplicity and easiness are the uniqueness that make it my default tool — and guess what? — that is what larger percentage of UI/UX designers use as well. Its collaborative feature of team members to work together on a project without having to download the file is a great feature compared to Adobe XD that lacks collaboration.
Another interesting feature about Figma is that, you do not always need to activate your internet connectivity while designing on it, meanwhile, not all the features can be used offline. All you need is put it on at first> save your project> deactivate the internet connection and keep on working. Whenever you are done, Figma will store any changes you make in your browser and sync them. When you're back online, Figma will notify you at the bottom of your screen that your file has unsaved changes. In my coming posts, I will write on available features online and offline on Figma.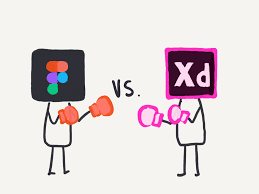 Figma has won in virtually all ranking features. In my own opinion, I've found Figma a very easy and flexible tool to use than Adobe XD. Researching more about Figma collaboration community interests me more as a UI/UX designer.
Thanks for reading.
Photo credit: Pinterest, uxdesign.com