So, story time.
Some of you know me as a software developer, but I also write science fiction and fantasy books in my free time.
Since I'm an Egyptian author, and I like writing mainly in English – as opposed to Arabic – this poses a problem. Because 99.99% percent of my audience comes from English-speaking countries, or speak English as their secondary language.
I publicly published two full novels in my writing career (one of which is now unpublished, unless you know where to look) before starting my ongoing web-serial about programmable magic, and I chose Amazon to publish them, after many requests from my audience who wanted the stories in e-book format. So I acquiesced.
Upon registering as a new author, Amazon requested that I file my tax information, which I did as per usual. I chose the bank transfer method for payouts, and was told there was a minimum threshold for transferring the payment to my local bank account. Again, this is normal. Payoneer wasn't even an option back then.
And so the books sold for a while, I didn't check too much, but the volume of sales decreased over time as people forgot about my stories and there stopped being an influx of new readers.
I told myself that once that threshold is reached, no matter how slowly; I'd get a nice surprise in my bank account one day. I forgot about it and moved on with my life.
In 2016, I spent around two harrowing weeks sleeping on benches at a hospital, and looking after my mother during her heart bypass surgery. There were some complications that turned me broke, both mentally and financially.
But she soon made a recovery, and I was thankful for my good fortune and her improving health.
We left the hospital and I went back home, to a big surprise.
During that stressful period, I was in a complete information blackout with my phone dead, no access to a charger, and more importantly: no access to the internet, and guess what happened while I was away?
Upon my return, I opened my email account to find a cryptic message from Amazon making a strange ultimatum out of nowhere, and I'd apparently missed the deadline to act:
I tried to log back into my Amazon account and to contact support, and to date: it remains locked.
They didn't just lock down my access to Kindle Direct Publishing, the platform for authors, either.
No, it was complete lock-down across all their services. I could no longer buy goods from Amazon, or use AWS services.
This represented a big problem when I tried to use AWS while co-founding a startup later, you see. But that's another story for another day.
I had no access to an international fax (which isn't only something outdated, but physically no longer available where I live). I tried replying to their email, but nothing worked.
I was depressed and exhausted, and just let the issue drop.
A couple of weeks later, I was updating my old writing site when I found the old Amazon referral links for my books. I accidentally clicked one, and found my books still listed.
What caught my attention was that the site said "This title is not currently available for purchase", which is what Amazon says if you're not in an "endorsed region" for digital e-book sales. (Europe, North America, Australia, Japan, etc.)
You see, Amazon refuses to sell digital books here in the Middle East, which I found to be problematic whenever I wanted to read, say, a KDP Select exclusive title.
So, still curious, I hopped on a VPN to check the status of my books from a US-based IP address.
…and found my books still on sale.
Words can't describe how much faith I lost in humanity in that moment.
Long story short: I had to forge my way in using an old cookie saved on the Chrome browser on my iPhone to unpublish my two books. I don't use Chrome on the phone that much, so that cookie must have survived all that time without being cleared.
Books secure, and now selling exclusively on Smashwords and other channels through them, I moved on to bigger things in life.
Like building a proof-of-concept JavaScript server platform that's scalable, multi-threaded and would benefit big companies immensely, perhaps?
Then that project got some attention, and I spoke at Nordic.js about it later that year.
Not more than a few months later, I get the following email, and my laughs echoed to the heavens as I realised the irony.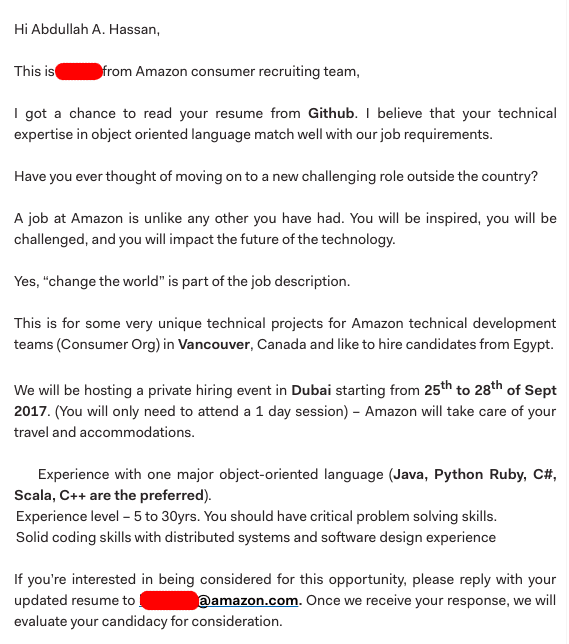 What caught my attention was this specific quote:
A job at Amazon is unlike any other you have had. You will be inspired, you will be challenged, and you will impact the future of the technology.

Yes, "change the world" is part of the job description.
I think that last sentence is inaccurate, because "screw the rest of the world" is more apt.
I had considered accepting the invitation and costing them something before refusing, but I'm not a vindictive person by nature, and frankly I no longer care.
I'm not alone in this either, as many a recently banned LitRPG author would attest.
This is a funny story I normally tell to warn people against that toxic company. I'm sharing it here to deliver a warning, as someone who experienced both sides of the coin:
If you're an author, then beware; and if you're a developer: you're a potential new worker drone for the self-interested hive-mind of immoral bankruptcy.
I'm also sharing this here because I've just completed the very first volume of my current series, The Magineer, with chapter 40 coming out publicly on Sunday the 30th.
When my readers ask me to publish that volume on Amazon and KDP Select, I'll be posting a link to this little story.
Stay frosty, and preferably a safe distance from Amazon and its ilk!