Last month, the Strapi team went up in the mountains into a superb chalet to brainstorm and find opportunities for the future of the project.
Strapi has grown quite a bit since last year's offsite in Marrakech. We are now a team of 10 with the arrival of Maxime this July. As we scale in size, we felt the need to bring the team together to plan the upcoming months and to set the standards of our company culture.
Our goal for this offsite was to shape the future of Strapi. We are planning to be twice as many in a year, how will we scale? Where we will be in 2 years? We also worked to be more specific about the roadmap, the onboarding, and the company values.
As we increase in numbers, the Strapi community must continue to enjoy using Strapi. This implies crystal-clear communication and transparent processes for users and contributors.

Our beautiful office during the offsite.
After we arrived at the chalet in La Clusaz and settled in, Pierre explained what we hoped to accomplish by the end of our trip. We started each day as a team with workshops about different topics. Soupette had come up with the idea of splitting up into 3 teams for cooking the meals each day. Each day a different team was in charge of cooking lunch and dinner for the whole team!
Each work session started with a presentation of the situation and finished with shared thoughts, vision, and ideas, and then off to the cooking session.
Highlights
Vision and values
As our staff doubled in 6 months, one of the opening questions was how to ensure proper scaling and how to clarify the direction we are heading to the next 18 months.
Before the offsite, we had defined a number of challenges that we had recently faced as a team and also compiled feedback gathered from the community. We classified them in topics and dived into these with a collaborative session to come up with ideas and solutions.
Having had the opportunity to think of the different types of challenges, the team came away with clear foundations to build on and explore on return from the offsite.
Here are some actions we decided to take:
Improve team communication and towards the community in terms of vision - Strapi is born from the passion for making a product that will change the lives of thousands of people.
Define the company culture - We often refer to characteristics that define the way we interact and the reasons we wake up every day. We need now to write them down, publish them for the community, and make them actionable.
Release processes and communication
During the offsite, we planned a workshop about the Strapi product, the releases, and the way we communicate about them.
The main question we tried to answer during this workshop was :
How do we improve the feature releases & the way we communicate on the product?
This challenge seemed a bit wide, so we decided to split it into 3 different statements. Each group was assigned a statement and had 15 minutes to list related pain points. Here are the 3 statements on which we worked.
Have better communication.
Have visible and understandable goals around the product.
Set up processes that fit the team's needs and improve the feature releases.
After debating and choosing the 3 major pain points for each statement, each group had another 15 minutes to come up with concrete solutions to solve these pain points.
We came up with quite a few immediately actionable ideas.
For instance, we decided that sharing the roadmap to the community was not enough: it is essential to explain why we make decisions. This is the purpose of the Monthly Update, that we published a couple of weeks ago and of our latest post about why we split the management of Admin users and End Users.
Activities
This off-site also gave us a fantastic opportunity to enjoy the beautiful landscapes of this part of Haute-Savoie for our team-building activities.
We were able to discover canyoning, chill around the Annecy Lake, and see how we interact with each other as small cooking teams.
Canyoning
For those who might have never heard this term, canyoning is traveling in canyons using a variety of techniques that may include other outdoor activities such as walking, scrambling, climbing, jumping, abseiling (rappelling), and swimming.
It was a first for some of us, and we all enjoyed it! For some of us, it was exciting to be challenged out of our comfort zone.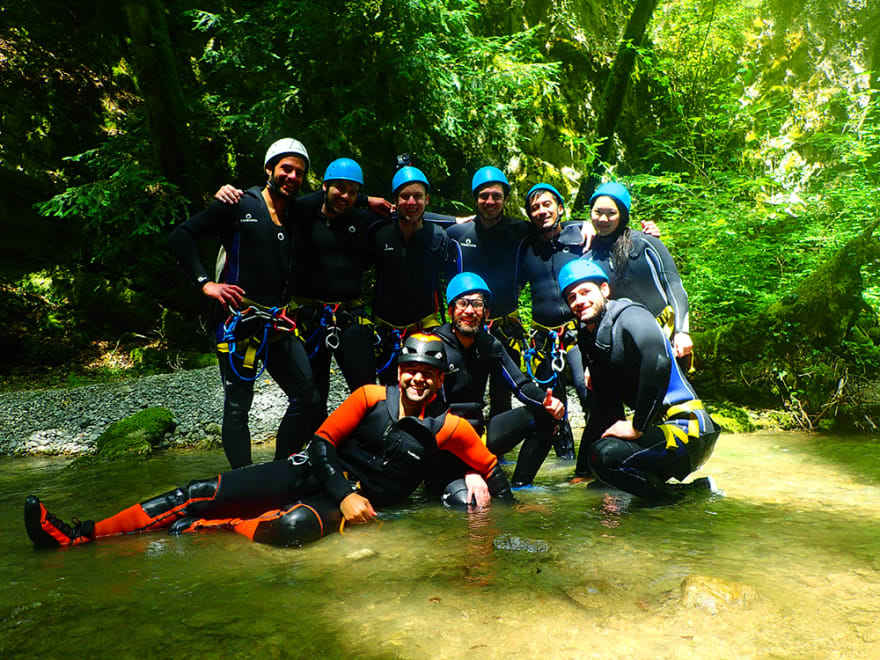 Cooking Sessions
Each day, one team of 3 was in charge of cooking lunch and dinner meals for a whole day!
It was an excellent opportunity to discover the secret recipes of each team. At Strapi, we love good food and enjoying good times around a lovely table.
Here are some pictures of the amazing dishes cooked by the team.

Alexandre's home-made entremets.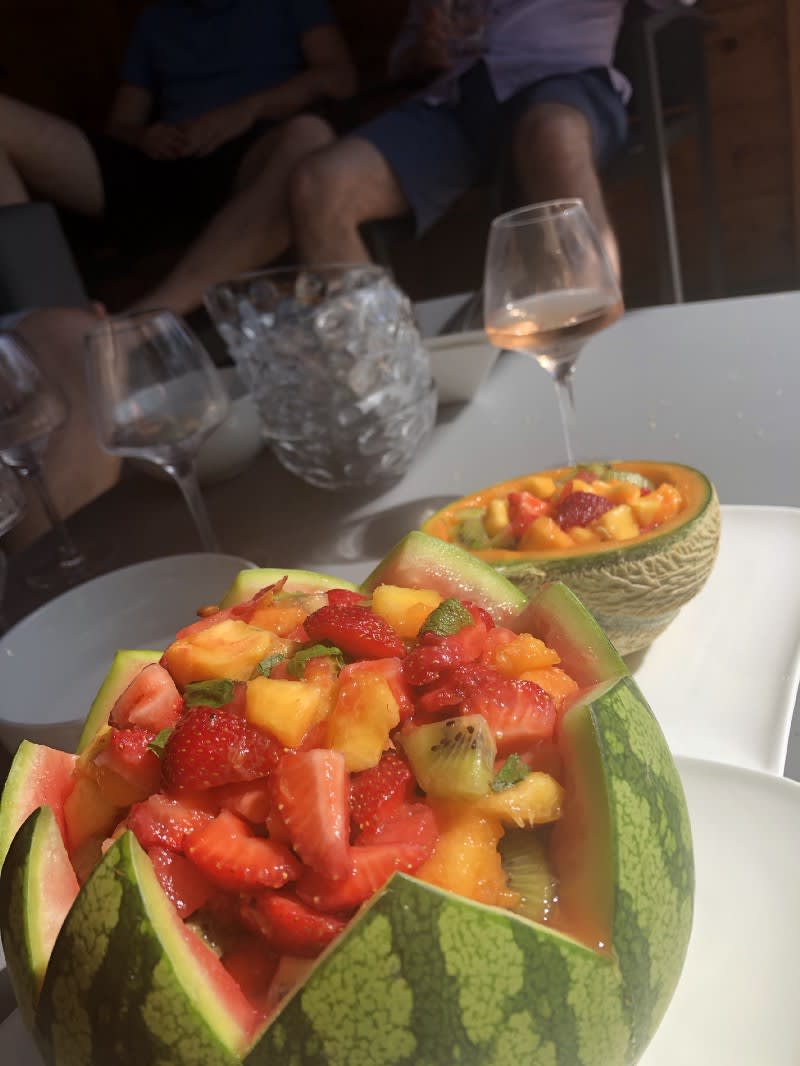 Annecy Lake
Just before heading back to Paris, we finished the offsite with a beautiful moment around Annecy Lake. Afterward, and full of energy, it was off to Paris to deliver the best for the Strapi community!
Learnings
Values matter. Strapi is an open-source company and is driven by values like transparency, empathy or care. And we love jokes. And food. We will write down our company culture and open-source it to allow contributions from the community.
Communication is key. We are committing to monthly updates explaining the latest decisions, features produced, or fixes. From an internal perspective, we are optimizing our time by using more asynchronous communication channels like GitHub repositories for company-related issues. The goal is to decrease the time spent in meetings without loss of information.
**We should eat our own dog food.** Strapi will be more and more used internally. Non-technical team members will be paired with technical team members during an internal hackathon to create an app running with Strapi.
You can have a look at the pictures taken during the offsite on our Instagram account here. Don't forget to subscribe to keep in touch!
Strapi is hiring! Come and join us on our journey to reinvent the way content is managed and distributed. To see the job openings, it's here.
If you've enjoyed this post, please take a second to share it on Twitter. Got comments or questions? Hit the section below!