In this post we are going to check top 12 color palettes tools available in the market for free. You can use this color picket tool for free for your next project.
Html Color Codes
Get HTML color codes, Hex color codes, RGB and HSL values with our color picker, color chart and HTML color names. Let's go!
Website: HTML Color Codes
Pros and Cons of HTML Color Codes
...
HueSnap
HueSnap is a color sharing community for creatives, focused on allowing users to create palettes through snapping colors from images or now, using our color tool.
Website: HueSnap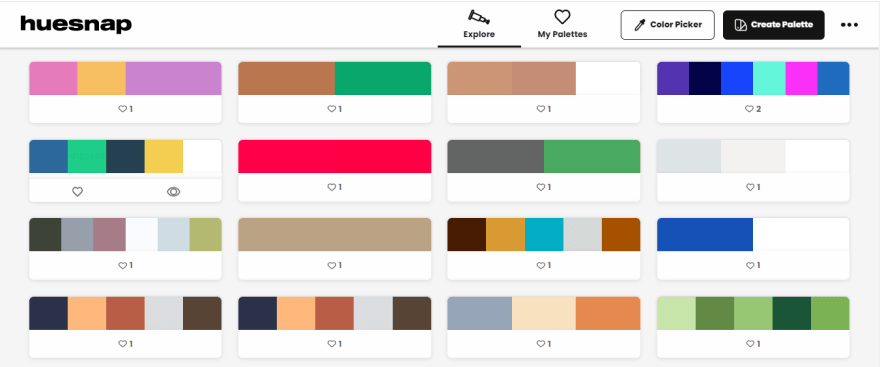 Pros and Cons of HTML Color Codes
Pros
Create Customized Palettes:
Snap colors from your uploaded images or use the color wheel to create a customized palette.
Share Your Creations
Share your created palettes with the community and find color inspirations for projects.
Sync between devices
Access your color palettes through Desktop or your devices on iOS or Android.
ColourLovers
Share Your Color Ideas & Inspiration. COLOURlovers is a creative community where people from around the world create and share colors, palettes and patterns, discuss the latest trends and explore colorful articles... All in the spirit of love.
Website: ColourLovers
Pros and Cons of Colour Lovers
...
Colormind
Colormind is a color scheme generator that uses deep learning. It can learn color styles from photographs, movies, and popular art.Different datasets are loaded each day, check back tomorrow for even more color inspiration. Visit the blog for tech info or have a look at our API
Website: Colormind
Pros and Cons of Colormind:
Colormind has a REST API. The API allows you to access all the features that you see on Colormind.io.
The API is free for personal and non-commercial use.
ColorHunt
Color Hunt provides Color Palettes for Designers and Artists. Discover the newest hand-picked palettes of Color Hunt
Website: ColorHunt
Pros and Cons of Color Hunt
...
Eggradients
Eggradient is a color collection tool. The collection builds to make designer life easy. Generating the cool gradients is time-consuming. In this collection, the designer finds what exactly they want.
Website: Eggradients
Pros and Cons of Eggradients
...
Khroma
Khroma is an AI-based color tool built specifically for designers. With Khroma, you get to train an AI algorithm by choosing 50 colours that you like. These colours are then used to train a neural network that can recognise thousands of other similar colours. Based on your preferences, the model generates an endless combination of color palettes.
Website: Khroma
Pros and Cons of Khroma
...
Read Complete Article Here:- Top 12 Color Palette Tools | Best Color Picker Tools