Oh yes, I attended DigitalOcean TIDE, which is DigitalOcean's annual developer conference talking about Cloud Native, experiences of the vendor's customers, and what they're planning for the future.
Without further due, let's get on some nitty gritty details.
Opening Keynotes
Looking at the Opening Keynote, its really amazing how DigitalOcean's focus is SMBs, and they've never strayed out of their fundamental core vision - making cloud hosting simple, and true enough, this formula has been successful garnering them more than 5 Million community members across the globe. Their plans for the future is looking really good as well, with more features slated for this year alone.
It's really exciting how much DigitalOcean has planned for this year, despite the COVID-19 pandemic going on outside our homes. It really shows how they're also committed to helping its communities and forging better relationships - which has been their core business model.
Whatfix Keynote
What followed on was the Keynote from Khadim Batti, Founder of B2B SaaS application Whatfix. He went on how DigitalOcean was able to help scale the business and how they were really helpful throughout their company's journey.
The speaker had a great personality and I can't wait to hear more about them in the future.
Managed Databases Keynote
Next up was the Managed Databases Keynote from Andre Bearfield, Senior Product Manager of DigitalOcean. He goes on to explain the difficulties of managing databases as applications grow over time, and how managed databases can help abstract those away, especially with DigitalOcean.
Of course, I reviewed their portfolio before, and I can admit DO's managed databases are much more cost-effective in most areas compared to GCP and AWS combined.
However, during the presentation, there seems to be a delay of one slide and I was confused a little but I managed to catch on and listen more. Overall, the experience was rather finicky but entertaining
The Cloud Native Keynote
And it won't be a cloud hosting provider conference without any mention of Cloud Native, aka the hottest trend in application development nowadays. Of course Forbes Writer and Cloud Advisor Janakiram MSV is pitching us how Cloud Native is currently the most efficient way to run services at scale, with less cost compared to a monolithic application (and that is true most of the time).
And it wouldn't be a Cloud Native Keynote without mentioning Kubernetes as well.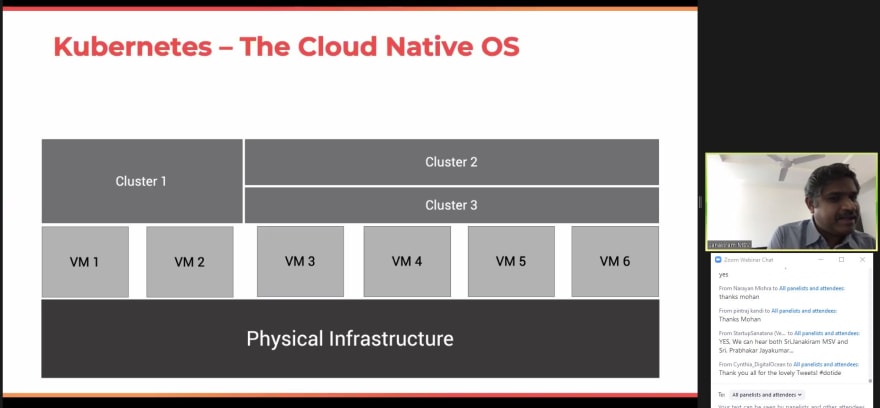 He then goes on to demonstrate Kubernetes in the 400+ participants of TIDE, and they were rather entertained, but me, having known to use the thing before it became hip and cool, was just smiling.
Back then it was just a small project from Google, look how my boy has grown.
It was very informative and I learned so much as well (which some of them I already know) but he presented it in a way I was very entertained. It kept me engaged and wanting more.
Panel Discussion
And to end it all off, is a panel discussion on four of DigitalOcean's customers, their experiences with it, and how DigitalOcean helped scale their businesses.
It was rather interesting to hear their input on how they adapted to the COVID-19 pandemic as well since the pandemic was rather putting strain on cloud services due to the increasing work at home order.
They were engaging and very honest, I particularly liked Haslinda Rasip, CEO of Dropee, with her input on what's her "secret sauce", on which she replied "there is no secret sauce, we just based much on trial and error", and that is true, there is technically no secret sauce in businesses, its all about trying out which works, and learn from strategies that didn't - since running a business always has a degree of uncertainty even analytics can't predict.
Conclusion
Overall, the TIDE conference was not bad, it was engaging, and it was my very first as well, I was able to follow on with the topics and what made it entertaining was the radiant value of DigitalOcean with the virtue of love, they love their customers, and their community, because they've been with the company through thick and thin, and that's something everyone in the tech industry should emulate.
And oh yes, they also kept us entertained with a quiz, and boy I did not expect winning at all.
That would be it. Stay safe and wash your hands.
PS: You can find the Twitter thread I made to transcribe this into a coherent blog here.