Udemy for web development: 5 MUST-HAVE courses for 2019/2020
This post includes affiliate links; I may receive compensation if you purchase products or services from the different links provided in this article.
Udemy is an amazing option for self-taught web developers.
It's cheap, it's convenient and the world-class instructors make learning fun and fruitful.
But while it offers instruction on everything from Asian cuisine to color theory, Udemy is perhaps best known for its tech courses.
And by far the hottest subcategory of tech right now is web development.
There are literally thousands of courses on Udemy for web development.
So which ones are worth your time and money?
---
5. The Web Developer Bootcamp
Since its release, Colt Steele's Web Developer Bootcamp has enrolled nearly 450,000 students. It also has nearly 130,000 reviews, and boasts a 4.6 star rating.
At 47+ hours with 13 projects, this course begins with the logical first steps in learning web development: HTML, CSS and JavaScript. Those sections are about 19 hours of learning material.
After these concepts Steele throws you The Color Game, your first project.
With the Color Game, you take your fresh dev knowledge to build an interactive game. Players match color blocks with any given RGB code. You'll use your new HTML, CSS, and JavaScript skills to build it — this is a challenging but fun first project.
After the Color Game, Steele starts teaching jQuery.
While some devs say that jQuery is outdated it's still a useful tool used in millions of applications. Then comes your second project, a todo list. With this project you integrate jQuery with HTML & CSS to create a clean-looking todo app.
At this point, the second half of the course kicks off. Ready for backend?
What's nice is that you've already built two projects (with one extra optional project, an animated sound kit) so now you're familiar with the general web development workflow.
Much like the rest of the popular code bootcamps, PHP and MySQL is bypassed: it's all about JavaScript. Starting with Node and then going into MongoDB, The Web Developer Bootcamp sticks with a JavaScript ecosystem throughout the entire course.
From here until the end of the course you'll work on a large project, YelpCamp.
This project is intense! Yelp Camp pulls together everything you've learned and even covers UI (user interface) improvements . Finally, you'll get a handle on Git and GitHub, then deploy your new creation.
Steele also pushes past the typical instructor trap of simply pressing the record button as he coded. This is a very interactive course that features lectures, slides, downloads, readings, assignments, pictures of his dog Rusty (gotta keep it a little fun), and lots more.
He's also a personable instructor and great communicator. Steele keeps things interesting and even light-hearted at times while sticking to the important parts of web development.
---
4. JavaScript: Understanding the Weird Parts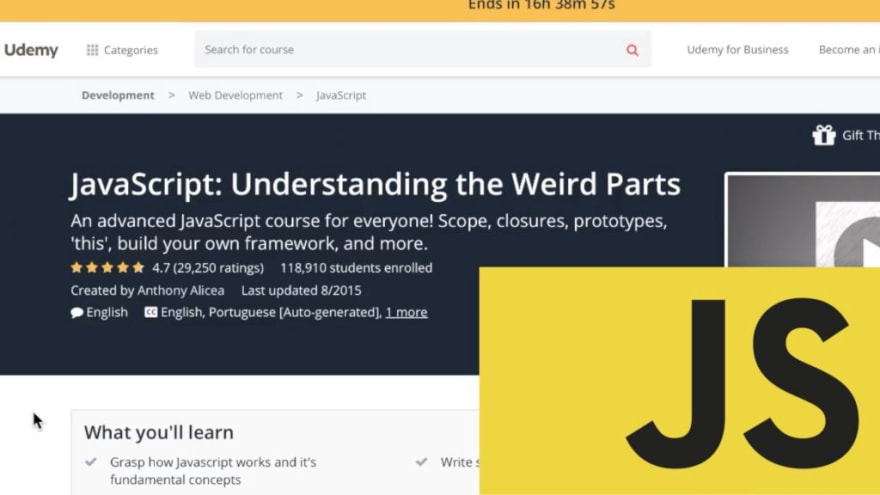 Sooooo many Udemy instructors treat their courses like they just read the documentation! Not Anthony "Tony" Alicea.
Tony is instructor and producer of JavaScript: Understanding the Weird Parts. Alicea has a calm demeanor and takes the time to methodically show you how JavaScript actually works.
Some of the things he expertly shows you:
Object-Oriented JavaScript & Prototypal Inheritance
Execution Contexts & Lexical Environments
Building Objects
Types & Operators
Objects & Functions
Exploring JavaScript frameworks like Angular.
With a runtime of just under 12 hours, JavaScript: Understanding the Weird Parts is short compared to other Udemy web development courses.
But don't be deceived — those relatively few hours you and Alicea spend together can be brutal. He squeezes in a lot of information in — be ready to stop the videos often.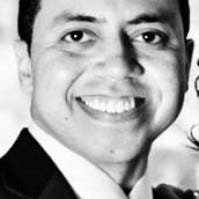 This is one of the very few JavaScript courses that doesn't need to be updated. Web technologies usually have the shelf life of a carton of half-and-half. Many times all it takes is a few months before a course is totally outdated!
However, none of this applies to JavaScript: Understanding the Weird Parts since it's all about the theory… not implementation or tooling.
---
3. Modern JavaScript from the Beginning
Brad Traversy has a talent for using plain English to describe highly-technical concepts.
Traversy's code editor is his chalkboard, sketching out everything from design patterns to object oriented programming principles (OOP).
Modern JavaScript From The Beginning is around 22 hours with 111 downloadable resources. It kicks off with over 3 hours of the JavaScript fundamentals.
Other topics include:
Basics & Fundamentals: Data types, let & const variables, functions, conditionals, loops, object literals, arrays, etc
DOM Manipulation: Selectors, traversing the DOM, show/hide, creating & removing elements, event listeners
OOP: ES5 prototypes, inheritance, ES2015 classes & sub-classes, constructors
Async JS: Ajax & XHR, Fetch API, callbacks, promises, async / await
ES2015+: Arrow functions, template strings, generators, iterators, maps & sets, symbols & more
JavaScript Patterns: Module, Factory, State, Observer, Mediator, Singleton
Other: Local & session storage, regular expressions, try/catch error handling
The really nice part about this course is that there aren't any libraries or frameworks to deal with. As a result, you'll be able to focus on what makes JavaScript work in the first place.
But that's just the start of it. Did I mention tons of projects?
Traversy is famous on YouTube for his project-based tutorials. His Udemy courses are no exception.
With Modern JavaScript From The Beginning you build many projects including:
Loan Calculator
Task with Local Storage
Number Guess Game
OOP Book Listing App (using ES5 Prototype & ES2015 Classes Version)
Chuck Norris Joke Generator
EasyHTTP, a custom HTTP Library (with three versions including Callbacks, Promises, and Async & Await)
Github Finder
WeatherJS App
Calorie Tracker (using Module Pattern)
Microposts: frontend CRUD for REST API using Webpack & Babel
For whatever reason there aren't many good "plain JavaScript" courses on Udemy. But Modern JavaScript From The Beginning is an exception. Traversy is an experienced instructor who is well loved amongst the self-taught developer community. This course deserves its 4.7 star average rating.
---
2. Learn and Understand NodeJS
Want to know what's funny and a bit crazy about Learn and Understand NodeJS? It's not even a completed course!
Alicea declared back in 2016 that this was the Early Bird version and not all content was published.
No updates since then. But still, this course is an amazing intro to a huge piece of backend web development.
Much like his flagship course JavaScript: Understanding the Weird Parts, Tony Alicea is mostly lecturing during the 13 hours of video material. With 5 articles and 53 downloadable resources, this course's metrics are by no means overwhelming.
You don't build tons of projects either. And actually the one project you do build is pretty hastily explained. It's OK for visualizing how everything fits together. . .But don't plan on sticking one this in your web dev portfolio.
The biggest selling point of Learn and Understand Node is Alicea's lecturing skills. While nobody likes being talked to for hours, his delivery and information are both crazy good. He's newbie friendly, too.
Who should take Learn and Understand NodeJS:
Aspiring MEAN stack devs
Aspiring NodeJS devs
Devs with no server technology experience but want to learn
Devs coming from other server technologies ( PHP, ASP.NET, Ruby on Rails) & want to learn Node
Devs needing a JavaScript-only ecosystem
Devs looking for a NodeJS bootcamp but also considering other options
Devs who need to learn the Express framework
---
1. The Complete Web Developer in 2019: Zero to Mastery
Instructor Andrei Neagoie left the 9-to-5 routine to pursue full-time tech teaching. His debut Udemy course The Complete Web Developer in 2019: Zero to Mastery displays his expansive and real-world knowledge of what self-taught developers both need and want in an online web development course.
But the Complete Web Developer in 2019: Zero to Mastery isn't an original concept.
Lots of coding bootcamp-style courses have been released before this one, from Colt Steele's The Web Developer Bootcamp (see above) to Angela Yu's The Complete 2019 Web Developer Bootcamp. The concept is straightforward, yet a challenge: how to teach people frontend AND backend web development in less than 50 hours of video?
But almost immediately, Neagoie's version sticks out for the better.
Firstly, he manages a robust Discord community. Thus, students don't have to feel like they're watching videos alone. If they need help debugging or want a study buddy, this community helps his learners. Additionally, Neagoie is highly active there. He offers students everything from coding challenges to giveaways.
Perhaps more importantly, the course is focused on the ultimate goal most people have: finding a job.
His section called "Career of a Web Developer" is almost 40 minutes of Neagoie describing what students may encounter at a developer job. Plus, he discusses topics like LinkedIn endorsements and what to do if you lack experience. These topics simply aren't discussed in other bootcamps.
Next, while there are many bootcamp-style courses on Udemy, they usually present similar technologies like MongoDB.
This isn't the case with Zero to Mastery.
While Neagoie does teach Node + Express he does show students how to build projects with PostgreSQL. He also teaches React.
The main project in Zero to Mastery is SmartBrain. This is a full-stack image recognization app where you're introduced to machine learning (ML) (but you also do the "normal stuff" like build the sign-in page):
Overall, The Complete Web Developer in 2019: Zero to Mastery is a fresh spin on Udemy coding bootcamps.
---
There you have it! These five Udemy courses are all excellent options to get started with web development.
Finally, if you have to start with just one, try Andrei Neagoie's Complete Web Developer in 2019: Zero to Mastery. That course alone will give you a good foundation and you can branch off to the other courses. Additionally, his support system is second to none.
Thanks for reading! Let me know some other great courses in the comments below.
P.S. Follow me on YouTube where I talk a lot about (mostly) cool web dev stuff:
Classic DEV Post from Mar 19