I wrote a post in the past describing my crypto mining plus gaming pc and after around 2-3 years of using it, I decided to add more GPUs to it and totally dedicate it to mining crypto. Ergo, I needed a new PC for my gaming and other day-to-day tasks apart from app development. App development I do only on my mac. In this post, I would be describing all the components I used in my PC and why I chose them over others.
Components of my PC
CPU
I went with the AMD Ryzen 7 5800X. Given that the price of this reduced quite a lot lately it didn't make any sense to go with AMD Ryzen 7 3800X. Now, why did I go with AMD and not Intel? You can see various comparisons here and here and see how AMD beats even the newer versions of Intel CPU. Moreover, Intel keeps changing the chipset every other year, therefore, if I later want to upgrade my CPU later, I have to change my motherboard too. This is something I simply abhor. AMD has kept the same chipset for 4 years+ now so I can upgrade my CPU without upgrading my motherboard.
Motherboard
One of the best AMD motherboards around the $300 price range is the MSI MAG X570 Tomahawk motherboard. It is so good that it is comparable with the $500+ motherboards. There's a story to it actually. MSI released a motherboard prior to this which received huge criticism as it was getting too hot unnecessarily. MSI never released a poor motherboard and this was the first that wasn't up to the mark having VRM thermal issues. Obviously, MSI wanted to keep its brand name at the top, and therefore to compensate for its poor motherboard release earlier, it gave its best to the X570 Tomahawk motherboard. You can go through the Gamers Nexus review to know more.
Apart from this, this motherboard has all the necessary features one would hope for. It supports the latest AMD Gen CPUs (after a BIOS update - which is quite easy with this motherboard), supports PCI 4.0 NVMe SSD, has Wifi 6, Bluetooth 5.0, RGB, loads of USB, and Fan controls. You can learn more on the official MSI website.
MSI released a newer version of this motherboard recently with a more powerful Wifi and slightly different aesthetics.
RAM
I went with the most trusted brand for RAMs, the Corsair Vengeance RGB PRO 32 GB (4 x 8 GB) 3200 MHz C16. I know we have G-Skill, Kingston, et al. but Corsair is known for the best RAMs for ages and I like the RGB aesthetics of this model. Performance-wise too it beats the others with similar spec. Having said that, if you get something else of better spec in the same/cheaper price range you can go with it.
SSD
Who uses HDD nowadays? No one is even using the 2.5 inch SATA SSDs. The fastest SSDs in the market are the M.2 NVMe PCIe SSDs that plug into your PCIe interface and not SATA. As we now have the new PCIe interface which is version 4 allowing for faster data transfer rates, we have NMVe SSDs that are made for this new PCI version and are backward compatible too (i.e., Gen 3).
I went with the WD Black SN850 1TB NVMe SSD after comparing it with the Samsung and Crucial NVMe SSDs as the data transfer rates were the highest in WD.
AIO Cooler
The best-looking AIO cooler until now is from NZXT. The model is Kraken Z73. It has an LCD display which you can program to show anything you want, the CPU/GPU temperature, your brand logo, you name it. Performance and quality-wise this is great too. Have read great reviews online about this with little to no complaints. I am quite happy with this purchase. You can even go with the RGB fan version of this or go with the one that I went with and replace the default NZXT fans with your own RGB fans (which is what I did).
RGB Fans
I selected the Antec Prism 120 ARGB 120mm Case Fans. The price of this has increased quite a lot since I bought it. I wanted PWM fans that can be easily speed-controlled and had ring-like RGB lights at a reasonable price. Antec fans were cheaper than the other fans at the time I bought them, not sure now though, and were of good quality too with no negative reviews. I got 2 packs (10 fans in total) of them.
GPU
This is interesting to talk about as we all know how much of a GPU shortage there is now. However, after paying extortionate prices I managed to get a couple of the latest GPUs (RTX 3070 and 3080 -- both non-LHR). Having said that, I didn't install them on this PC but on my mining rig and used one of my older GTX 1080 from the mining rig in this PC. To my surprise, this 1080 is quite capable and is running most of my AAA games in 4K with no problems at all and at ultra-high settings. Although, it struggles to run NFS Payback at extremely high settings. But if you reduce the settings a tad, it runs Payback too with ease.
PSU
PSU stands for Power Supply Unit and is responsible for providing the right amount of juice needed to run everything in your PC. You can use the Power Supply Calculator to know the minimum power your PSU should have. You can buy any PSU, although I prefer at least Gold certified, with more power than what's stated in the calculator for you.
I went with the Corsair HX1000i which is of 1000W power, Platinum certified, and comes with 10 years of warranty. I didn't want to skimp on PSU as all of my other components are expensive and I didn't want to risk them all by being frugal here. Some other well-known brands for PSU are Cooler Master, Seasonic, and Fractal Design.
Monitor
After using Mac with Retina Display for my app development, I was so used to using a high PPI screen that I didn't want to settle for a lower PPI monitor for my pc. And, I didn't want to go smaller than 27 inches. This leaves me with only one option and that is a 4K monitor. To understand why this is so, you have to understand what PPI is. PPI stands for Pixels Per Inch -- the number of Pixels in a square inch area of your screen. So, if you're going with a 27-inch screen then you need at least 4K pixels in total such that the pixels per inch are more making the screen clear like a retina display when viewing at a normal viewing distance. You can even check whether your screen is a Retina Display or at what viewing distance it becomes a Retina Display.
Enough preamble, so which one did I go with finally? I went with none other than the LG 27GP950-B. This model is quite hard to find online now but luckily somehow I got it from Currys without paying exorbitant prices that you would see elsewhere on Amazon. This monitor ticks all the boxes, it is 4K, has high refresh rates (165 Hz), 1ms response time, supports Nvidia G-Sync and AMD Free Sync, HDMI 2.1, USB 3.0, HDR. What more can you ask for? Its earlier version 27GN950, which I had before, was the first-ever 4K monitor to have a very high refresh rate with a 1ms response time but it had HDMI 2.0.
Case
I always dreamt of a full glass case that shows off the RGB fans, LCD screen of the AIO, et al. and no other case can beat the Lian Li O11 Dynamic in that regard. It not only shows up the pretty things in a PC but quite nicely hides the ugly parts such as PSU, HDD, etc. The airflow is great too with air flowing through 4 sides of the case. There's a midi-tower and even a full-tower version of the Lian Li O11 Dynamic. This case is a joint work of the well-known Der8auer and Lian Li so it ought to be good.
This is how everything finally looks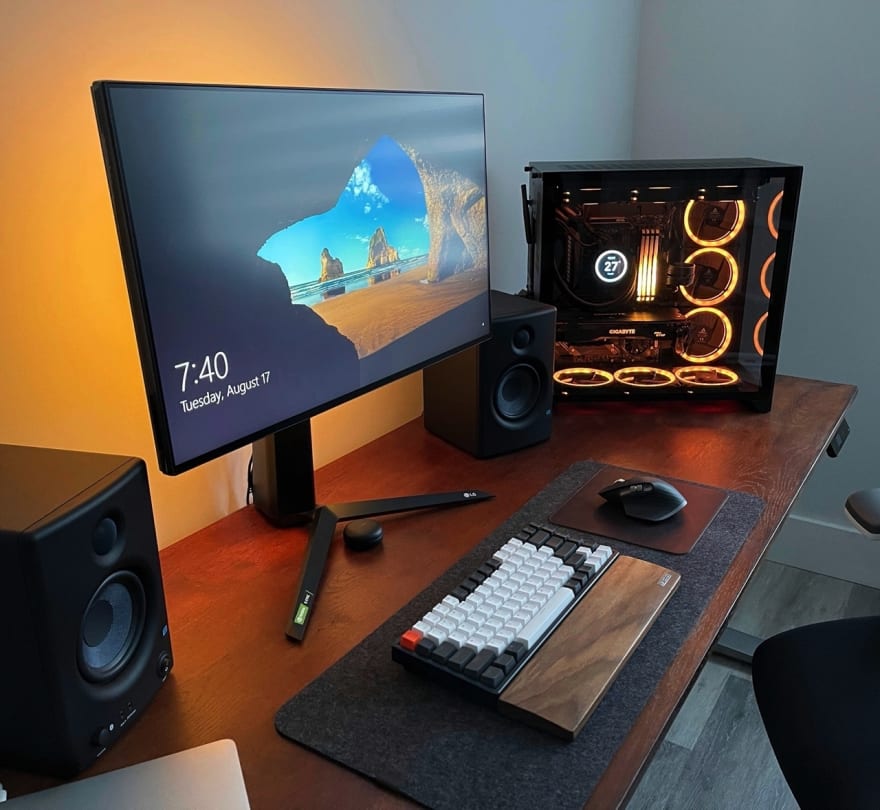 List of all the links
US
UK
P.S. This was originally posted on my personal blog.
P.P.S. I am planning to grow my Twitter network with Indie developers or just anyone working on something of their own. I would love to connect with y'all so that we can learn from each other's experiences.