It's 2023! We at OLA Campus Pune are excited to reflect on the many milestones we've achieved over the past 12 months. It's been a busy and productive year, and we're proud to have made significant progress in our mission to contribute to better mobility and navigation tech.
A new era of Navigation
One of the year's main highlights has been the implementation of OLA MAPS * distant fireworks! * on our Test Ride web application. This new feature has made it easier for our users to locate charging stations and test ride locations, improving the overall ride experience with OLA Maps.
Bhavish Aggarwal

@bhash

We've made our in house maps live on the Ola Electric website! Soon all Ola properties will run only Ola Maps.

Absolutely excited about the potential to build the future of maps for India in India 🙂😎

#MakeInIndia

16:51 PM - 07 Nov 2022
Technical advancements
The development of Digital Surface Models (DSM) has also progressed a lot. We have created an automated procedure to generate DSMs using open-source GitHub repositories and customised Python code. As a result, we are able to estimate elevations with extremely high accuracy by utilising Tri-Stereo satellite image data.
This technology has numerous applications, including some amazing use cases in mobility..
And while we're on the topic of navigation, we've made significant advancements in increasing GPS accuracy. It has the potential to benefit signific individuals in navigating their surroundings, particularly in urban areas where the density of buildings and infrastructure can pose challenges. As is everything in the world of tech, this is still work in progress, but we're proud to have made this a priority in our development efforts.
We have made a significant contribution to coarse-level change detection by StaMPS interferometry technology for detecting infrastructural changes in urban areas. This will help us improve our existing algorithms with respect to the change in road infrastructure. We are one of the first to implement an algorithm traditionally used to predict changes in a natural catastrophe to detect infrastructural changes in cities. .We will publish a research paper detailing our methodology in the near future.
On the engineering side, we have developed a comprehensive navigation system that utilizes our own data and enables us to search for and add new places to our database. We are able to quickly identify missing roads and add them to our database, as we demonstrate by regularly updating our data with respect to real-time events and scenarios. This capability sets us apart from other providers who are unable to update their databases promptly, causing issues with their navigation systems.
We are working on creating models that can identify and extract points of interest (POIs) from street-level images, allowing us to expand and improve our database constantly.
We're excited to see what the future holds!
Giving back to the community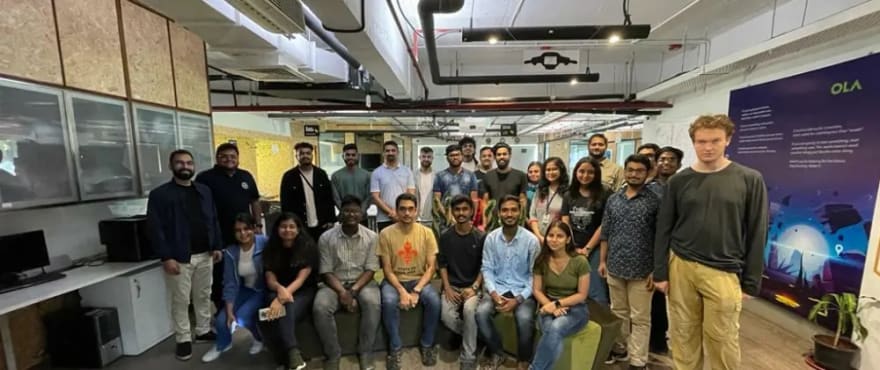 We welcomed various communities to come to our campus and share their expertise. By opening our doors to these groups, we can foster a sense of collaboration and community within the field and provide a platform for exchanging ideas and knowledge.
We marked our presence at several tech conferences to interact with industry peers and exchange ideas. By attending these conferences, our employees could gain valuable insights and knowledge they could bring back to the company and apply to their work.
One such conference was SOTM 2022 in Firenze. Our Senior Director & Head of Maps, Dhruva Rajan, had the opportunity to meet many esteemed individuals within the OpenStreetMap community. He also gained valuable insights into the various advancements and innovations for the OpenStreetMap community. He, too, penned down his experience here in this blog post.
Sharing Our Expertise: The Launch of Our Technical Blog Series
One of the initiatives we're most excited about this year is launching our technical blog series. To share our knowledge and expertise with the broader community, we've begun publishing technical blogs written by experts.
We've received a great response so far, with many readers finding our blogs informative, and grateful for this chance to give back to the FOSS community, where we've learnt so much from ourselves. We're thrilled to be able to contribute to the conversation around Mobility to share our insights with others, and we're excited to continue this effort in 2023.
We covered a range of topics, including the #30DayMapChallenge. We covered the use of data science in driving, cross-site scripting (XSS) vulnerabilities in JavaScript, the benefits of using Nuxt & Windi, best practices for using Tailwind, and how to get started with Maplibre and OpenStreetMap.
The series highlighted modern web development frameworks and best practices to build high-quality, secure applications. We also demonstrated the practical applications of these technologies using real-world examples.
If you still need to check out our blog here, we encourage you to look. We're confident you'll find something of value in these informative and thought-provoking pieces.
Overall, it's been a remarkable year for OLA Campus Pune, and we're grateful for the support and encouragement of our fantastic team.
We're looking forward to an even more successful and impactful year ahead, and we hope you'll join us on this journey.