Many back-end and front-end partners think that CSS is hard to learn and that becoming a CSS Master is even more challenging.
We suggest that you know from Github's best open-source CSS projects.
So, I chose 10 repositories on Github to share with you so that we can all learn together and become CSS Masters.
I work full-time freelancer, and these CSS libraries have helped me make money more quickly.
To become CSS Masters, using them is not enough; we also need to study and learn the code.
I'm a full-time Freelancer. Hire me on Upwork.
Table of Contents
Animate.css
⭐ Github stars: 75.4k +
🍿 A cross-browser library of CSS animations. As easy to use as an easy thing.
It is easy to use its animation effects in our projects. We can learn how to use CSS animations.
Github
Size
NPM
normalize.css
⭐ Github stars: 45.9k +
A modern alternative to CSS resets
When we design our own website CSS styles, we usually CSS resets in order to avoid the impact of browser default styles.
Github
Size
NPM
Bulma
⭐ Github stars: 48.4k +
Modern CSS framework based on Flexbox
We can look at Bulma's code to learn about CSS FlexBox.
Github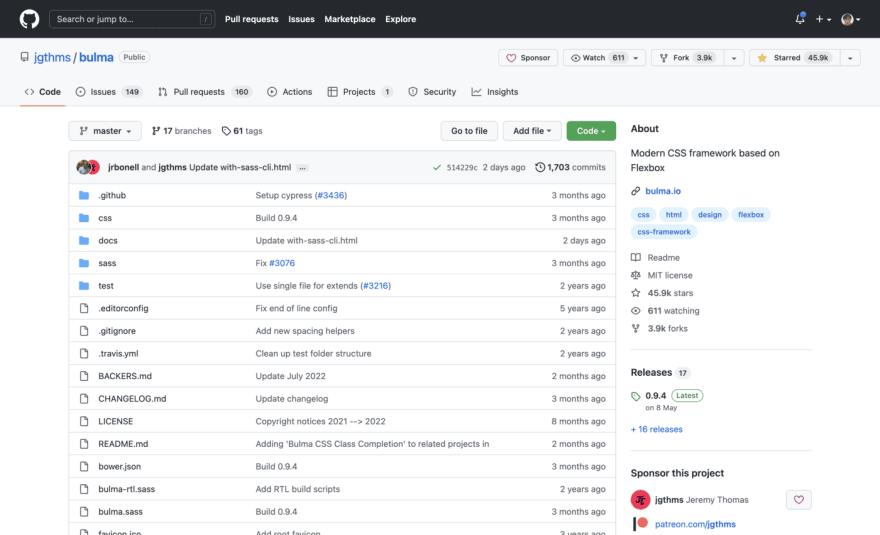 Size
NPM
Hover.css
A collection of CSS3 powered hover effects to be applied to links, buttons, logos, SVG, featured images and so on. Easily apply to your own elements, modify or just use for inspiration. Available in CSS, Sass, and LESS.
⭐ Github stars: 26.2k +
Github
Size
NPM
50 Projects in 50 Days
Github
SpinKit
A collection of loading indicators animated with CSS
We're going to add the animation to the page load ourselves, so make sure to look at its code.
⭐ Github stars: 18.9k +
Github
Size
NPM
You Don't Need JavaScript
CSS is powerful, you can do a lot of things without JS.
Here, we can find out a lot of interesting things. You don't have to use JavaScript to do many things that can be done with CSS alone.
⭐ Github stars: 17.4k +
Github
30 Seconds of CSS
Short CSS code snippets for all your development needs.
Here, we can learn a lot of cool CSS tricks.
⭐ Github stars: 15.6k +
Github
Ratchet
Build mobile apps with simple HTML, CSS, and JavaScript components.
⭐ Github stars: 14.5k +
Github
Solved by Flexbox
A showcase of problems once hard or impossible to solve with CSS alone, now made trivially easy with Flexbox.
We can learn a lot about how to use CSS FlexBox here.
⭐ Github stars: 13k +
Github
Remote Jobs
Give Me Great Power
I'm a full-time Freelancer. Hire me on Upwork.
Writing has always been my passion, and it gives me the pleasure of helping and inspiring people. If you have any questions, feel free to reach out!