As an electronics engineer, I am always curious about android development.so I learned Android development using java. Now I want to build an app that provides some real value to their user. In short, I want to publish my app to the play store from where users can download and use it.
Why android:
• 129.1 million user Android users
• Open-source
• High success ratio
• Large community
I build lots of apps for practising Android development, but I want app ideas that must provide some value to their user. we have lots of categories in android to develop apps on it so I prefer to observe the world for selecting a category from it. after someday I get the idea to build an app for it.
I prefer to select art & design categories for my app and  The app idea is to provide references and new designs to mehndi design artists.
Mehndi is a form of body art and temporary skin decoration from the Indian Subcontinent usually drawn on hands or legs.
Idea:
• Provide a new mehndi design.
• Mehndi design course with certificate of completion.
Now according to the idea or need, we have to provide an application-based solution. first of all, every application idea has there own function requirements for functionality.
I meet some mehndi design artists to get content and design guide from it .from there I get 1000+ mehndi designs and structured basic mehndi design course.
Now I have content. now I can start building an app. and I start programming an app after understanding the requirements.
Requirements and solutions:
-Design is in the form of the image so the app must support image view.
Design image must be zoomable.
For providing and updating the new Mehndi design. real-time database and Cloud storage required.  Firebase 🔥 _ -_For sorting and search, every design must have a unique id. Designed
Share button for sharing image URL to social media which support deep link for communicating app to app.
For future reference design must be saved or has the favourite section to pin it so we use SQLite to solve this.
The course of mehndi design is in form of a video so we need a video player. I integrated youtube as a video player.
Certificate generation. certificates are generated as images on the user side by using canvas and bitmap in the program.
  Tracking the progress of users we used SQLite.
Many more.....
I  preferred starting an app development from designing UI.
Ui:
• Must be simple and straight.
• Don't confuse users for better design.
Starting UI design on paper is time-saving and flexible for ideation and brainstorming.
UI Design idea to implement:
Home layout :
Category layout :
Fullscreen Layout :
Favourite layout:
Course Layout :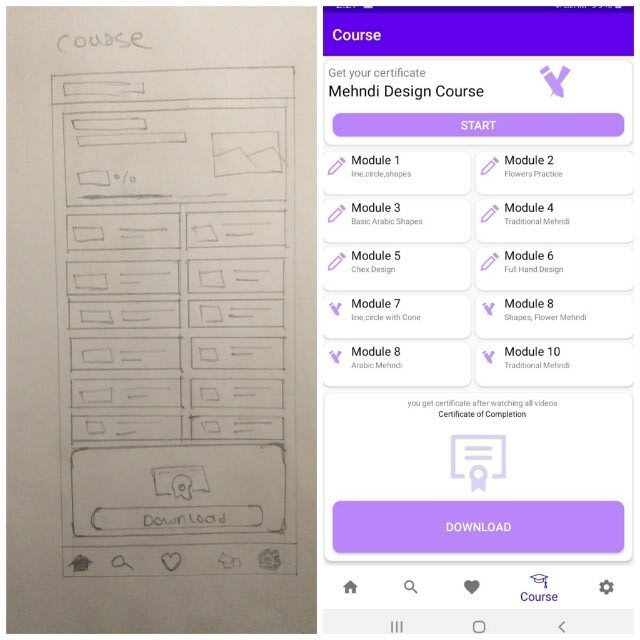 Video Layout: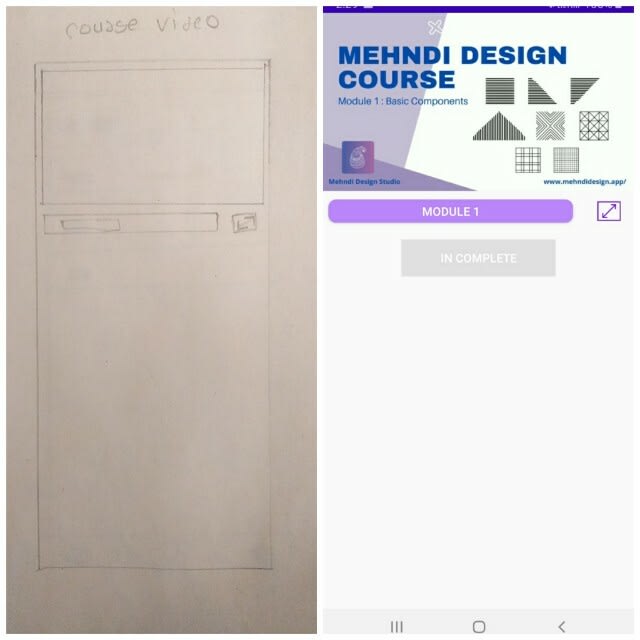 Certification layout :
After programming the backend, the app is now ready to publish on the play store and I published it.
You can experience the app here:
https://play.google.com/store/apps/details?id=app.mehndidesign