Couple of weeks ago I embarked on a challenge to prove you can build a product with just HTML and CSS that people would love and even pay for. I've set a 30 days deadline and promised to present results transparently.
Results
So 10 days after placing the project online it achieved 4.3K visitors, 31 sales and $465 as passive income. This means the sales were made while I was relaxing and thinking about my next challenges.
Of course being a product it also means that sales will continue to happen in the future but at a lower rate compared to the 10 days from launch. It's up to me to increase the frequency.
Here are some stats from the 5th day from placing it online: close to 3000 visitors, 19 sales and $285.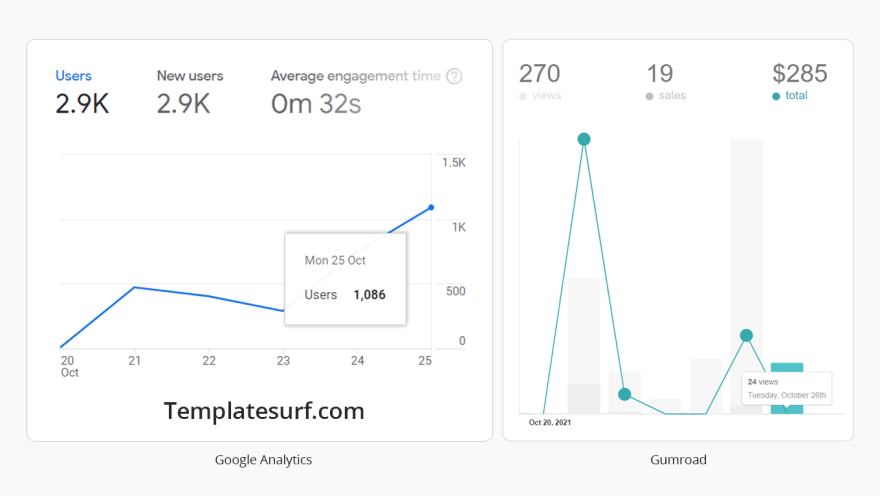 Product
The product itself is a HTML website consisting of 3 pages which present 10 HTML templates for websites and landing pages. The templates are the bulk of the product and took the best part of 30 days to create.
As tech stack I used HTML, CSS, very little Bootstrap and few JS plugins for advanced features. To design the templates I relied on my previous experience with this and used Adobe Photoshop and Illustrator.
To power up sales and item delivery I've used Gumroad which probably is the best nocode tool for digital creators. For marketing I used mostly Twitter and had good results with Reddit and Product Hunt.
Spent $0 on this project besides the domain name cost and super basic hosting. Didn't buy any adds or other marketing help. Not because I didn't want to, just because I didn't have the money :)
Making of
I created a tweet journal for the 30 days challenge where I posted all my actions and reasoning behind them. It's filled with tips, ideas and even an HTML template roadmap for devs. Available here launchin30html.carrd.co
Hope this will provide inspiration and motivation for web developers to master HTML and CSS well. Would love to have your feedback and answer your questions in the comments section.