I have always been passionate about the computer world.
Here I am developer since 4 beautiful years and over projects, failures and victories, I realized one thing: I like to help people & share my knowledge.
2 years ago, I remember thinking: "Later, when I gained experience in development, I would like to accompany people while still coding."
The problem was that I could not really express this type of job, I saw project managers controlling budgets & roadmap with no time available to be technically operational. Moreover, part of their time was devoted to accompany team members. So, it was difficult for me to imagine that this kind of "technical manager" role could emerge within an organization.
And then, with the rise of agility, feature teams & product management, the animation of teams had to change and that's how I discovered Technical Leadership & Engineering Management.
In this series, I will tell you about my path to become an Engineering Manager.
1st step: finding a company that will let me reach my goals 🎯
Digital is booming, the job market has never been so good for us, so we have the chance to choose our employer.
With this in mind and my experience as a Software Engineer, I used my network to find a company that met my criteria. By the way, I did not tell you about them!
First, I needed to be in a company that shares my values: the well-being for collaborators, trust and good culture. Then, I wanted to have strong missions with responsibilities & the autonomy to reach them. I was looking for a company allowing the employee to wear several hats in order not to be stuck on a particular job. So, I wanted to be able to reach other missions without necessarily being slowed by my age or a young experience but rather to access it thanks to a recognition by peers.
This is how I joined Decathlon, the largest sporting goods retailer in the world, where I obtained a Technical Leader position as a main mission and a Front-End Community Leader position as an additional part of my job.
Decathlon, the place where I(we) am(are) growing up 🏃‍♂️
In this first article, I must explain a little background about my company and the evolution of its managerial model in IT, making my goals achievable (provided I give myself the means to do so).
As in most companies, digital moves at a crazy pace. Our ways of working too. Thanks to its listening of the new methodologies, Decathlon has implemented agility at scale by setting up an organization in product mode. This allowed teams to get closer to the users and provoked the emergence of "feature teams", autonomous from build to run.
This organization was well received by employees. However, it soon became necessary to face a new problem: with such an organization, what about management?
A Product Owner has to be focus on his product, who would accompany the various members of the team (multidisciplinary) on their evolution and career plan?
This is why Decathlon has implemented a matrix scheme by introducing Engineering Management (or Skills Management) within its organization.
Therefore, our project leader is not our hierarchical leader. We each have a manager who practices (still today) our job.
This scheme brings many values: our Engineering Manager can support us in our development because he knows our problems. He is in collaboration with other managers of our competence if we ever wish to change our mission. This results in a lot of satisfaction and allows us to aim for operational excellence.
Now, it's up to me to look for the opportunity! ✨
Well, I have just explained my different missions and the current organization of my company. So, you can see that I have to go my way to reach my goals. And I will not be alone to achieve it if I respect two keywords: motivation & ambition.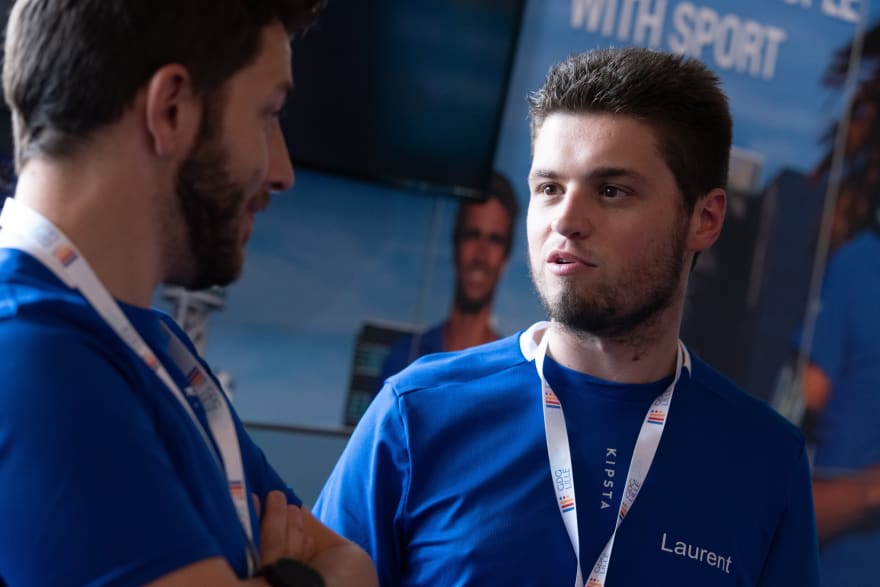 In the next article, I'll talk about my position as a Technical Leader, what this role entails and why it's important to practice it before applying for an Engineering Manager position.
I hope you enjoyed this first part. The idea of this series is about giving you feedback so you can get inspired. Feel free to let me some remarks and questions in comments. I will be happy to help you!
See you next time! 👋
Cover picture by Hayden Walker on Unsplash
Posted on by:
Passionate DEVeloper, blogger & console logger 👨🏻‍💻 - but also DJ, pianist, guitarist, speaker & life lover 🖖