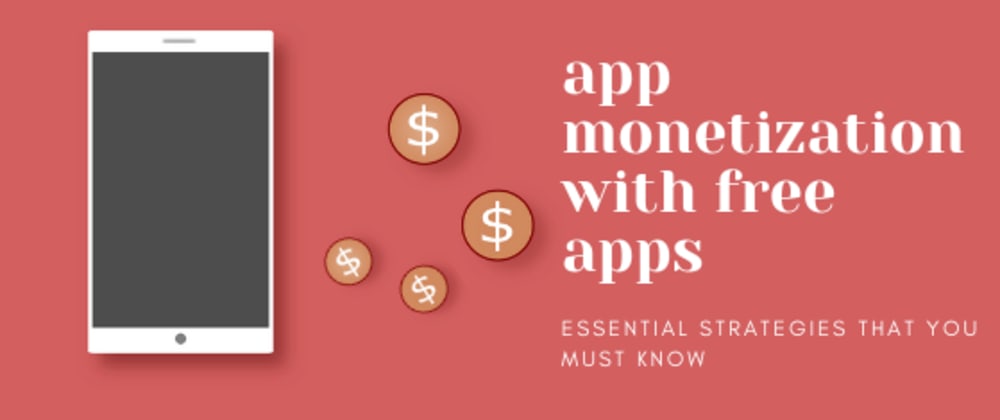 Once you have an app, it is natural to want to monetize it. There are many monetization strategies you can apply to make a significant amount of money with your app, only if you know the proper monetization strategies.
One of the most popular ways of monetizing is to make the app paid. The users will have to pay in order to download and install the app. This is a sure way of getting a steady stream of revenue. But the amount of people who would happily pay to install the app is going to be too little. Most of the users out there want free apps.
So if you want to make your app a free one, then you need to learn some ways to make money with it. Here we are going to tell you about six ways your free app can make money with.
1. Advertising
Advertising is the oldest and one of the tested and proven ways of making money with free apps. Whether it's a native app or hybrid, The workings of this monetization technique are quite simple. All you have to do is to show an app from a third party app network in your app. Every time that ad is clicked on and installed, you get paid.
There are four kinds of ads you can show through your app. These are- 
Interstitial Ads: full-screen apps, with a small cross sign at the top to close it if the user doesn't want to continue with the ad.
Banner ads: appearing at the top of bottom of the app screen, almost like a banner.
Video ads: more often used as a rewarding technique. The user will watch the ad to get something in return like game currency. They either appear spontaneously or have to be triggered by the user.
Native ads: these ads are designed to appear as an integral part of the app itself. They are less obtrusive and provide better ad experience than the previously mentioned ads.
Even though it is the easiest way of making money with your app, it is also the most disturbing to the users. They want a smooth app experience with no hitches, and to some, ads may seem like big hitches. 
2. Subscriptions
Another way of making money with your app is through the subscription model. The model works simply enough. All the user needs to do in order to get access to selected content is to pay on a weekly, monthly or yearly basis. This way you will get a steady stream of revenue and they will get access to fresh new content.
Apps such as the wall street journal, the new york times, Spotify, Netflix have applied this strategy successfully. Though the apps are free to download, the users need to subscribe to the service in order to gain access to the special content on the app.
However, you want to successfully integrate this strategy, you need to have a steady flow of new and fresh content. If you don't then the users will surely cancel their subscription and the flow of revenue will stop.
3. In-app Purchase 
The gamers are most familiar with this monetization technique. You offer a bundle of goodies relevant to the app for a special price to the users. In games, this can be gems, and coins, etc. the loyal fans of your app will always make these purchase. However, there are some other apps that are coming forward with this monetization strategy. They are offering in-app tokens for a price to their users, and these tokens can be used to unlock special features within the app.
 However, this is not the most reliable way of making money with your app. Not everyone is willing to spend money on in-app purchases. So unless you have some incredibly loyal fans who would spend money on such purchases without asking questions, this strategy will not make you a lot of money.
4. Collecting And Selling User Data
An app is going to collect a lot of user data, such as email id, social network data, and their app preferences. And these data are highly desirable to the marketing agencies and other clients, who want to use this data to make profits for themselves. 
Which is how you can make money by selling these data to the third party clients. You can also make use of this data yourself for better integration of ads on your app. This way you can make money on both ends. A lot of mobile app development services do not think of this feature. When you go on contract with one, check if they help you collecting and selling user data legally.
5. Freemium Features
Last but not least, the freemium model is probably the most popular among the users. It applies to apps with limited features. These apps are obviously free and functional without paying a penny. But if the user wants to access some special features, like that ad-less version or unlock that special content, they would have to pay for it.
The subscription model and freemium model may seem similar to the many. But the only difference is that in a subscription model, the user has to pay on a weekly, monthly or yearly basis. But the freemium model is a one-time payment model. Once the user has paid for the special feature, they don't have to pay any more, they can make free use of that feature anytime they want, as there is no expiry date to that feature.
6. E-mail Marketing
This is the ultimate tried and tested way of making money with not only apps but any kind of service. By collecting the user email id during the sign-up process, you can utilize the ids to send them emails about new features and offers, heating up their interest in the app when it seems that they are losing interest.
With email marketing, you can't only notify them about new apps and services you might be launching. But do not forget to give the users the option of opting out of receiving the emails. Not everyone likes an inbox cluttered with marketing emails from apps.
Making money with free apps is not that hard. In fact, when it comes to making revenue with apps, free apps make more money than the paid apps. This has to do a lot with app user demographic. So before you choose any of these app monetization strategies, make sure that you consider your target user demographic. Because not every strategy is going to work on all and every kind of user base. Which is why even though it is not hard to make money with free apps, it can be tricky.
Posted on by:
Hi! I am Jessica, a Marketer and Research Writer by background. I take interest in latest web and mobile app development trends and technologies.