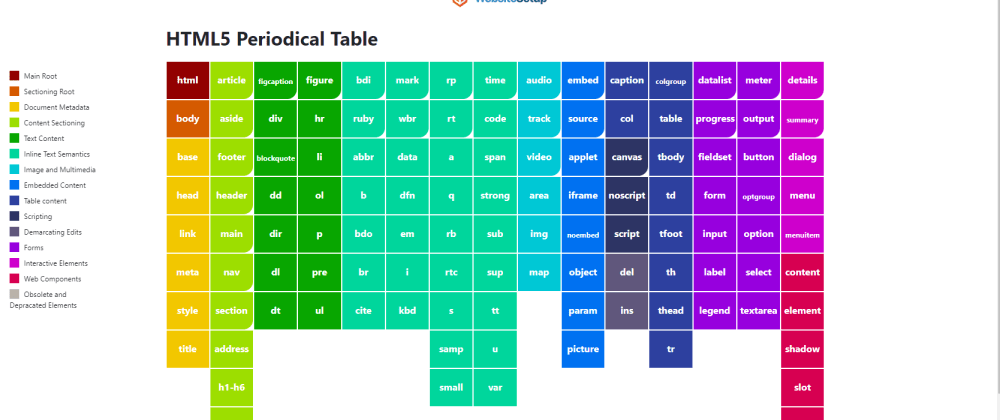 This article contains promotional information
---
Ask yourself the following questions:
Am I wanting to learn HTML?
Am I wanting to develop my HTML Skills?
Am I Just bored and want to spend my time well?
If you answered, "Yes"(or "True") to any of the above questions, then I recommend that you read on as you may just find this article useful, however, if you answered "No"(or "False"), just read on anyway, what harm could it do?
---
So, I'm writing this article today to talk about one of my favourite HTML tools on the Web, The HTML5 Periodic Table by WebsiteSetup.org
WebsiteSetup.org is a free resource site for helping people to create, customize and improve their websites. (In case you are interested)
It's incredibly useful for any developer using HTML and the great thing is that the tool is mobile friendly so anyone can use it, anywhere they want for absolutely zero cost!
Check out the tool here!
Let's take a look at this tool then!

Just like with the normal periodic table, it has different colours for different types of tags, great for helping you remember your tag names!
Furthermore, if you click on a tag, it brings up a short description of the tag!

In case you haven't noticed, I love this tool, the content is great and along with the nifty javascript/CSS animations, the tool is concise and useful, I've found it really useful when I can't remember a certain tag or when I'm not sure which tag to use. Hopefully, you'll find it useful too!
Have A Great Day!