I have been quite quiet on the content creation front. Don't worry I haven't run out of ideas, I have instead been working on adding some structure and breadth to my content creation strategy (or, for those of you who follow me...actually adding some strategy in the first place rather than just writing about whatever random thing pops into my head! 🤣).
In this article (which will be part of a series on content creation) I want to share one of the key elements of my strategy - my 15 box method!
It has two purposes:-
it helps me to come up with articles ideas quickly and easily
it helps me to maximise the amount of content I create with each idea.
I hope fellow content creators can steal this concept and adapt it to their needs!
The 15 box method
The concept is simple, there are 3 rows of 5 boxes.
Each row represents a medium or media type.
Each column represents content length / complexity going from shortest to longest.
Whenever you create a piece of content you decide which box is most applicable and then work your way outwards from that box until you have exhausted all the possible avenues for that content.
Sound confusing? Don't worry an example will make it easier to understand.
Example Usage and further explanation
Here are the 15 boxes I use: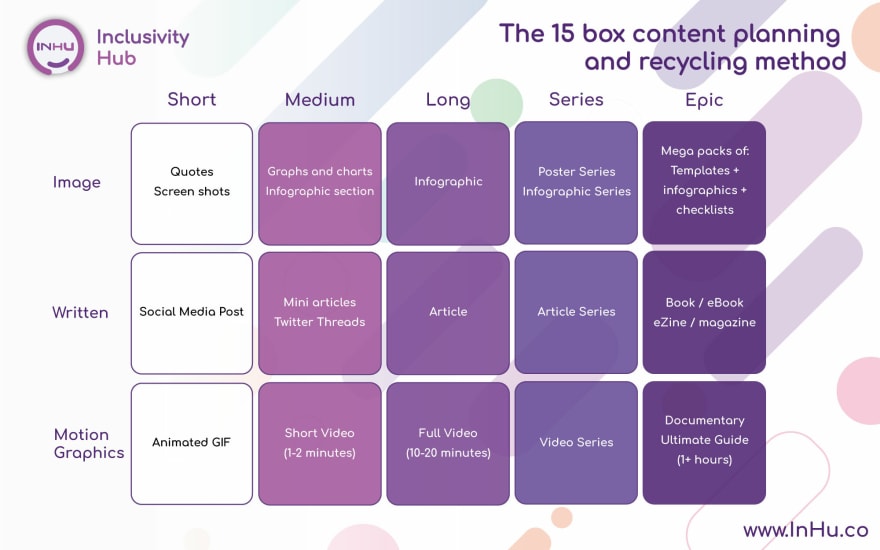 As a Table
| | Short | Medium | Long | Series | Epic |
| --- | --- | --- | --- | --- | --- |
| Image | Quotes, Screen Shots | Graphs and charts, section of infographic | Infographic | Poster Series, Infographic Series | Mega packs of: Templates + infographics + checklists |
| Written | Social Media Post | Mini articles, Twitter Threads | Article | Article Series | Book / eBook, eZine / magazine |
| Motion Graphics | Animated GIF | Short Video (1-2 minutes) | Full Video (10-20 minutes) | Video Series | Documentary, Ultimate Guide (1+ hours) |
How to use it for content ideas generation
Do a little research and find an interesting article / subject to write about.
While researching the subject let's say you think of a great tweet about "Semantic HTML".
You would start in the relevant box (Short + Written) and then try and come up with ways to recycle that content into the surrounding boxes.
So one box up is Short + Image, and you might decide to do a dual screen shot of some "div soup" next to "semantic HTML" as a comparison of how much easier semantic HTML is to understand.
We now have 2 pieces of content.
Then you would go one box down and see if you can come up with an animated GIF - for example 5 scenes:
"don't do this"
screenshot of div soup
"instead do this"
screenshot of semantic HTML
Benefits of semantic HTML (SEO, accessibility etc.)
We now have 3 pieces of content.
You would continue this method until you run out of ideas or have filled in all the boxes.
So an example may be:
Full example of content planning
Image + Short

side-by-side screen shots of "div soup" next to "semantic HTML"

Image + Medium

Chart of percentage of websites using certain semantic SEO elements

Image + Long

20 HTML elements to improve your SEO infographic

Image + Series

Series of posters explaining each HTML element and do's and don'ts when using it

Image + Epic

Complete poster pack for every HTML element + a flow chart / decision tree on correct element choice + required attributes checklist

Written + Short

Tweet "semantic HTML makes your markup easier to read, is better for SEO and accessibility, don't use s everywhere"

Written + Medium

Twitter thread: 20 HTML elements to improve your SEO

Written + Long

20 HTML elements to improve your SEO detailed explanation and code examples / usage

Written + Series

Series of articles explaining each HTML element and do's and don'ts when using it plus designing considerations, accessibility and performance

Written + Epic

Convert the article series into a eBook linked to a load of codepens people can use

Motion Graphics + Short

5 Scene GIF: 1. "don't do this" 2. screenshot of div soup 3. "instead do this" 4. screenshot of semantic HTML 5. Benefits of semantic HTML (SEO, accessibility etc.)

Motion Graphics + Medium

XXX element explained in less than 120 seconds

Motion Graphics + Long

XXX element in depth look at usage, relevant attributes, styling options, relevant WAI-ARIA, performance considerations etc.

Motion Graphics + Series

Series of videos explaining each HTML element and do's and don'ts when using it plus designing considerations, accessibility and performance

Motion Graphics + Epic

Turn videos into Udemy course "in depth HTML for beginners"

How I use it for content idea generation

I start at the "Written - Series" row and column.

By thinking of series it inevitably leads to multiple articles that form part of that series (it also let's you think of an order for your articles that makes sense).

Each article has the opportunity to become short articles / twitter threads.

Key parts of the articles may make great single tweets.

Twitter threads may make a great infographic, or the article itself may make a great infographic.

The idea is to use the boxes to spark ideas for other content.

Also by looking vertically you can easily see how an article could become a video or an infographic, or how a twitter thread could easily become a YouTube #short (1-2 minute video) etc.

---

I will be writing a further article on how I generated 20 years worth of content in 1 day using the "series thinking" method!

So stay tuned (follow me) for that!

---

How to use it for content recycling

The method is the same but you utilise existing content.

For example I have an article:

It took me ages to create at over 16500 words and to be honest the views were disappointing (although it is top for #a11y for the year here on DEV so it isn't all bad!)!

But now I can use the 15 box method to reuse that content.

I couldn't make it into a series as it is so I would ignore "Written - Series" (I am not writing a series of 16500 word articles...it would kill me!).

But I could go the other way and create several Twitter threads ("Written - Medium") based on each main category (of which there are 14 main category sections, so that is 14 twitter threads that can all link back to the article).

I could also turn each of these sections into infographics, so that is 14 more pieces of content.

I could then turn each individual point (well most of them) into 120 second videos (YouTube #Shorts, Tik Tok videos, Instagram) giving me nearly 100 videos.

I could tweet a single point every day, giving me nearly 100 tweets (or more, there may be 2 good tweets in a section) etc.

See how I have just generated over 230 different content ideas from one article...and I haven't even filled out all the boxes!

Now you may not have a mega article like that to recycle (most people aren't as stupid as me putting that much time into a single article 🤣), but the principle will still work.

What next?

Grab a piece of paper and write down 10 ideas for an article (go read some other articles and see if you think you can write a better version / a different take).

Then just work your way outwards from the "Written - Long" section for each article idea and see what ideas it sparks.

If you can't think of an idea for a box just skip it for now, you may find another idea from a different box helps you fill in the blanks.

Also bear in mind that you don't only have to have one item in each box (especially in the short, medium and long columns).

Within an hour I guarantee you will have too much content to create!

Podcasts and Audio

I have no intention (at this time) of doing podcasts, but you may decide you want to remove the video row (for example) and replace it with an audio row.

My suggestions would be something like:

Audio + Short

A quick voice note shared on relevant communities?

Audio + Medium

A 2-5 minute explainer on a subject

Audio + Long

A podcast episode (20-60 minutes)

Audio + Series

A series of podcasts cantered around a particular subject with a structured tutorial element / logical progression of complexity on the subject

Audio + Epic

A complete audio book (convert "Written + Epic" book into an audio book)

Obviously I haven't given that as much thought / research so I would encourage you to come up with different content types that fit.

Further parts of the series

In the next part of the series I will be looking at which pieces of content fit on what platforms, what limitations those platforms have etc.

The whole idea is to streamline the creation process so I can churn out loads of high quality content quickly, while automating as much as possible!

So what do you think?

A quick poll to see what people think of the 15 box method: