"Google Chrome is one of the most popular internet browsers with a vast user base. The search engine giant offers a comprehensive list of extensions for a better browsing experience for users. However, recently, we've come across some queries related to Chrome crashing on Windows 10. And the most common reason behind this problem seems to be the Chrome extensions and the tabs we get after installing the Chrome Beta (Chrome 90).
Due to these crashes, Chrome completely stopped functioning on some systems. Other than this, a few users also reported a problem accessing the Chrome settings and extensions pages. Even the new tabs are showing a grey screen.
Not only Windows but Linux users are also facing the same issues. They all try different methods, such as reinstalling the browser from scratch and deleting the 'User data' folder in Chrome, which could lead to data loss. However, you can use reliable data recovery software to retrieve your lost data.
As far as the problem is concerned, Google has released a new minor update to fix the crashing problem. In this post, we've mentioned Google Chrome fix for Windows and Linux users and other possible DIY methods for the 'Chrome Crashing on Windows 10' error.
Reasons behind Chrome Crashing on Windows 10
The reasons behind Chrome Crashing on Windows 10 error could be several. However, as discussed above, the Chrome tabs and extensions usually cause this problem after installing Google Chrome 90. You may lose access to the browser settings, or find yourself stuck with a continuously crashing browser.
How to fix Chrome Crashing on Windows 10?
Method 1: Google Chrome Fix:
For Windows users
a. Try quitting the Chrome app and open it again on your Windows 10 system
b. If you see an erratic behavior, keep the Chrome open for like 5 minutes and Quit it.
c. Relaunch it. Hope it should fix the problem.
For Linux users
a. Open File Explorer by pressing Windows + E and go to Drive C:/.
b. Then navigate to Users<username>\AppData\Local\Google\Chrome\User Data.
c. Next, navigate to the directory that consists of the Chrome user profile: .config/google-Chrome/
d. Delete the information of the Chrome user
profile/Origin Trials subdirectory. It must include the "1.0.0.7" directory.
e. Now, delete your Chrome user profile\Local State file and then restart Chrome. It should fix the problem.
Other DIY Methods:
Method 2: Disable Chrome extensions
a. Open Chrome Settings and navigate to Extensions.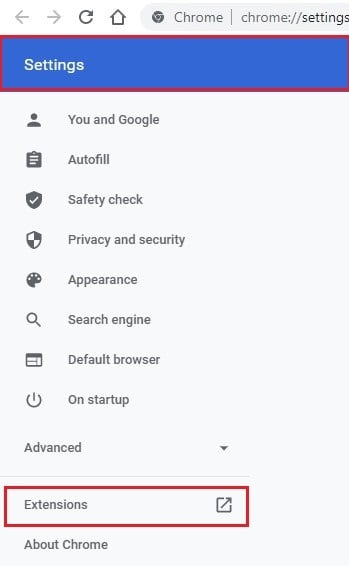 b. Then select the extensions that you want to disable.
c. And click Toggle. The extension will turn grey, meaning the extension has been disabled.


Now, restart your browser and check if the problem is fixed.
Method 3: Use the No-Sandbox Flag option
In case you're using the 64-bit version, the sandbox may crash your Chrome frequently. But remember, although disabling the sandbox may be an easy and quick fix for 'Chrome Crashing on Windows 10' error, it may expose you to multiple threats such as online data leak, identity theft, and more. Follow the given steps to fix this problem.
a. Go to Chrome shortcut and open its Properties.


b. Stay on the "Shortcut" tab and find the "Target" line.
c. Afterward, type "–no-sandbox" at the end of the input field.
d. Finally, click OK/Apply button and relaunch Chrome. The problem would be gone.

Method 4: Reinstall the 32-Bit version of Google Chrome
If none of the above-discussed methods work to fix the error, you're left with one solution, i.e., reinstalling the Chrome browser. First of all, uninstall the current Chrome by following the given steps:
a. Open system settings and then go to the Apps folder.
b. Then find Google Chrome, right-click on it, and click Uninstall.
c. Once done, you can visit the official Chrome website and download the 32-bit version again.
d. Hope this will entirely solve the problem.
Method 5 – Scan PC for Malware
Some Windows users also reported that performing a scan for malware attack on the system also helped them fix Chrome crashing on Windows 10 error. If any application or software is downloaded from junk or unreliable source, it may cause system malfunctioning, browser crashing, or even lead to data theft. Try running an anti-malware program on your system to check if the system is affected by any virus.
Windows users may choose to run the built-in anti-malware program i.e., Windows Defender or any third-party software such as McAfee, Kaspersky, etc. Antivirus programs delete any suspicious files or links found in your system to prevent any damage to the system.
However, due to this, you may end up losing some important files, which you can recover using reliable windows data recovery software, such as Stellar Data Recovery for Windows. This DIY data recovery tool can recover any kind of data, including files, folders, emails, photos, videos, and more. It supports data recovery from Windows and external storage media drives.
In case, if the deleted files are less than one GB then you can try a completed free utility i.e. Stellar Data Recovery Free Edition. This free data recovery software helps you to recover deleted files, documents, images, audio, video etc. efficiently up to 1GB.
Conclusion
Several users have experienced the Chrome crashing error. Primarily, the Chrome tabs and extensions are causing this problem. To address the issue, Google released a minor update to fix the problem. We've mentioned the fixes released by Google with other DIY methods in the above post. Hope they will help you get rid of the 'Chrome Crashing on Windows 10' error. Try these methods and have a safe and seamless browsing experience!